Pair of Matt Duffys creates double trouble
Fans, card makers among those to confuse Astros prospect with Giants infielder of same name
KISSIMMEE, Fla. -- When Matt Duffy made his Major League debut for the Giants last Aug. 1, a certain Astros prospect started receiving congratulatory messages from a couple of his distant relatives. There was no confusion on his part, though. He knew exactly what was up.
Matthew Michael Duffy -- Matt Duffy -- was set to make his debut for the Giants, which meant Astros prospect Matthew Edward Duffy -- also known as Matt Duffy -- was hearing about it. It wasn't the first time the two baseball players had been confused, and it won't be the last.
"I sometimes get a lot of his fan mail, and I know exactly who he is," the Astros' Duffy said. "I played against him in high [Class] A in Lancaster [in 2013]. He was in the same league, so I played against him actually, and he grounded out to me. The box score was pretty funny -- Matt Duffy to Matt Duffy."
Duffy of the Astros is in his first Major League camp this spring. A right-handed-hitting infielder, he was selected in the 20th round of the 2011 First-Year Player Draft out of Tennessee, and last year ranked fourth in the Houston system in homers (18) and RBIs (84), reaching Triple-A for the first time.
The other Duffy, who appeared in 34 games for the Giants last season, is a 24-year-old middle infielder who was drafted in the 18th round in 2012. He didn't hear about his namesake until he hit for the cycle while both were in college in 2011.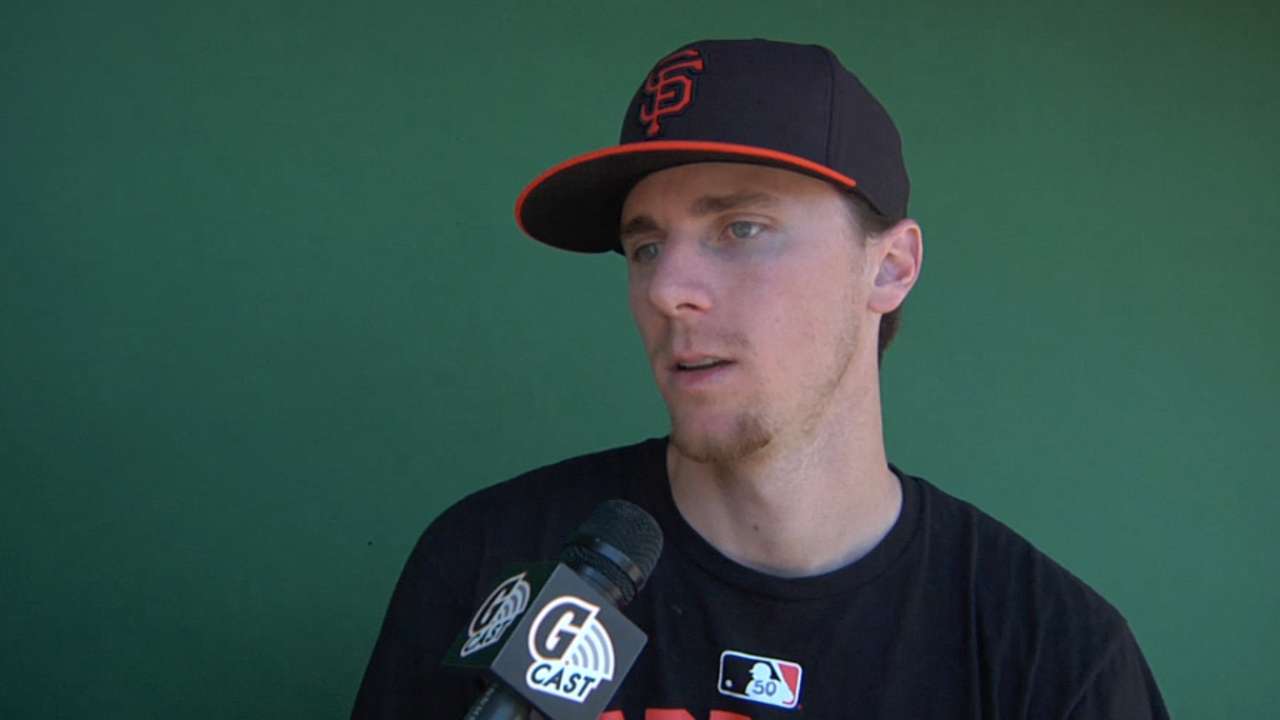 "Everybody was writing on my Facebook wall, 'Congrats,' 'Good job,' and all this stuff, and I was like, 'What?' I didn't do anything,'" the Giants' Duffy said. "I found out the next day that he hit for the cycle, so it made sense."
The two Duffys finally met on the field in 2013, when Matt Duffy of the Astros was playing for Lancaster and Matt Duffy of the Giants was at San Jose of the California League.
"It was like, 'Nice to finally meet you,'" the Giants' Duffy said. "This sounds kind of corny, but meeting him was almost like the equivalent of meeting a brother that you heard you had but never met him for a long time. We haven't really gotten in touch."
They don't stay in touch, but they're constantly reminded about each other.
"One of the baseball cards out there right now is his picture, but my information on the back," the Astros' Duffy said. "It's confusing to a lot of fans."
Duffy of the Giants said fans hand him the wrong card to sign frequently.
"There's actually one card, I can't remember what company it is, but all the information is his -- 'Matt Duffy, third baseman, Houston Astros,' but it's my picture on it," he said.
The Duffys will be forever linked, and whether they meet again likely depends on the arc of both of their careers. As long as they're still playing, there will be constant reminders of the other guy with the same name.
"I do find myself looking up on minorleagues.com, or whatever, how he's doing," the Giants' Duffy said. "Just once in a while, not like every day, but once a month or so, to see how he's holding up."
Brian McTaggart is a reporter for MLB.com and writes an MLBlog, Tag's Lines. Follow @brianmctaggart on Twitter. This story was not subject to the approval of Major League Baseball or its clubs.