Seeking starting role, Gonzalez competing for fifth spot
Entering second year of deal, Phillies righty says shoulder is completely healthy
CLEARWATER, Fla. -- Miguel Alfredo Gonzalez said pitching is pitching and he will pitch happily anywhere.
Of course, he would be especially happy in the Phillies' rotation.
Gonzalez, 28, wants to start, and the Phillies are giving him a chance this spring. They open their Grapefruit League schedule Tuesday against the Yankees at Bright House Field, and Gonzalez will be competing with David Buchanan for the fifth spot in a rotation that figures to include Cole Hamels, Cliff Lee, Aaron Harang and Jerome Williams.
"I've always been a starter," Gonzalez said through a translator Sunday. "That's important. I'm used to that. I've always been one."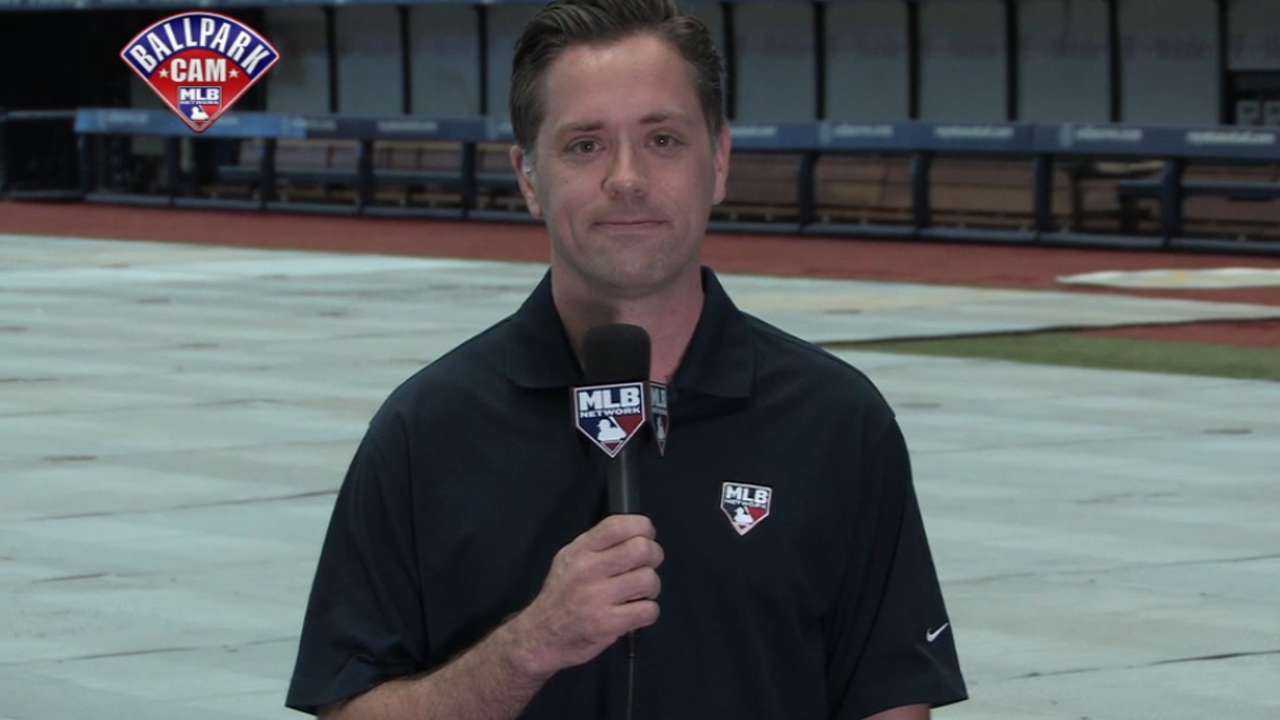 Gonzalez makes his Grapefruit League debut Thursday against the Astros in Kissimmee, Fla., and there will be plenty of eyes on him. He is in the second year of a three-year, $12 million contract, which has not yet panned out.
"It didn't go as well as I wanted last year," Gonzalez said. "This year I'm much better prepared, and much more mentally focused on what I have to do. The setbacks last season … I thought I was physically ready and I'd have a setback. If it wasn't one thing it was another. This year, all that stuff is out of the way."
The Phillies and Gonzalez originally agreed to a six-year, $48 million contract in July 2013, with the Phillies expecting him to immediately jump into the 2014 rotation as a legitimate No. 3 behind Hamels and Lee. But Gonzalez lost $36 million in the deal following a physical, which revealed shoulder issues.
Those issues popped up last season, which precipitated a move to the bullpen.
The club felt Gonzalez's shoulder would hold up better there.
Gonzalez pitched pretty well in relief. He had a 3.14 ERA in 11 appearances with Double-A Reading and a 1.65 ERA in 12 appearances with Triple-A Lehigh Valley before he joined the Phillies in September. He allowed nine hits and four runs in 5 1/3 innings that month.
But Gonzalez believes he can be a better starter, and he expressed those desires to the Phillies after the season.
They could use the help. The Phils have pretty decent bullpen depth, but should they trade Hamels or Lee at some point, they are remarkably thin in the rotation.
So Gonzalez's health and durability are important. He said his shoulder is finally 100 percent healthy.
"Hard work," he said about his offseason regimen.
If Gonzalez can stay healthy and throw well, he could work his way into the rotation, although Buchanan enters spring as the favorite based upon a solid rookie season. But certainly the Phillies and Gonzalez hope he eventually lives up to the hype he brought with him in 2013.
"I don't have to prove anything to anybody," Gonzalez said. "I just have to go out and play my game and not worry about what other people think."
Todd Zolecki is a reporter for MLB.com. This story was not subject to the approval of Major League Baseball or its clubs.