Bernard's faith in his work lands him on Tigers' 40-man roster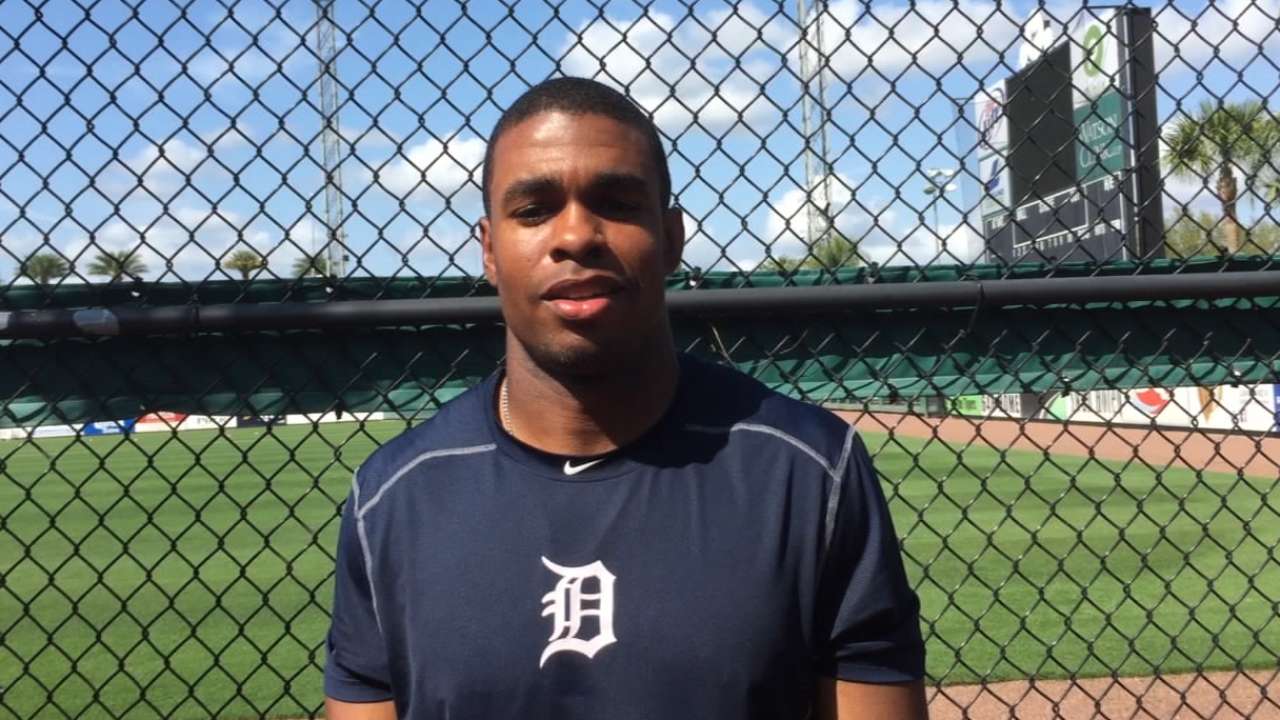 LAKELAND, Fla. -- There's a voracious reader in the Tigers clubhouse. Wynton Bernard has always found books as a way to fill the free time in a Minor League season.
When he thinks of his situation, he thinks of The Alchemist, a bestselling novel about a boy who follows a recurring dream to leave home and travel the desert to the Pyramids in Egypt to seek fortunes.
"All the things in his past, they look like obstacles," Bernard said, "but they're there for a reason."
Distance-wise, Bernard's journey from last spring to now was simply across the street, from the back fields at Tigertown to the clubhouse at Joker Marchant Stadium. Yet as hundreds play their way to tryout camps, hoping to catch a team's eye on crowded fields amidst long odds, Bernard's journey from Minor League tryout to Major League roster is the dream.
"You never know what you're going to see," Tigers player development director Dave Owen said. "There's always some guys let go by other organizations, looking to chase their dream."
That was Bernard's case. He was a 35th-round pick in 2012 who starred at Niagara University but fell into the deep outfield ranks of the Padres system. He played in just 74 games at four levels over two years for his hometown organization, then was released just before camp opened last year.
He was a 23-year-old with a career choice that he wasn't ready for yet.
"I had worked so hard that offseason," Bernard said. "So I said 'No matter what, I'm going to be playing baseball somewhere.' I said 'There's no way I can give up,' because I knew it was going to be my best year. I could just feel it."
He drove to Arizona for a tryout in Dodgers camp, heard good reviews, but wasn't signed. He asked Tigers crosschecker Tim McWilliam how to get a look. McWillliam suggested attending Tigers tryout camp that week -- in Lakeland.
"I booked the flight, hotel and the rental car -- probably $700 total," he said. "And I just said, 'You know what, it's worth it. I just don't want to give up on my dream.'"
McWilliam knew him from his amateur career, but Tigers officials did not. Brad Ausmus threw him batting practice the previous winter as a Padres special assistant, but even if Ausmus vaguely remembered, he wouldn't be watching a tryout. That's up to officials like Owen, who watch hundreds of players and have to make instant judgments.
In many ways, the tryout is the opposite of the game. A player is taught to ride the daily ups and downs and trust the results of a season. In a tryout, it's one player against the guy next to him, and a bad at-bat, a bad play, sends a guy home.
"We threw first, and I felt good throwing," Bernard recalled. "When we hit, I was taking balls off the center-field wall, hitting them out to all fields. And so I felt like I had a shot. Then guys started getting released.
"There was one point where one of the guys told us, 'It's OK. You guys can go home.' So I packed my bag. And I think it was Dave Owen who said, 'No, we want you to stay.'"
Said Owen: "He stood out. He wasn't hard to pick out once you saw him run the outfield."
Eventually, Bernard said, it was him and another player left in a 60-yard dash.
Out of about 120 players, Bernard was the only signing. All that earned him was a chance to compete in Minor League camp.
"We just ask them to stick around and try to make the club -- no guarantees," Tigers vice president of amateur scouting David Chadd said. "He ran with it."
Bernard earned a backup outfield job at low Class A West Michigan. An Opening Day injury to center fielder Austin Schotts created an opportunity. Bernard hit .323 with 30 doubles, six homers, 47 RBIs and 45 stolen bases, earning Midwest League MVP honors.
The kicker came weeks later, when the Tigers filled out their 40-man roster. Since Bernard signed as a Minor League free agent, Detroit had to add him or let him walk. This time, Detroit wasn't ready to give up on him.
"He stole 45 bases, and he's still a young base stealer," Owen said. "I think there's more in him."
Thus, a year after Bernard came to Tigertown looking for work, he walked into the Major League clubhouse and had a locker waiting. And he got chills.
"My parents always taught me no matter what, stay faithful," he said. "I think that was kind of the feeling. I kept the faith. All that hard work and determination is just paying off."
Jason Beck is a reporter for MLB.com. Read Beck's Blog and follow him on Twitter @beckjason. This story was not subject to the approval of Major League Baseball or its clubs.