Twins counting down to first Spring Training game
No decision on starting pitcher for Wednesday's Grapefruit League opener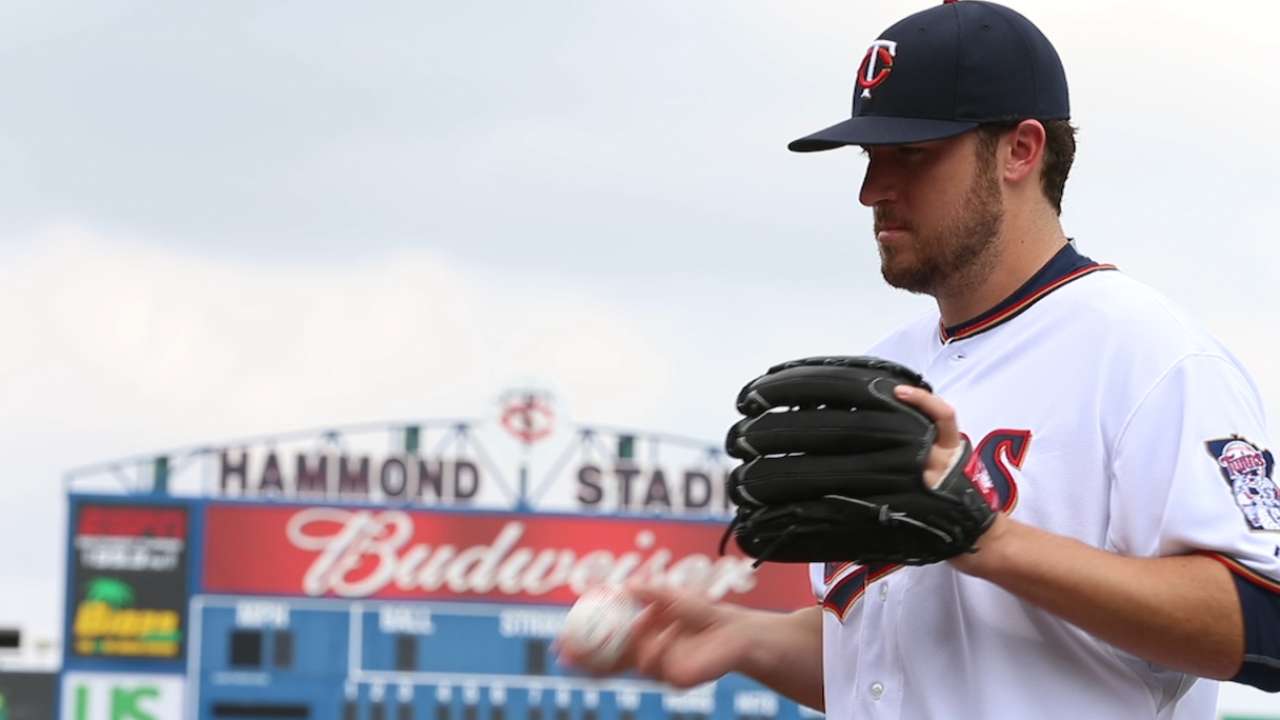 FORT MYERS, Fla. -- The Twins are moving closer to their first game of the Grapefruit League season, and manager Paul Molitor is happy with his team's progress. The Twins will play the University of Minnesota Wednesday and will square off against the Red Sox at home on Thursday.
Molitor didn't want to announce his pitching plans for either of those games Sunday, and he said that Alex Meyer would've pitched Wednesday were it not for his family situation. Meyer had to leave camp for a few days to attend his grandfather's funeral, and he returned to the fold on Sunday.
Minnesota has been pretty healthy so far, but Molitor said that a few of his players have been too ill to practice. So far, said Molitor, Trevor May, Byron Buxton, Jordan Schafer and Trevor Plouffe have been slowed by illness, and he hoped that would dissipate by the time games begin.
"I don't know how long it's going to linger, but that's one of the the things that can happen down here," said Molitor of the flu bug running through his clubhouse. "No mumps yet. It's never good when people have to deal with things like that. You want to keep people on the field, obviously."
Sunday's practice was notable because it featured a few pitchers getting their first look at live batting practice this spring. Ervin Santana, inked by the Twins in the offseason, threw for around 10 minutes on Sunday, and he said he was able to throw all of his pitches and locate down in the zone.
"It was very good," he said. "I threw every pitch and every pitch was working pretty good. I've been throwing a lot of bullpens in the Dominican Republic, so I know what I'm doing. The hitters just got here, so it's tough for them because we've had more time practicing. It's more difficult for them."
The Twins have spent the first few weeks learning what's expected by their new coaching staff, and Molitor, a Hall-of-Fame player and first-time manager, said everything is a work in progress.
"The attention and the focus has been fine," he said. "I think, obviously, the veteran players are adapting to the adjustments more quickly just out of experience. Some of the new players in camp -- whether they're young or from other places -- are going to need a little more time. We're trying to be patient. But it's a daily thing, and things that surface on any given day are addressed the following morning before we get out there and probably repeated before we begin. We try to eliminate things as they occur. I don't expect any long-term issues, but in the short term, it needs polishing for sure."
Spencer Fordin is a reporter for MLB.com. This story was not subject to the approval of Major League Baseball or its clubs.