Cunningham confident in ability to compete for CF job
Switch-hitting outfielder relying on defensive prowess to state case for starting nod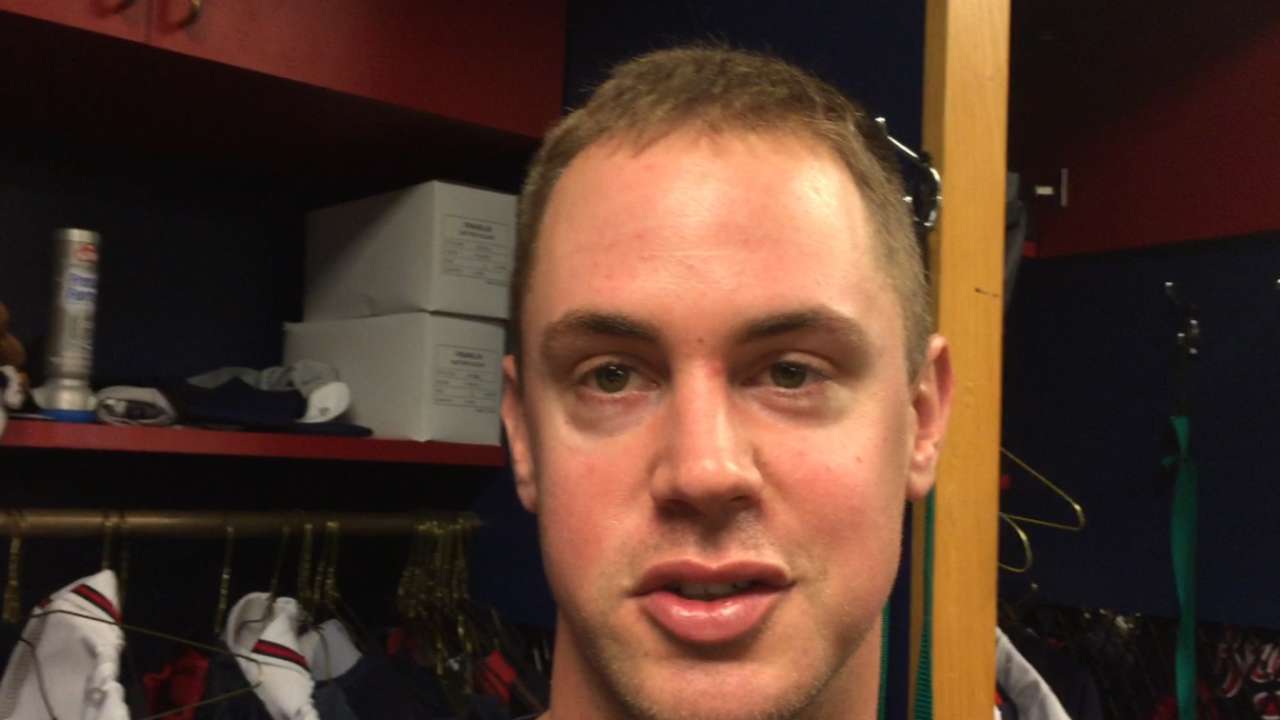 LAKE BUENA VISTA, Fla. -- Todd Cunningham accepts the fact that he was not given the gift to overwhelm baseball evaluators with his speed or power. But at the same time, he has confidence in his ability to be a fundamentally sound asset if the Braves choose him to fill the center field void in Melvin Upton Jr.'s absence.
"You can call me the safe bet," Cunningham said. "You can say I'm not the sexy pick or whatever you want. But I still feel I can personally bring a lot of value to a team. So, if I get a chance to compete out there, I plan to bring everything that I've got."
Cunningham wasn't blessed with the same kind of speed as Eury Perez or Eric Young Jr. -- the two other top candidates to fill the centerfield void while Upton misses at least all of April with a left foot injury he suffered last week.
Nor is Cunningham an exceptionally-skilled offensive prospect, as the .721 OPS he has compiled throughout his professional career might attest. But among these three candidates, he seemingly stands as the most attractive from a defensive standpoint.
"I'm definitely not trying to trick anybody and I'm definitely not trying to be anything that I'm not," Cunningham said. "When I describe what kind of player I am, I wasn't gifted with unbelievable pop or blazing speed. I pride myself on doing the little things. From what I've heard, I'm the kind of player that the more you see me, the more you like me."
After being selected as a third baseman in the second round of the 2010 First-Year Player Draft, Cunningham was immediately positioned as a right fielder for Class A Rome. But after a few weeks, he found himself routinely playing center field -- the position he has primarily played over each of the past four seasons.
Cunningham seemed to improve offensively as he batted .287 with eight homers (just 10 fewer than he had totaled over the previous four seasons) and a .754 OPS in 120 games for Triple-A Gwinnett. While playing 116 games for Gwinnett in 2013, he had batted .265 with two homers and a .675 OPS.
Mark Bowman is a reporter for MLB.com. This story was not subject to the approval of Major League Baseball or its clubs.