Detwiler attempts to restart career with Rangers
After ending Nats tenure in bullpen, lefty vying for rotation spot with new club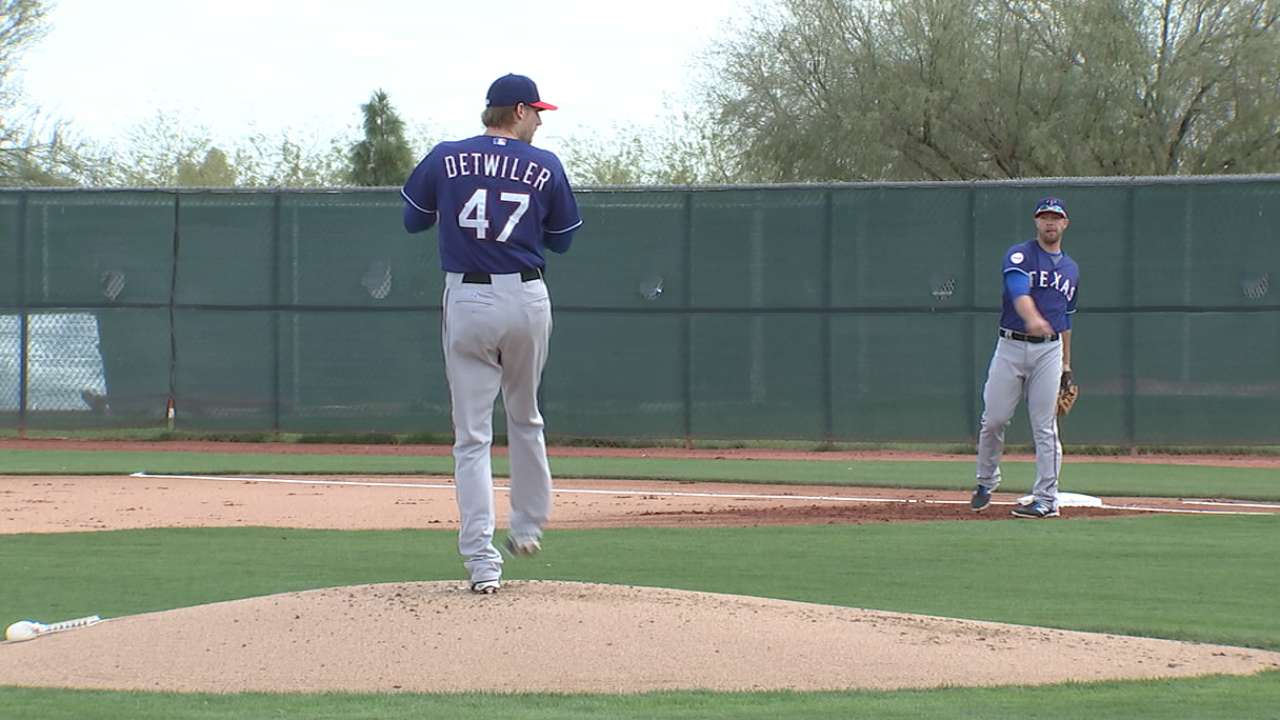 SURPRISE, Ariz. -- Ross Detwiler, having survived multiple mandatory delivery overhauls as well as hip surgery, was at his best with the Nationals on Oct. 11, 2012.
He was on the mound in Game 4 of the National League Division Series against the Cardinals because the Nationals had shut down Stephen Strasburg for the season. But it's doubtful that even Strasburg could have pitched better that day at Nationals Park with his team trailing 2-1 in the series.
"It was definitely the best I have pitched in my big league career," said Detwiler, who is now with the Rangers. "Being in a playoff atmosphere, it drives you."
Detwiler allowed one unearned run in six innings, allowing three hits and three walks. He exited with the game tied, and the Nationals won in the ninth on Jayson Werth's walk-off home run.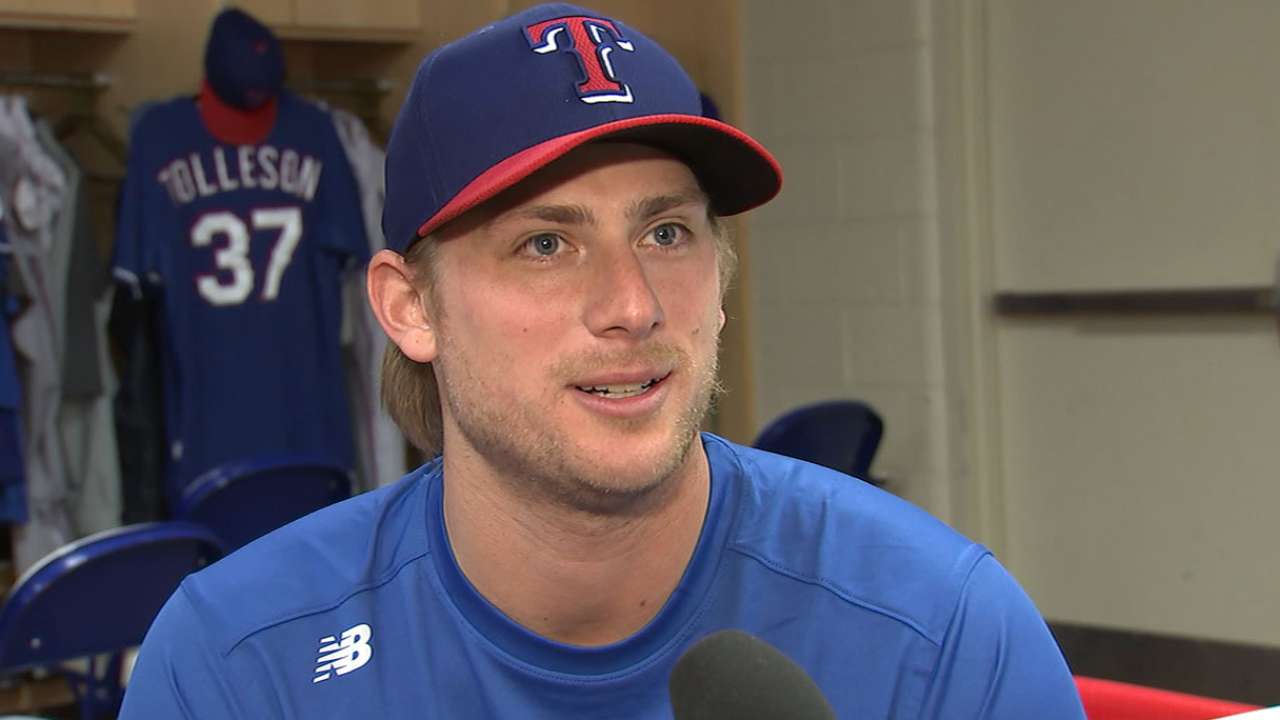 The Nationals lost Game 5 and were eliminated, but at that point Detwiler had to be feeling great about the future. After a six-year battle to be allowed to pitch his way, Detwiler had gone 10-8 with a 3.40 ERA in 27 starts and six relief appearances in 2012. He appeared to be part of a great young Nationals pitching staff that included Strasburg, Gio Gonzalez and Jordan Zimmermann.
That didn't turn out to be the case. Detwiler was set back by injuries in 2013 and a demotion to the bullpen in '14. The last two seasons have been hard, and that is why Detwiler is thrilled to be with the Rangers. He will be given a chance to start after being buried in the Nationals' bullpen. His spot is not guaranteed, but it is better than being written off from the beginning.
"Frustrating, very frustrating," Detwiler said. "I felt like at the time I was one of their better pitchers. I don't know if I let it get to me too much, but I thought I had more value than that. I was used like a Rule 5 guy, pitching when nobody was left down there. "
Detwiler has survived rough times before. He was the sixth overall pick in the 2007 First-Year Player Draft out of Missouri State University and was the first player from that Draft to reach the Major Leagues. But the Nationals kept insisting he change his mechanics. One manager bluntly told Detwiler he would never pitch in the Major Leagues because of his mechanics. Finally, after he struggled getting movement and deception, Detwiler was allowed to do what he wanted to do.
"They said, 'It's your career, be yourself,'" Detwiler said. "I worked with my college pitching coach and he helped me get back to what really worked for me."
That and a better curveball is what led to Detwiler finally establishing himself after several misfires and hip surgery in 2010. He might still be in the Nationals' rotation if not for physical problems in 2013.
After pitching in the World Baseball Classic, Detwiler began the season going 2-4 with a 2.76 ERA in eight starts. Then he suffered a strained left oblique muscle and was sidelined for a month, but he should have been out longer.
"We had a couple guys go down and I rushed back," Detwiler said. "I never let the oblique completely heal."
Detwiler was 0-3 with a 6.31 ERA in five starts after his return. He developed a bulging disk in his back and did not pitch again after July 3. The next spring Detwiler was told from the beginning that he would be in the bullpen.
The 2012 work seemed forgotten. That's why Detwiler rejoiced in December when told he was traded to Texas with a least a chance to start.
"It was really weird, but I'm grateful for what the Nationals did for me," Detwiler said. "I'm happy to get a new start and a better situation. I got lucky to be traded to a team that is plus offensively and defensively. It's going to be pretty fun."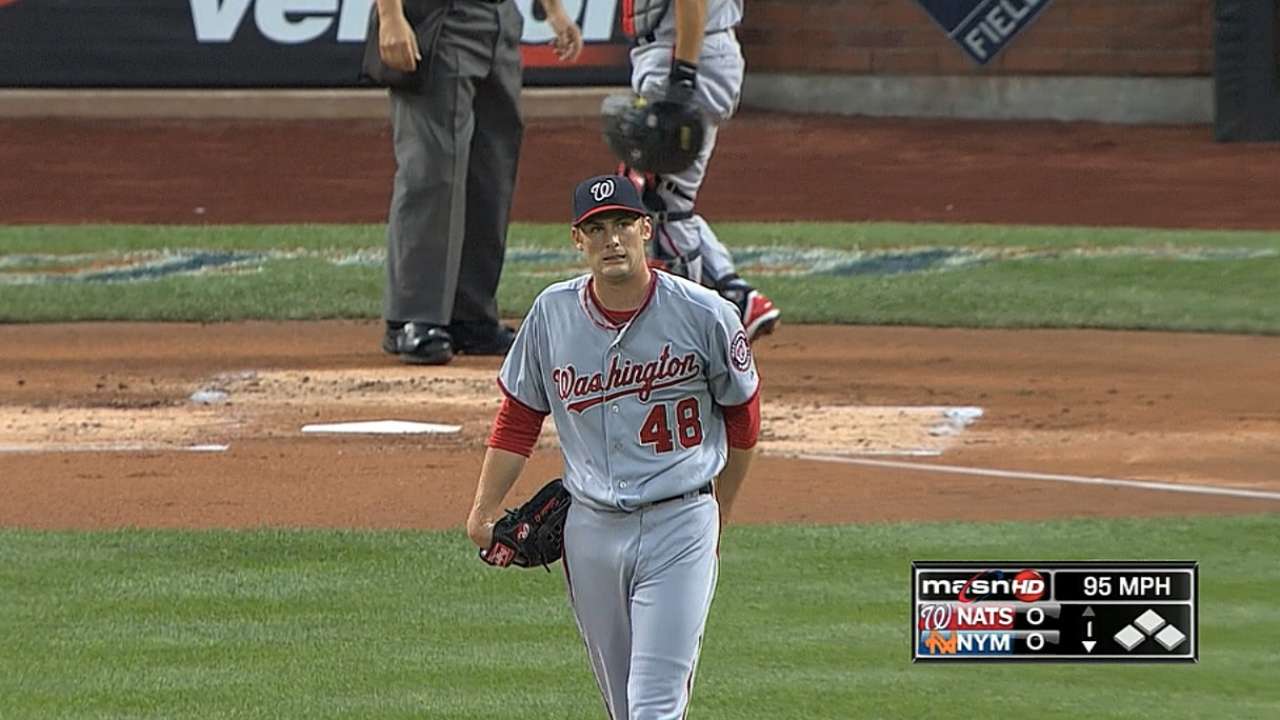 T.R. Sullivan is a reporter for MLB.com. Read his blog, Postcards from Elysian Fields, and follow him on Twitter @Sullivan_Ranger. This story was not subject to the approval of Major League Baseball or its clubs.