Urias impresses Dodgers in live batting practice
Young left-hander shows off impressive skills against Pederson, Heisey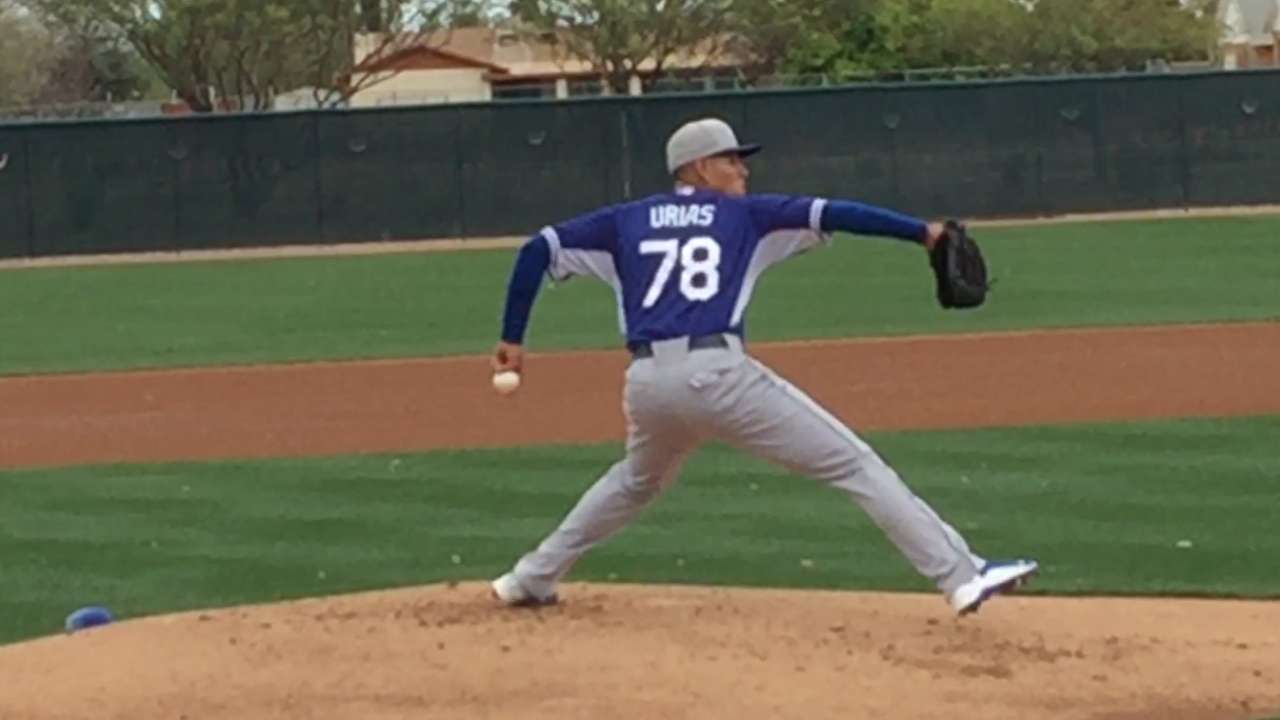 GLENDALE, Ariz. -- Dodgers hitting coach Mark McGwire, general manager Farhan Zaidi, pitching coach Rick Honeycutt and special advisor Sandy Koufax all gathered on the field behind a batting cage at Camelback Ranch to watch a teenage phenom throw live batting practice Sunday afternoon.
A crowd of fans, cameras in hand, hovered nearby on the other side of the backstop and in the bleachers to watch the show.
Julio Urias, the No. 2-ranked prospect in the organization and No. 8 prospect in all of baseball according to MLB.com, pretended they weren't even there.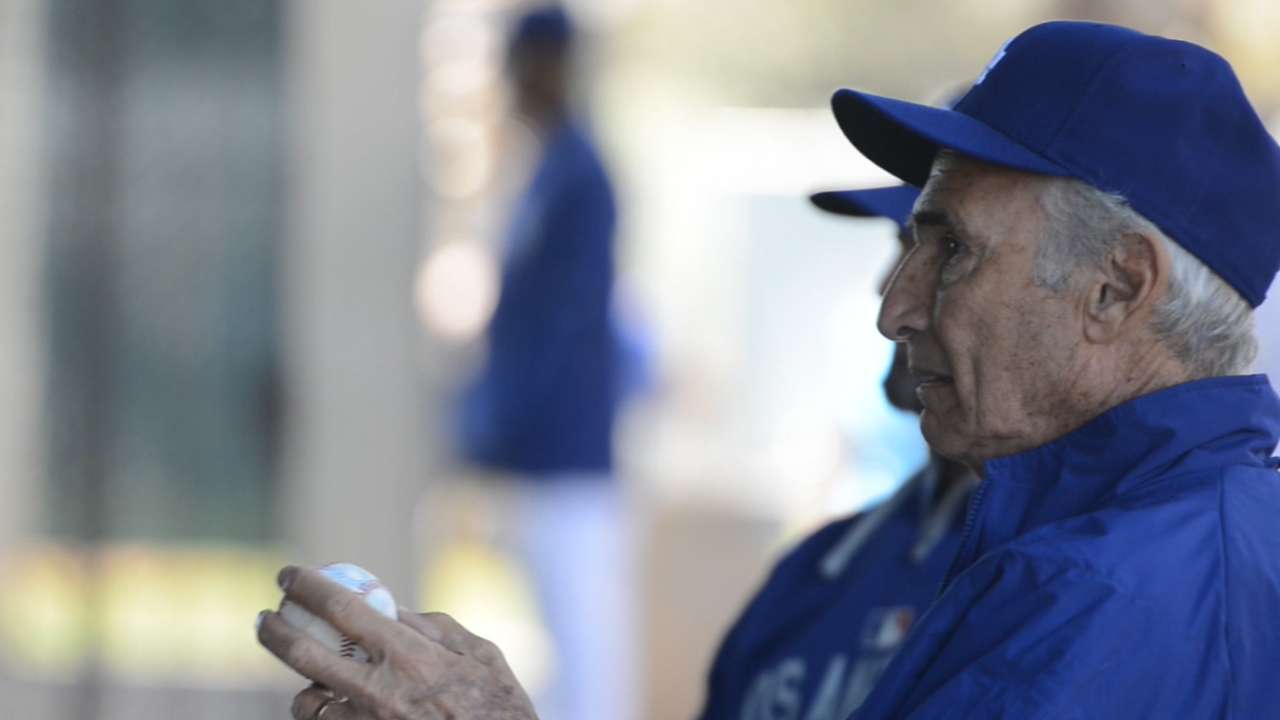 "I'm just focusing on the job I need to do and forget about who is behind there or in front of me," the 18-year-old pitcher said. "I felt good. It was my first time to throw since the season ended and I thank God I felt good."
Infielder Alex Guerrero, outfielders Chris Heisey and Joc Pederson along with Double-A first baseman O'Koyea Dickson were tasked with the challenge of facing Urias on Sunday.
They've had better assignments.
Just ask Guerrero, who kept repeating the word "nasty," when asked to describe Urias' outing.
"He looked focused, but also relaxed," said Heisey, the five-year veteran, who played 119 games with the Reds last season. "His stuff was very impressive and his command was a lot better for this time of the year than I thought it would be. For being that young and throwing to big league hitters, it takes some mound presence and maturity. He looked really good."
How good was the young pitcher on Sunday?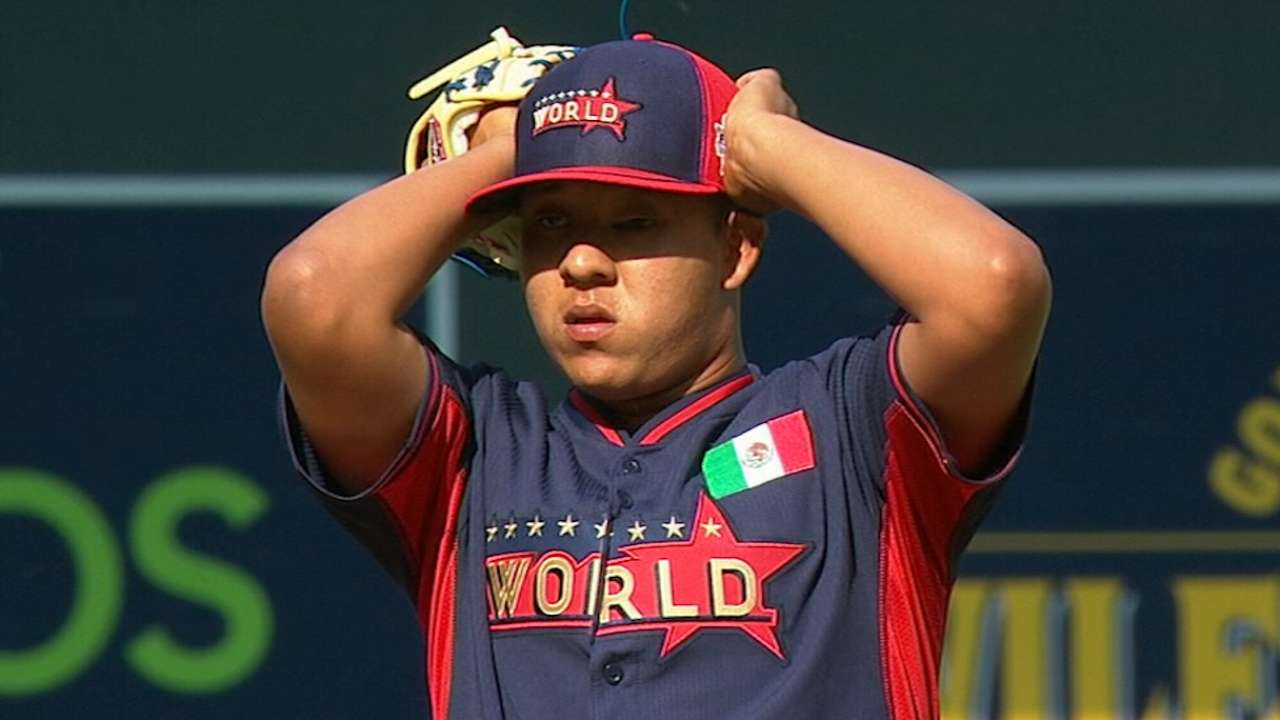 "Heisey told me he liked one of the changeups I threw and that he could never hit it," a beaming Urias said.
A dumbfounded Pederson said he is just happy Urias is on his team.
"He's pretty special," Pederson said. "It's electric coming out of his hands. He locates well. It's pretty scary. His future is bright. He's 18 and throwing 96 mph. It's not normal."
Urias said he was more excited than nervous during his 30-pitch outing. His changeup wasn't working as well as he wanted to start the session, but the pitch eventually came around.
"I noticed they wanted to swing and hit against me, but of course, I'm trying not to let them," Urias said with a smile. "They are experienced hitters and I'm still gaining experience, so it is special. I feel like I still have work to do."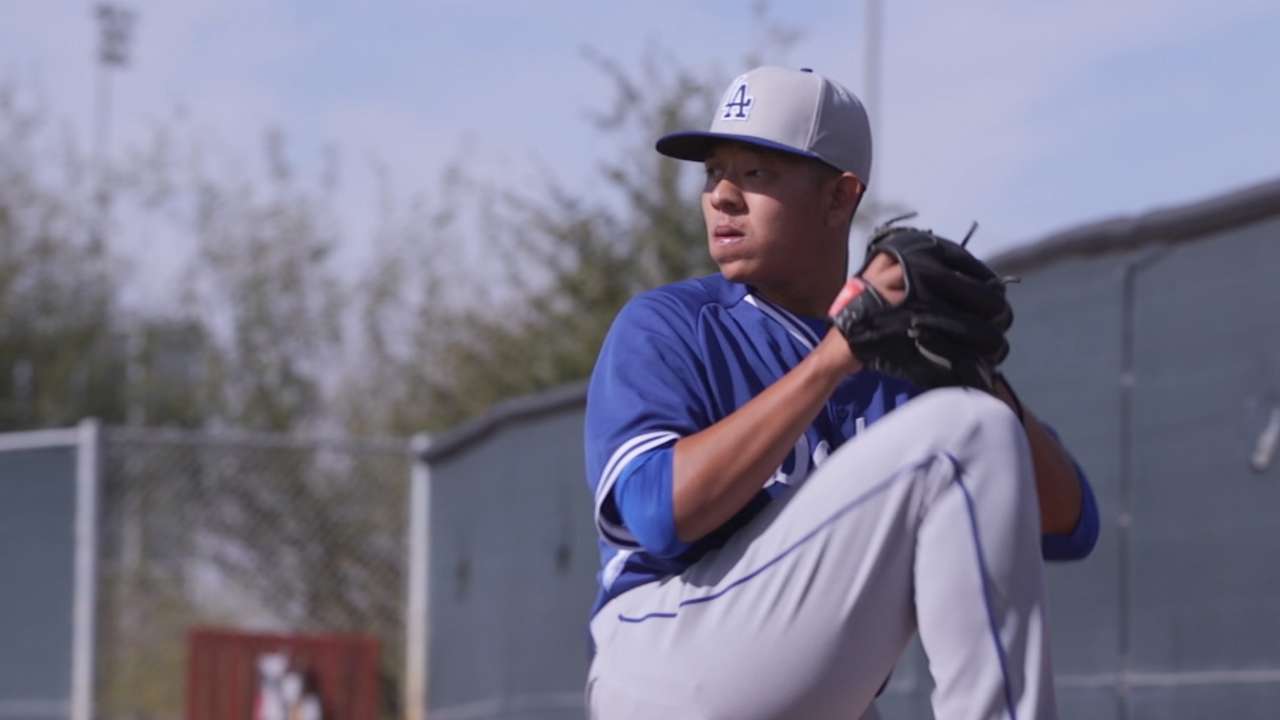 Last season, Urias struck out 109 batters with 37 walks in 87 2/3 innings for Class-A Rancho Cucamonga as a 17-year-old before he was shut down. He made his pro debut in 2013 at age 16.
The left-hander's workload could peak at 120 innings in the upcoming season, but where will the teenager pitch them? The consensus is that he is already ready for Double-A.
"Obviously, we'll talk to our people, but we haven't even yet sat down and hatched his 2015 plan because developmentally, he does a lot of things right," said Josh Byrnes, the club's senior vice president of baseball operations. "We are happy where his stuff his, the three pitches and his performance. As he starts to get closer toward the big leagues, we have to get to know him and map out the right plan for him."
The short-term plan for Urias is to pitch him in a Spring Training game, likely on Friday.
"In a perfect world, if we prepared him, at this time next year he is in here truly competing for a spot," Byrnes said. "But again, you never put limits on him. With this division with the Bumgarners, and the Cains, the Kershaws and the Greinkes and their debuts, guys have got there at a young age, so it does happen. He's got the talent where at least you have to think about that."
Urias is at least certain what his very next step will be this week. It starts with a photo with Koufax and maybe an autograph.
Jesse Sanchez is a national reporter for MLB.com. Follow him on Twitter @JesseSanchezMLB. This story was not subject to the approval of Major League Baseball or its clubs.