Hardy looks to sharpen command in Tigers' 'pen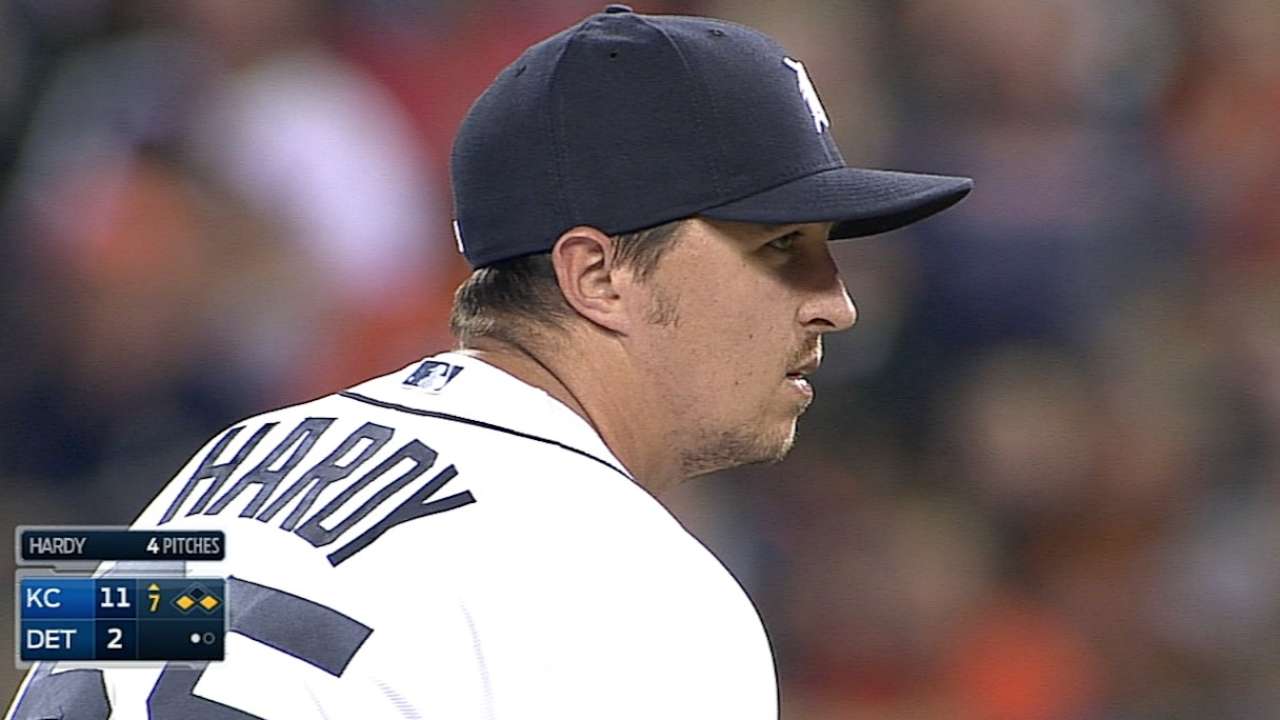 LAKELAND, Fla. -- Blaine Hardy was an unlikely story a year ago, brought to camp as a non-roster invitee and making enough of an impression to earn a midseason callup and a bullpen spot. He still had to overcome the disappointment of being left off the postseason roster.
As Spring Training games begin, the lefty has the best opportunity of his career in a Tigers bullpen, where the one open bullpen spot begs for a southpaw who can pitch multiple innings. Hardy is hoping to use the lessons he learned last year to earn it.
"Last year I walked more people than I would've liked," Hardy said. "That's definitely a learning point, learning the strike zone. It's a little bit different, a little bit smaller, but more consistent. With that being said, I felt like I had a good year, and hopefully I'll be able to come in and do the same thing with less walks."
Two years ago, Hardy was out of work at the end of Spring Training, having been released by the Royals. He signed with the Tigers, and then worked his way up from Double-A Erie to surprise standout at Triple-A Toledo.
When a heavy workload landed Ian Krol on the disabled list with arm fatigue, Hardy got his chance last June and helped keep the Tigers' bullpen together. From mid-June to the end of July, he allowed four runs on 16 hits over 19 innings, striking out 18, walking eight and stranded all seven inherited runners.
From that point on, Hardy allowed 18 hits and 12 walks over 20 innings, and allowed eight of 22 inherited runners to score.
"I appreciate how much I got to pitch," Hardy said. "I just think it took a little bit of a toll and I was getting tired towards the end. But at the same time, at the very end, I felt like everything started to come back. It was just a little bit too late."
It felt like two different seasons. Manager Brad Ausmus, however, doesn't believe in that.
"I thought he did a good job for us, quite frankly," Ausmus said. "It kind of irks me a little bit when people want to split players' seasons up: Player X had a good year, but he really struggled in the second half. He still had a good year.
"Guys are going to struggle at some point in the season. It's probably more likely they struggle in the second half as they tire, but you can't discount what they did in the first half. Those games are just as important to win."
The left-handed hitters are just as important at any time of year, and Hardy had the numbers, holding them to a .203 batting average (13-for-64) with seven walks and 14 strikeouts. With 21 hits and 13 walks in 93 plate appearances against righties, his strength was clearly one-sided.
For most lefty relievers, that's no big deal. For the role the Tigers need, it's something Hardy will need to shore up.
Jason Beck is a reporter for MLB.com. Read Beck's Blog and follow him on Twitter @beckjason. This story was not subject to the approval of Major League Baseball or its clubs.