Strop thankful for health after offseason accident
Cubs reliever recounts story of November car wreck in Dominican Republic
MESA, Ariz. -- Contrary to reports in the Dominican Republic media, Cubs pitcher Pedro Strop is very much alive.
The Cubs' reliever was involved in a car accident in late November in the San Cristobal province, west of the capital of Santo Domingo. Strop was driving his convertible and making a right-hand turn at a T-intersection when he was rear-ended by someone driving a Range Rover. The impact pushed Strop's car into a wall and the vehicle was totaled. His only injury was a scratch on his left elbow.
Strop was traveling with his younger brother, who suffered a small fracture on his right thumb. The driver of the Range Rover survived. The Strops were wearing their seat belts, which may have saved them from more serious injury.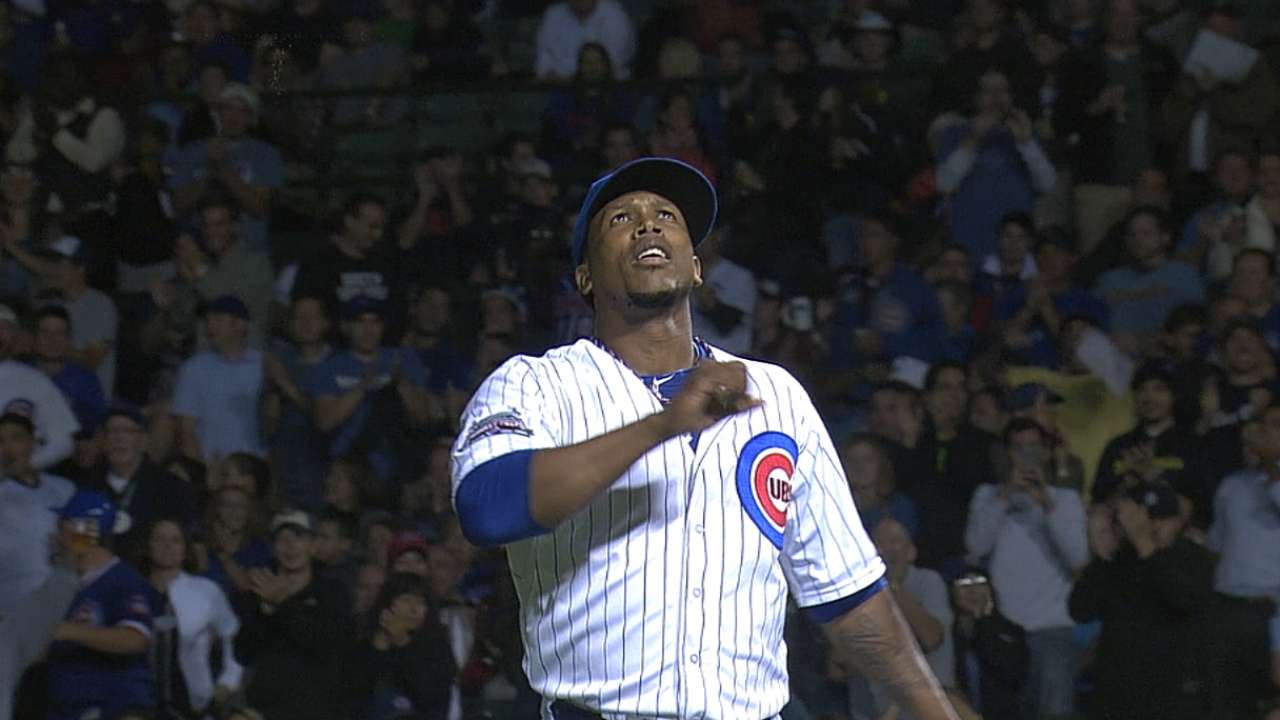 "God bless," Strop said Sunday. "In the Dominican, nobody wears seat belts. Maybe because here [in the U.S.] every time I drive, I do it. I'm used to it. In the Dominican, I don't think people [use them]. They're starting to get really strict there."
Strop was taken to a hospital after the accident, which happened at night.
"I was trying to get my car out of there because of the media," he said. "[The media] got there the next day and saw the car that hit me. He hit the wall and they couldn't get his car out and it was totally destroyed. [The media] said I was almost dying and I was in the hospital. I was home."
Fortunately, Strop could laugh about the incident now.
"[The media] said I was driving the Range Rover and we were racing and a bunch of stuff," he said. "They never saw me, they never saw my car, never saw anything. They just talked."
So, he decided to be proactive, contacted a Dominican sports television station, and went on the air.
"People thought I was dying," Strop said. "They said I was dying in the hospital."
The truth is, he wasn't in the hospital long. He had scratches on his left arm, and that wasn't much of an issue for Strop, who throws right-handed.
"I went over there [to the TV station] and said, 'I'm here,'" he said. "I explained everything the way it really happened."
The accident was the third involving a baseball player in the Dominican Republic. Cardinals prospect Oscar Taveras was killed in a car crash on Oct. 26, and Rangers prospect Ronald Guzman was uninjured in a fatal car crash in November.
Strop is projected as a key setup pitcher for the team after posting a 2.21 ERA in 65 games last season for Chicago.
Two days after the accident, Strop said his body hurt a little from the impact, but it was nothing serious. He doesn't like to think about the incident.
"A couple times, my brother was driving me and I was sleepy, and when we hit a bump in the road, I'm like 'Oh no' because the guy hit me in the back," Strop said. "If I hear a noise by my kids or something when I'm sleeping, I'll wake up. Now everything's OK."
Carrie Muskat is a reporter for MLB.com. She writes a blog, Muskat Ramblings, and you can follow her on Twitter @CarrieMuskat. This story was not subject to the approval of Major League Baseball or its clubs.