Glasnow impressing Bucs with his work in camp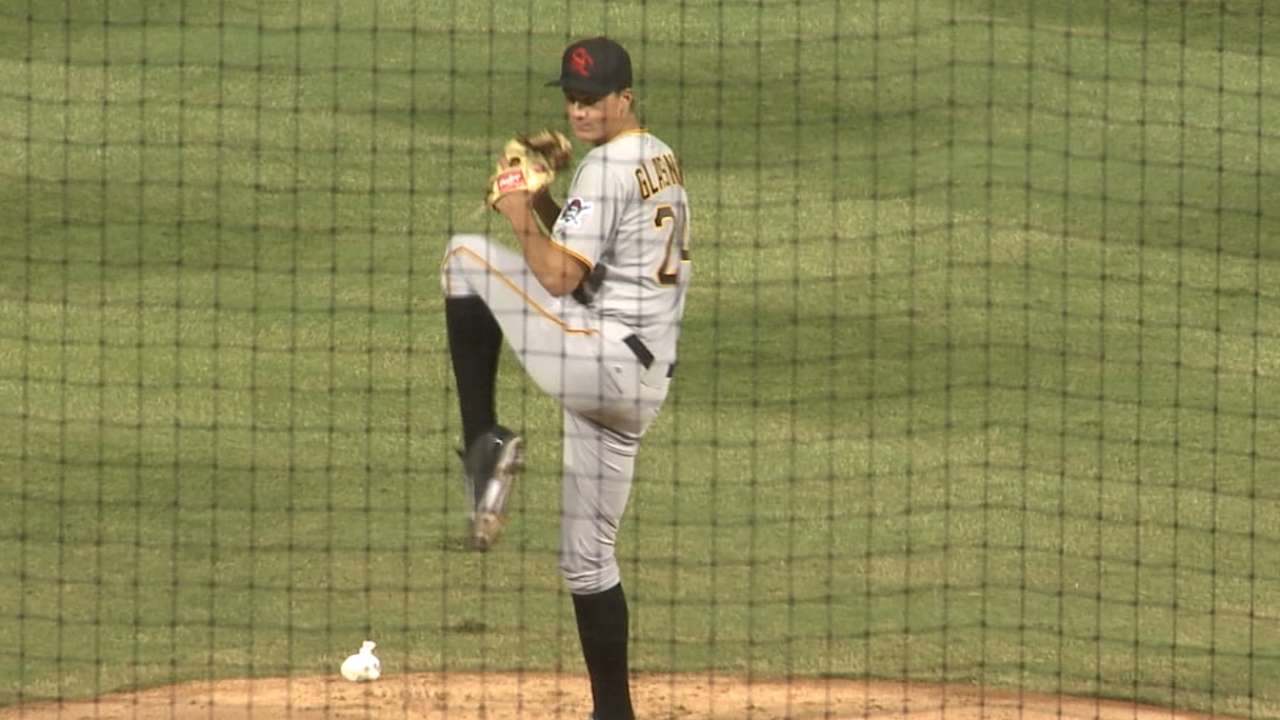 BRADENTON, Fla. -- The Pirates brought Tyler Glasnow to big league camp to show him something about a Major League environment. Instead, the 21-year-old right-hander has been showing them something.
"Impressive stuff. The ball comes out of his hand as hard as anybody out there," said veteran catcher Chris Stewart, who has caught Glasnow's bullpens and has also faced the 6-foot-8 righty in batting practice. "Not a fun at-bat. He gets on top of it and drives down, and the ball is coming down on an angle and moving, cutting away."
"The young man is improving incrementally, daily," manager Clint Hurdle said. "He's picking up something every day."
The Bucs' No. 1 prospect was invited to big league school for the same curriculum given their No. 1 prospect three springs ago. Gerrit Cole was also 21 when he attended his first camp in 2012, also as a non-roster invitee.
"It's been good, just getting to sit around and watch what [the Major Leaguers] do," Glasnow said. "It's been a good experience. And I'm feeling good -- a lot better than where I was at this point last year. [I've] got my mechanics down to where I feel comfortable, and now it's just a matter of staying consistent with [them]."
Glasnow seems to be following in Cole's footsteps. He has inherited not only Cole's destiny, but also his locker -- as he was assigned the same one occupied by Cole three years ago.
"I'm sure it's just a coincidence, nothing to it," Glasnow said, with a broad grin.
He should not be too sure of that. Clubhouse manager Scott Bonnett has a definite game plan when it comes to locker assignments; none of them are random. Bonnett may have been courting karma in choosing Glasnow's cubicle.
Glasnow's time in the Major League camp figures to be brief. He made the move on Sunday to McKechnie Field -- where he will get to face the Yankees for one inning in Thursday's exhibition -- but should soon be reassigned to Minor League camp and returned to Pirate City.
There are no illusions about the 2015 Minor League destination of a pitcher who spent all of last season right here, with the Marauders of the Class A-Advanced Florida State League. Although it would be a departure from club policy, there is an outside chance Glasnow could skip Double-A Altoona and jump to Triple-A Indianapolis, after two years of toying with the competition (21-8 with a 1.94 ERA and 321 strikeouts in 235 2/3 innings).
"He's still focused on getting ready for his season, wherever he might be," Hurdle said. "I'd only seen him on video -- this is the first time I got to [work] hands-on with him. The biggest thing is that he got acclimated to this Major League culture. This environment hasn't overwhelmed him. He is in a very good, competitive place."
Tom Singer covers the Pirates for MLB.com. He has been a reporter for MLB.com since 2001 and has covered baseball since 1974.
This story was not subject to the approval of Major League Baseball or its clubs.