Kang eager to start playing in games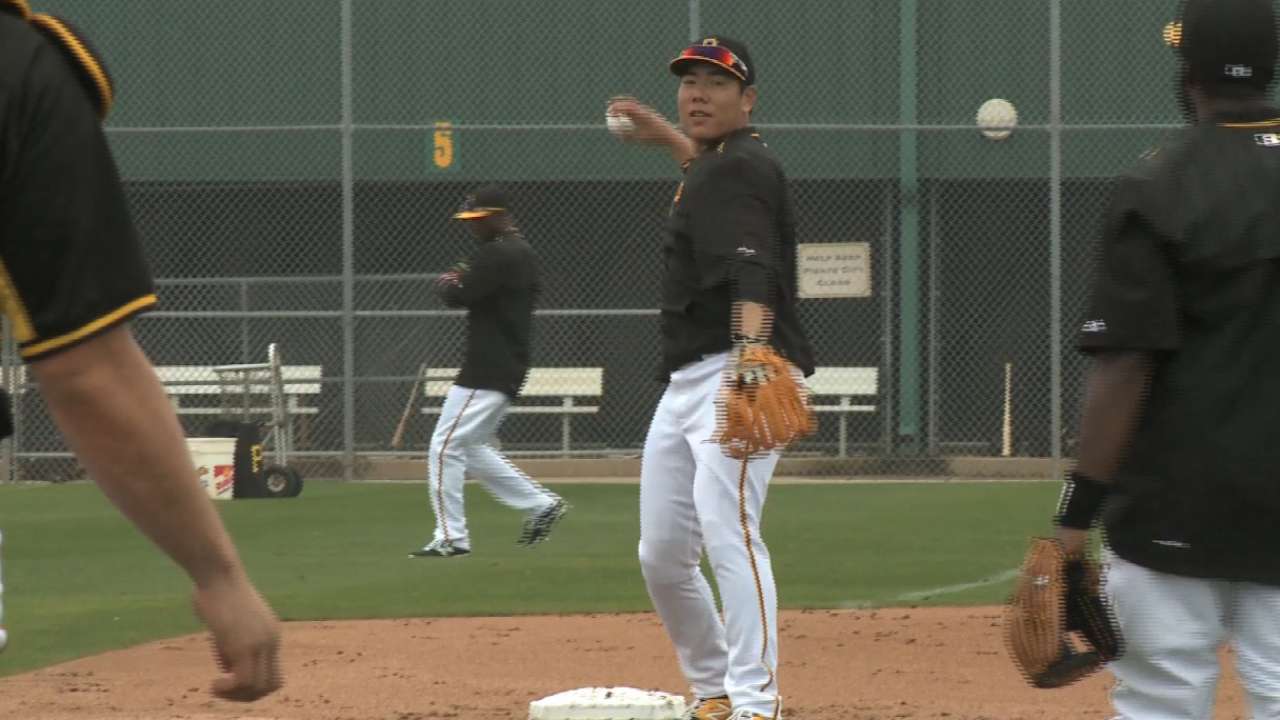 BRADENTON, Fla. -- Jung Ho Kang has gone through three weeks as a Major Leaguer-in-training. He has gotten to know his Pirates teammates, has put on power shows in batting practice and has rehearsed in-game communication with manager Clint Hurdle through an interpreter.
He has even learned some valuable English words: "Good guy!" Kang said, while giving locker-room neighbor Sean Rodriguez a manly hug.
Now, Kang is ready for a little game action, to take some swings without a batting cage around him. He will first get to do that on Monday in the Bucs' annual Black and Gold squad game.
Kang will start at shortstop and bat third for the Blacks. He will still be facing teammates -- starting with Arquimedes Caminero, the starting pitcher for the Golds. But you've got to start somewhere.
"I'm looking forward to playing some games, to learn what pitchers have and what they throw," Kang said through his interpreter. "I can also learn a lot by watching other hitters in game situations."
Kang could get his first look at a pitcher in a different uniform on Tuesday, when the Bucs bus to Dunedin to open Grapefruit League play against Toronto, before hosting the Blue Jays the next day in the home opener at McKechnie Field.
If anything, the early, Pirate City phase of Spring Training only heightened Kang's enthusiasm for the big league game and the Pirates' regard for his physical tools.
"It has been a lot of fun here. It's a young atmosphere," Kang said. "Everyone is close to my age, so it's a great environment."
It became a loud environment when Kang stepped into the cage, in latter stages of batting practice when coaches did the pitching. The noise frequently came from his drives landing atop the roof of the indoor batting cages, about 360 feet from home plate in Field No. 1.
"That's why it doesn't mean much. It's only practice," Kang said.
Still, Hurdle liked the way Kang attacked the ball. Batter's box timidity is one of the manager's pet peeves.
"His aggressive nature has shown up," Hurdle said. "He has a very aggressive swing, a very aggressive mindset. We continue to remind him that we want him to be the same hitter over here, we don't want him to start making adjustments from Day 1. I'm gonna be happy when he goes up there and gets in three aggressive swings."
The complete lineups for Monday's 5 1/2-inning scrimmage:
• Gold: Jaff Decker, LF; Justin Sellers, 2B; Gregory Polanco, RF; Pedro Alvarez, 1B; Starling Marte, DH; Tony Sanchez, C; Brent Morel, 3B; Keon Broxton, CF; Pedro Florimon, SS.
• Black: Steve Lombardozzi, 2B; Mel Rojas Jr., CF; Kang, SS; Corey Hart, 1B; Andrew Lambo, DH; Jose Tabata, LF; Deibinson Romero, 3B; Willy Garcia, RF; Sebastian Valle, C.
Tom Singer covers the Pirates for MLB.com. He has been a reporter for MLB.com since 2001 and has covered baseball since 1974.
This story was not subject to the approval of Major League Baseball or its clubs.