Wieters gets behind plate for first time since surgery
Major milestone in Tommy John recovery comes in O's intrasquad game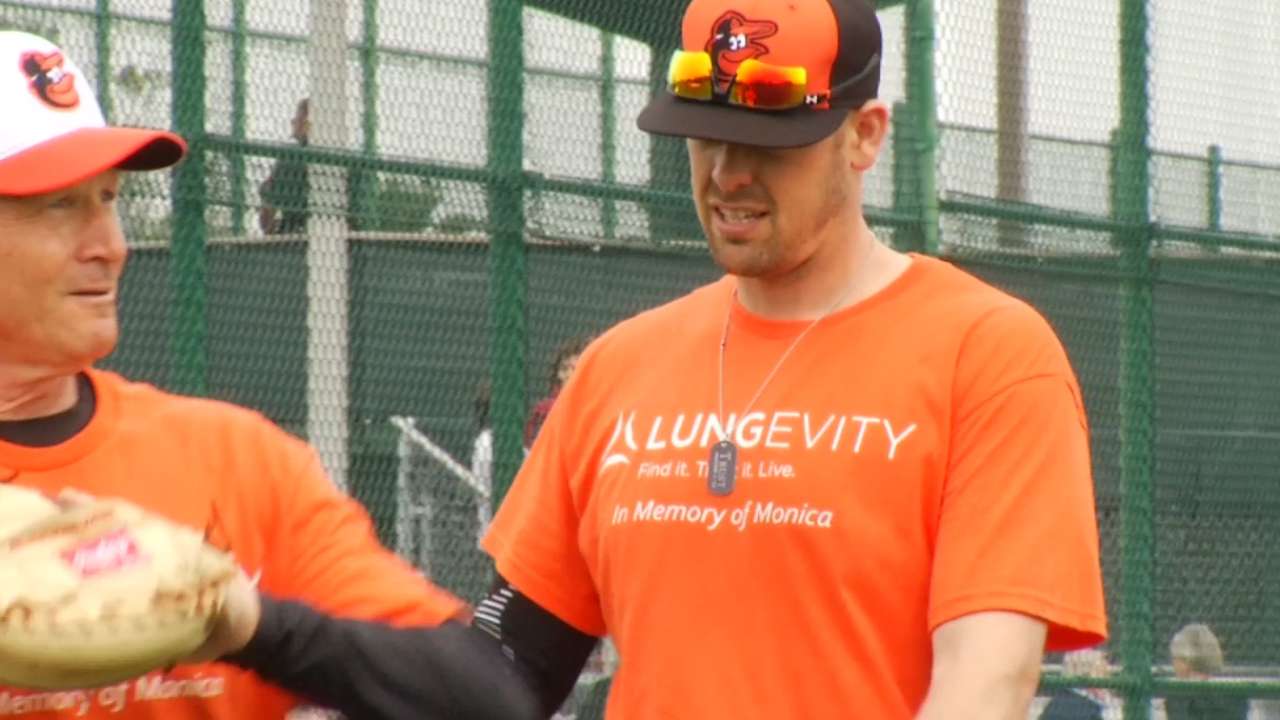 SARASOTA, Fla. -- Matt Wieters crouched behind home plate at Ed Smith Stadium for the first two innings of the Orioles' intrasquad game Sunday afternoon, the first time he's caught a game since May 4. It was, without a doubt, a major moment in his recovery from Tommy John surgery.
But Monday might bring an even bigger test.
Sunday was technically a day off in Wieters' throwing program. He hasn't been cleared to throw to bases in a game yet, so he didn't make any throws longer than the distance between home plate and the pitcher's mound on Sunday. He caught two innings and went 0-for-3 with a strikeout at the plate.
Wieters will take another step forward in his rehabilitation during Monday's workout, going through "catcher movement" drills in which he crouches behind home plate and quickly throws to each base. He wasn't sure how long that process will take, but the next step after that essentially brings him up to full speed.
"It's got to be a little more reactive and instinctual, which is what we're going to try to accomplish with this," Wieters said. "We'll go by feel. I got into -- a little bit earlier in the rehab -- where I wanted to test it, test it, test it, then you end up pushing it too far and you can set yourself back. It's a matter of just going by feel and getting as much out of it as we can without feeling like we're fatiguing and risking injury."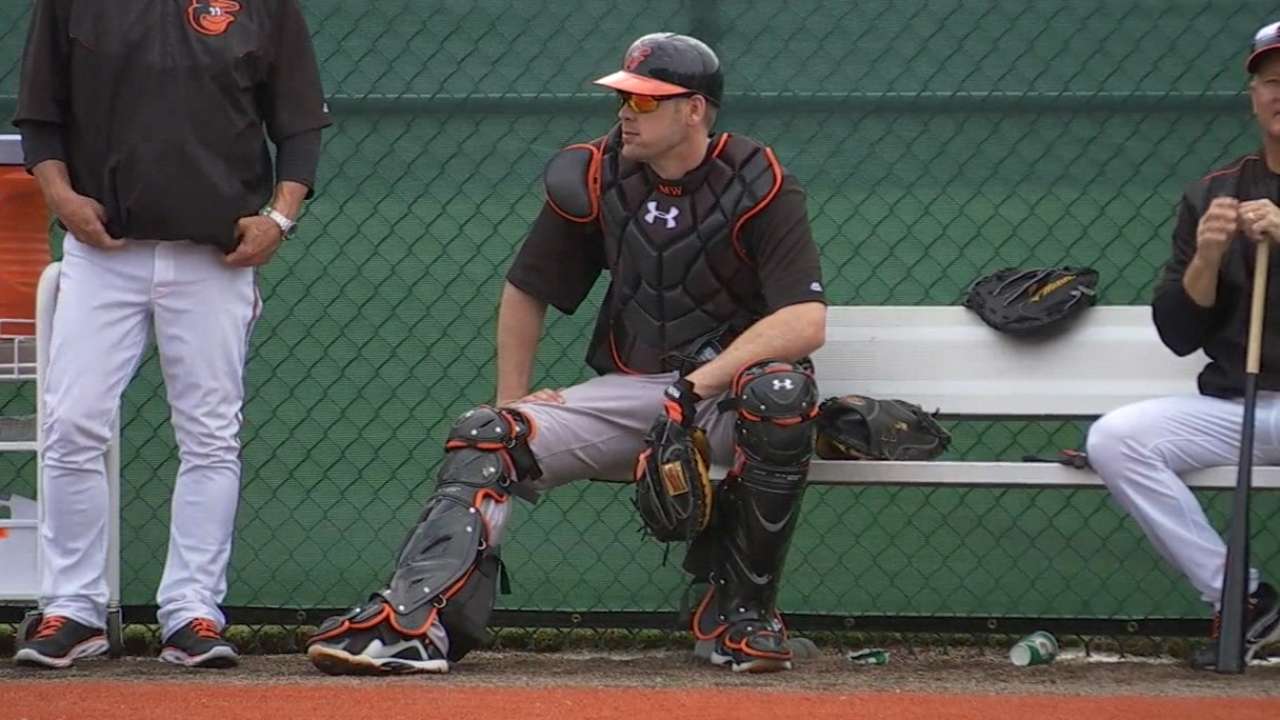 Wieters has spent most of Spring Training thinking about his elbow after every throw he makes. Sunday's game was a welcome relief in that regard, as the 28-year-old backstop said his focus shifted once the game was underway.
"It felt good to be behind the plate and get some ABs. It's fun," Wieters said. "It's what I enjoy doing, so it's nice to get back out there and try to be as normal as I can be behind the plate without being able to throw the ball to second base.
"It's definitely nice to get back there, but as far as feeling like I was rusty or anything like that, I really didn't. It felt kind of normal back there being a catcher."
The significance of the moment was not lost on Orioles manager Buck Showalter, either, not after the way Wieters worked his way back from the reconstructive elbow surgery last June.
"It's a big deal, Matt squatting down there for the first time," Showalter said.
Wieters is expected to make his Grapefruit League debut as the Orioles' designated hitter in their home opener on Tuesday against the Tigers. Showalter said he might use Wieters as the leadoff man in that game, as the manager did for the home team in Sunday's intrasquad contest.
Wieters said he felt good at the plate Sunday, but after sitting out almost 10 months, he couldn't predict how many at-bats he'll need to feel comfortable heading into the season.
"When you get a feel where you're ready to go swinging wise, then you just kind of feel it," Wieters said. "That's the funny thing about hitting. You can click in one at-bat, or you can grind through about 100 at-bats before it finally kind of clicks."
Adam Berry is a reporter for MLB.com. Follow him on Twitter at @adamdberry. This story was not subject to the approval of Major League Baseball or its clubs.