Clark: Influx of Cuban players adds to MLB's global presence
Players Association executive director touches on several topics during visit to Indians camp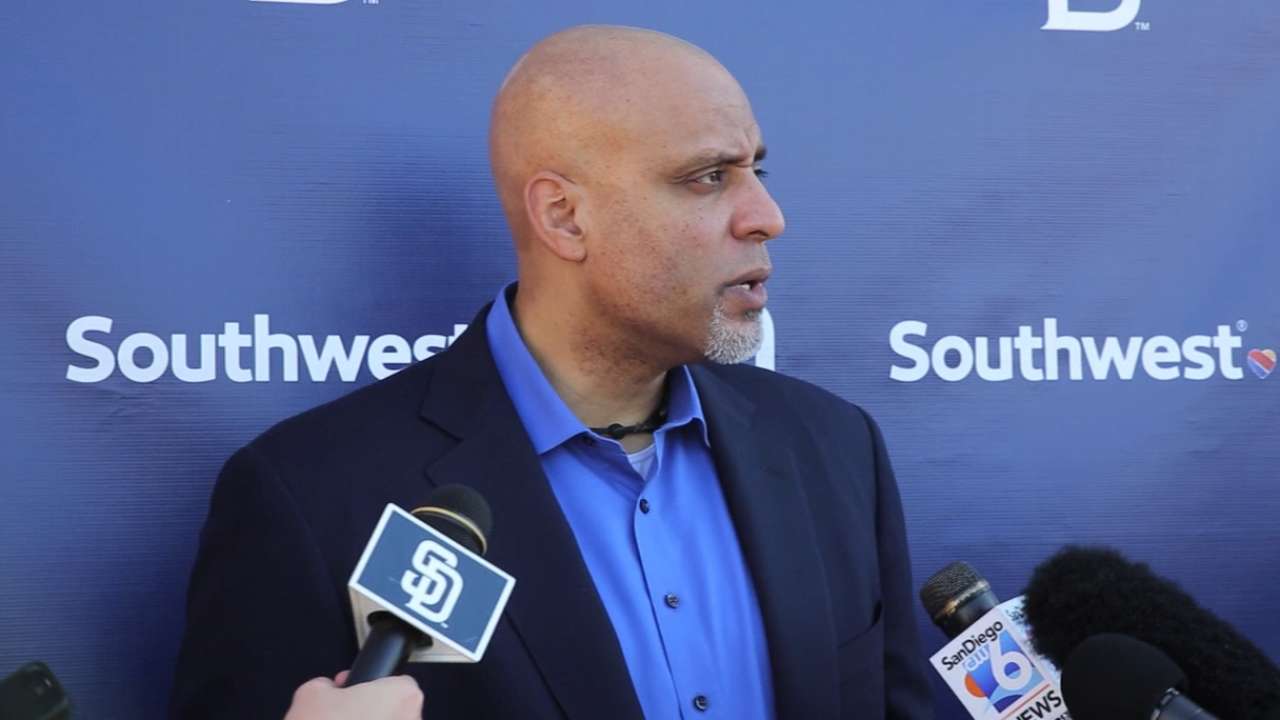 GOODYEAR, Ariz. -- Major League Baseball held discussions about possibly having Cuba host a Spring Training game this year, but there was not enough time for the talks to develop into reality. Tony Clark, the executive director of the MLB Players' Association, said Saturday that such a game could take place in the future.
The United States government made it known in December that it was working towards potentially normalizing its relationship with Cuba. Major League Baseball has been monitoring the situation with an eye toward expanding its own ties to the baseball-rich country.
"There were conversations and dialogue this offseason about the possibility of having Spring Training games in Cuba," Clark said. "But because everything was relatively new, because nobody was really sure what it meant, we weren't able to put those pieces in play this go-round. I will say to you that it is conceivable somewhere down the road that there may be a Spring Training game played in Cuba, but it is hard to tell at this point in time [when that might take place]."
In recent years, Cuban players Jose Abreu, Yoenis Cespedes, Aroldis Chapman, Jose Fernandez and Yasiel Puig are among those who have come to the United States and starred on the Major League stage.
"What's great is that you look around any locker room now," Clark said, "and you can't help [but notice] how international and how global our game is. Cuba [is] a piece that nobody really knows about, but what [players] can appreciate is it seems like every Cuban player that comes over is contributing significantly to our game, which is beneficial for everyone. I think there's intrigue. I think there's interest."
After meeting with Indians players on Saturday morning, Clark hit on a wide range of topics in a 25-minute discussion with reporters. Here are some more highlights:
On David Ortiz's recent comments about the pace of play regulations:
"David's concerns are the same concerns that we've had throughout, and that is, you have to tread very lightly when you start to affect the actual game being played on the field. In other words, when adjustments are made in other areas, or additions are made that don't necessarily affect the game itself, at any point in time that you put rules, particularly playing rules, in place that can potentially have adverse effects on the game being played on the field, you have to be careful."
On the willingness to address issues that arise under new pace of play rules:
"These guidelines that we've put in place are not put in place to create havoc. That's not why they're there. They're not put in place to reinvent the wheel. That's not why they're there. They're put in place in such a way to see if the game can continue to move and if there are things around the edges where adjustments can be made that don't affect the way that you're going to perform, we're willing to have a conversation about them. As much as we think, as much as we've discussed this, as much as we went through it and as much as we hope that it doesn't adversely affect the play on the field, we don't know what's going to happen until the lights come on and guys get into it."
On hoping that potential kinks of the new pace of play rules will be ironed out swiftly:
"Spring Training and April? We hope it is [enough time to work through any problems]. But, rest assured, guys are paying attention. We're paying attention, umpires are paying attention and we know Major League Baseball is paying attention. And every group that I just mentioned doesn't want the game to go backwards. That doesn't help or benefit anybody."
On his reaction to the Red Sox giving Cuban prospect Yoan Moncada a $31.5-million signing bonus:
Do you know what I think is great? What I think is great is how global our game is. And when there is talent, that talent receives the financial support that a team believes it is valued at. I'm interested to see what the young man does, but I can tell you that I don't think there's any other point in time in our history that we can say that we have definitively the best talent in the world playing the game. We do."
On the concept of an international draft:
The idea of a worldwide anything, or an international anything, in a lot of ways sounds great in theory, but fundamentally, there are a tremendous amount of challenges that are there based on what is already part of the system and/or what is not part of any individual system in any individual country with respect to how those players are being developed, with respect to how those players are being educated, against the backdrop of when they're being asked to make decisions about their professional careers. Here in the States we have a process and protocol in place that allows players to develop and grow and be in school and be educated and make educated decisions at 18 or 21 or 22, when they come out of college. To simply take a system that appears to work -- and I say 'appears' purposely -- appears to work one place and plop it down in another is a dangerous proposition."
On whether the current Qualifying Offer system will be a large part of the next Collective Bargaining discussions:
It's hard to say. Most of you I know are aware that our history is littered with work stoppages that were tied to that exact issue. If you look over our history -- whether it was free agency, arbitration, draft-pick compensation, pension, you name it -- those are often the themes of those conversations. Where I sit today is different than where I sat last year and it may be different than where we sit when we're at the table next year and bargaining in '16. It's been interesting to see how the adjustments have been made, what adjustments have been made both on the club side and on the players' side. How those are going to continue to manifest themselves before we sit down at the table, I don't know, but we're continuing to have ongoing conversations with agents, on conversations that they are having, decisions that the players are making, why they are making those decisions, and we'll try to determine by the time we sit down at the table just how high on the priority list that issue is."
On how players have received domestic violence seminars this spring:
Great. As you guys know, it's a sensitive topic. And, as I will assume, without assuming, every time I step in the room, I have to believe someone has been exposed to it, they have seen it personally or otherwise. And, in recognizing that, what we are doing this Spring Training is preventative, is education, is informative, to the extent that it provides a forum for the guys to talk about it."
On whether MLB will have a new domestic violence policy by Opening Day:
"If we are trying to put together a smart policy, then we'll find common ground. If the concerns go beyond that, then we may have a more difficult time. For the record, we have a policy. But, as anyone might expect, because of any number of things that have happened over the last few months, everyone has reflected on what they currently have and whether or not it could be better."
Jordan Bastian is a reporter for MLB.com. Read his blog, Major League Bastian, and follow him on Twitter @MLBastian. This story was not subject to the approval of Major League Baseball or its clubs.