With concussion behind him, Mauer ready to bounce back
Six-time All-Star excited for Twins' new-look roster in 2015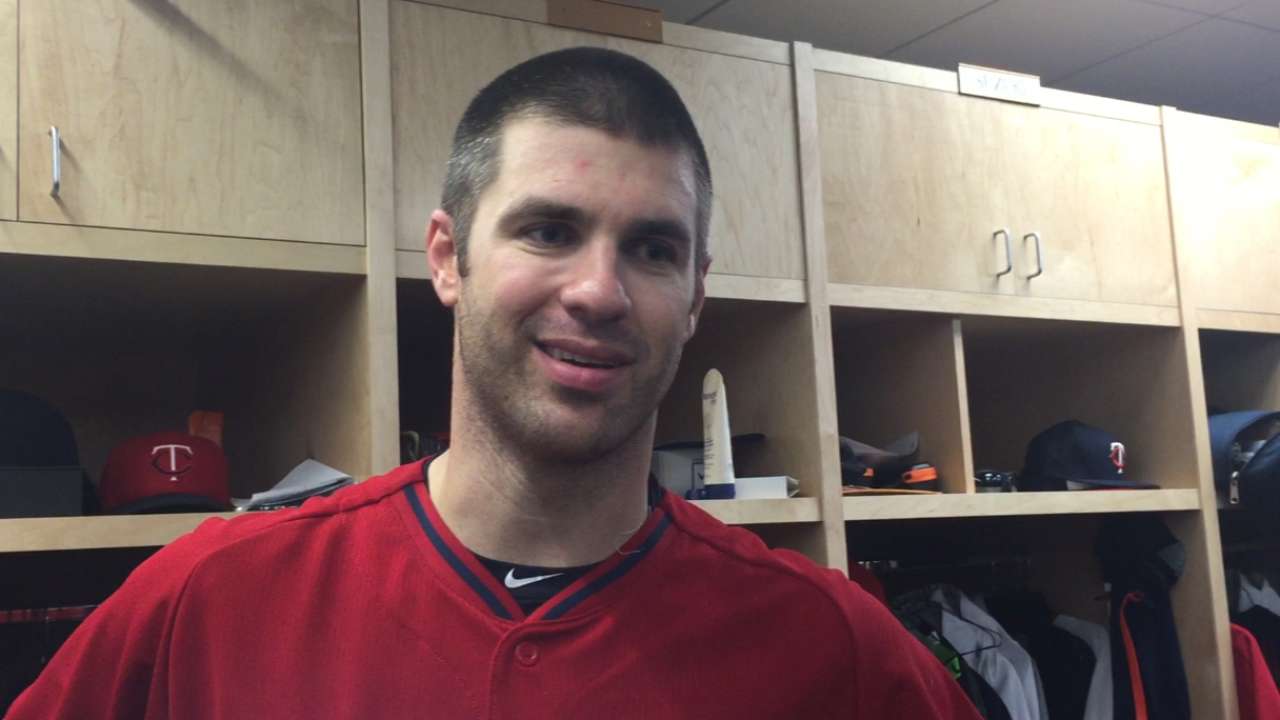 FORT MYERS, Fla. -- As Joe Mauer looks out from his usual locker in the middle of the clubhouse at renovated Hammond Stadium, he can't help but notice the new faces in Twins camp.
There's his former teammate and free-agent addition Torii Hunter situated in the back corner of the locker room to his left, while fellow free-agent signee Ervin Santana's locker is just across the room from Mauer. Beyond that, there's the manager's office for Hall of Famer Paul Molitor as well as the coaches' dressing room for new hires such as Neil Allen and Eddie Guardado.
It was an offseason of changes for the Twins after their fourth straight year of a least 92 losses, and as a result, Mauer sees more optimism heading into this season than in years past.
"It's a lot of excitement," Mauer said. "It's a new year and a lot of new faces. A lot of guys in this room didn't experience the last four years. So it's a new year, and we approach it that way."
But it's not just the hiring of Molitor -- a fellow St. Paul native -- and the offseason additions of Hunter and Santana that has the six-time All-Star excited for this season. Mauer is happy he was able to have what he calls a "normal offseason" after dealing with concussion-like symptoms last offseason that caused him to push back his workouts until late January.
There was no injury maintenance this winter, which allowed Mauer to focus on improving his flexibility and strength while working out with trainer and stretching guru Roger Erickson in Minnesota.
"I had a very productive offseason," Mauer said. "The last couple years I had a lot of things to deal with, especially last year with the concussion. I didn't really get a good base heading into the year. I feel great this year and I hope it stays that way."
Joe Mauer getting in work at 1B! #TwinsST pic.twitter.com/ZSKPCK3Ars

- Minnesota Twins (@Twins) February 28, 2015
Mauer knows he didn't play up to his usual standard in his first year at first base last season, when he hit .277/.361/.371 with just four homers, 27 doubles and 55 RBIs in 120 games. Mauer is expected to increase his durability after moving out from behind the plate due to his concussion late in the '13 season, but it simply didn't happen last year. Mauer couldn't stay healthy and was out for 40 days, missing 34 games in July and early August with a strained right oblique.
Mauer believes vigorous stretching exercises this offseason will help him stay healthy this season, which would be key for a club that still finished seventh in the Majors in runs scored in '14 despite his down year.
"You have to pay attention to your body. I'm getting older," said Mauer, who turns 32 on April 19. "I'm finding out what works and doesn't work. Trying to make adjustments."
Molitor, who also dealt with durability questions during his playing career, said he notices a difference in Mauer this spring, and said he's glad to see Mauer has moved on from the concussion symptoms.
"I think it means a lot for him," Molitor said. "I think coming back last year after what had happened the previous season, you always have those questions. He's got friends that have gone through it with Corey Koskie and Justin [Morneau]. We all know how validated our concern is over concussion issues. I'm sure there was a little hesitancy there. Like I said when I had a chance to visit with him this winter, he's excited to be back and not have to be concerned about those type of things."
With his normal offseason, the Twins are counting on a bounce-back year from Mauer given his track record, as the former American League MVP was having another solid season before his concussion in '13. They believe the dip in production in '14 was just a bump in the road for the first baseman, who remains under contract at $23 million a year through 2018.
"I don't know why he couldn't," Twins general manager Terry Ryan said. "He's still in the prime of his career. He just had an off year. He's healthy, and I think he's anxious to prove last year was just an aberration."
Rhett Bollinger is a reporter for MLB.com. Read his blog, Bollinger Beat, and follow him on Twitter @RhettBollinger. This story was not subject to the approval of Major League Baseball or its clubs.