Rehabbing V-Mart to run on anti-gravity treadmill
Avila misses second straight workout, but feeling better; Outfielders practice in rain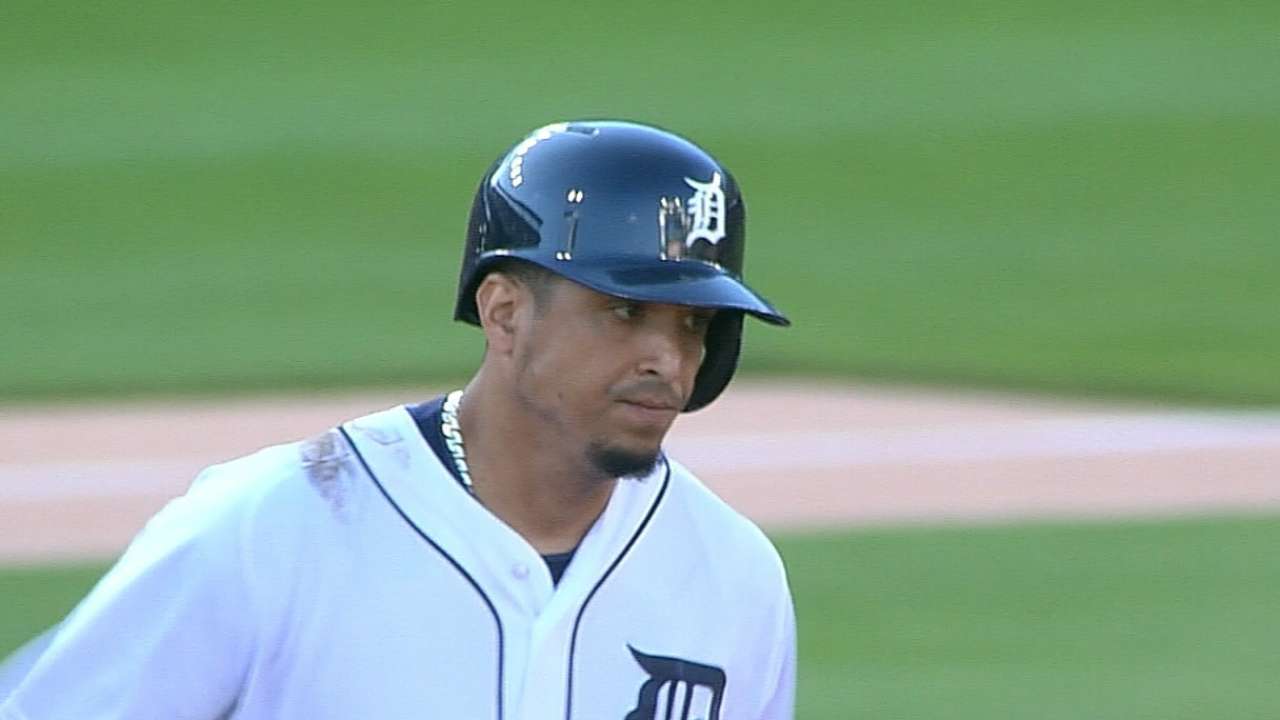 LAKELAND, Fla. -- For the second time in three days, Victor Martinez made an early appearance at Tigers Spring Training without doing much activity. He won't have to wait long to come back and do something.
Martinez made the drive down Interstate 4 from his Orlando-area home Saturday morning for Photo Day. He hasn't yet been cleared for any baseball activities while he rehabs his surgically repaired left knee, working with a physical therapist near home.
"He's going to be here on Monday, I believe to run on the [anti-gravity] treadmill," said manager Brad Ausmus, whose team is already getting heavy use out of the AlterG treadmill that arrived in camp on Tuesday primarily for Miguel Cabrera's rehab.
The Tigers have wanted Martinez to work out away from camp for now so that he isn't tempted to do any baseball activities too soon and risk his rehab. As Ausmus said earlier in the week, they want to "protect Victor from Victor."
That risk, Ausmus said, was evident Saturday.
"He's going to run the AlterG, and then he said he might swing the bat," Ausmus said. "And I said, 'What are you going to do, hit off the tee?' And he said, 'Yeah, maybe soft-toss.' So he's already trying to get more involved."
• Tigers catcher Alex Avila missed a second day of workouts with back tightness, but he is expected to resume action on Sunday.
"Alex feels a lot better," Ausmus said. "I'd be shocked if he wasn't back tomorrow."
The Tigers begin their Spring Training schedule Monday with the unofficial opener against Florida Southern College. Most of the projected starters are expected to be in the starting lineup, if only for one at-bat. Whether Avila plays Monday, or Tuesday's Grapefruit League opener, remains to be seen.
• Rainy conditions canceled most of the Tigers' outdoor plans for Saturday's workout, relegating them to having pitchers throw bullpen sessions in the batting cage. By midday, heavy downpours led them to delay Sunday's scheduled workout by at least an hour to give the practice fields more time to dry out.
Even so, Tigers outfielders worked out in the elements for a taste of fielding under inclement weather conditions. Outfield coach Dave Clark had players practice catching soft-toss popups over their shoulders, barehanded, in a hand-eye coordination drill. By making catches without a glove, players would have an easier time with a glove later.
The easy drill began under drizzle. Once the rain picked up, it added a degree of difficulty. Clark challenged his outfielders to go an entire round as a group without a drop before going inside. By the end, teammates were cheering each other on, hoping to escape the rain.
"That was fun," outfield prospect Steven Moya said.
Fellow prospect Daniel Fields agreed.
"I thought it was going to be rough," Fields said, "but that was fun."
Jason Beck is a reporter for MLB.com. Read Beck's Blog and follow him on Twitter @beckjason. This story was not subject to the approval of Major League Baseball or its clubs.