With wealth of power, Cron has chance to stick at DH
As Hamilton's situation remains unresolved, young first baseman hopes to make impression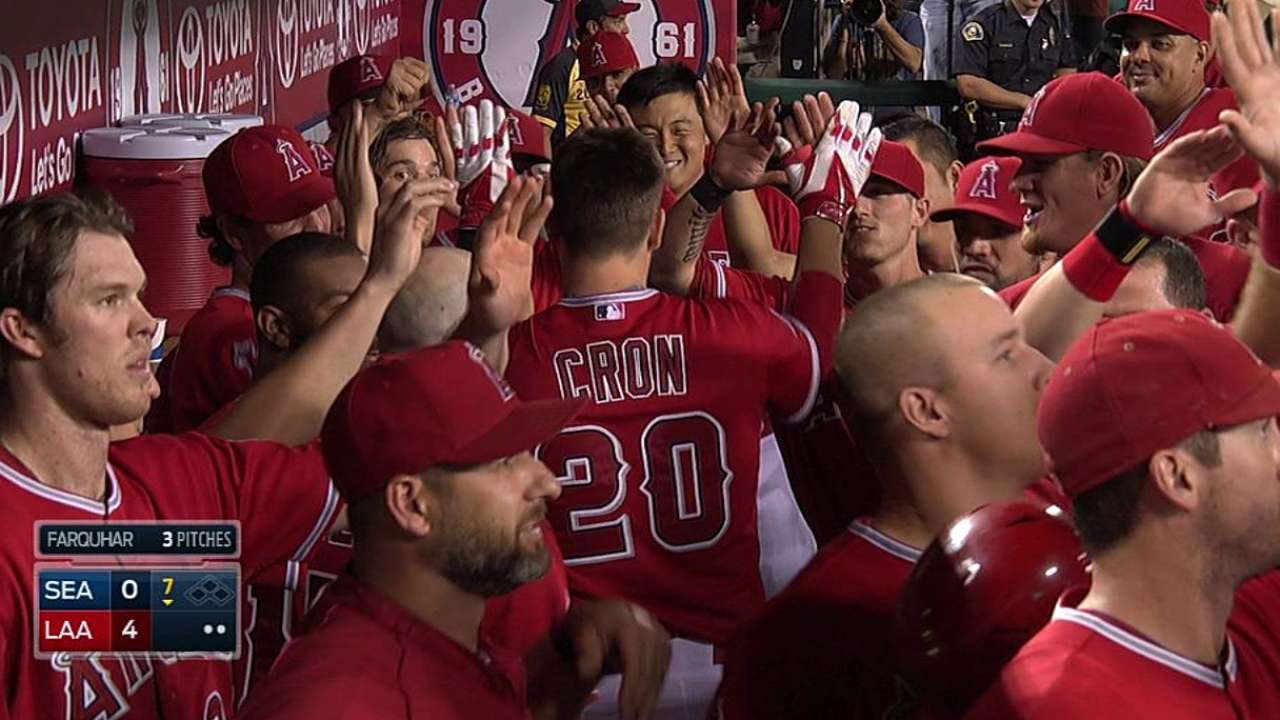 TEMPE, Ariz. -- C.J. Cron made his name throughout the Angels' Minor League system by hitting the type of home runs teammates told stories about, and catching prospect Jett Bandy has two of his own.
There's the one he hit out to dead center field in the capacious ballpark that hosts the Angels' Double-A affiliate, a low line drive that shot over the 400-foot fence and landed on top of the batting cages that sit beyond it. And there's the moon shot he hit at Mavericks Stadium in Adelanto, Calif., which cleared the left-center-field fence, sailed over a hill, cleared another fence and traveled, in Bandy's estimation, well over 500 feet.
"The ball just disappeared," Bandy said, still in awe. "It was unbelievable."
Cron has big right-handed power; the type of right-handed power that's about as rare in this game as it has been in quite some time.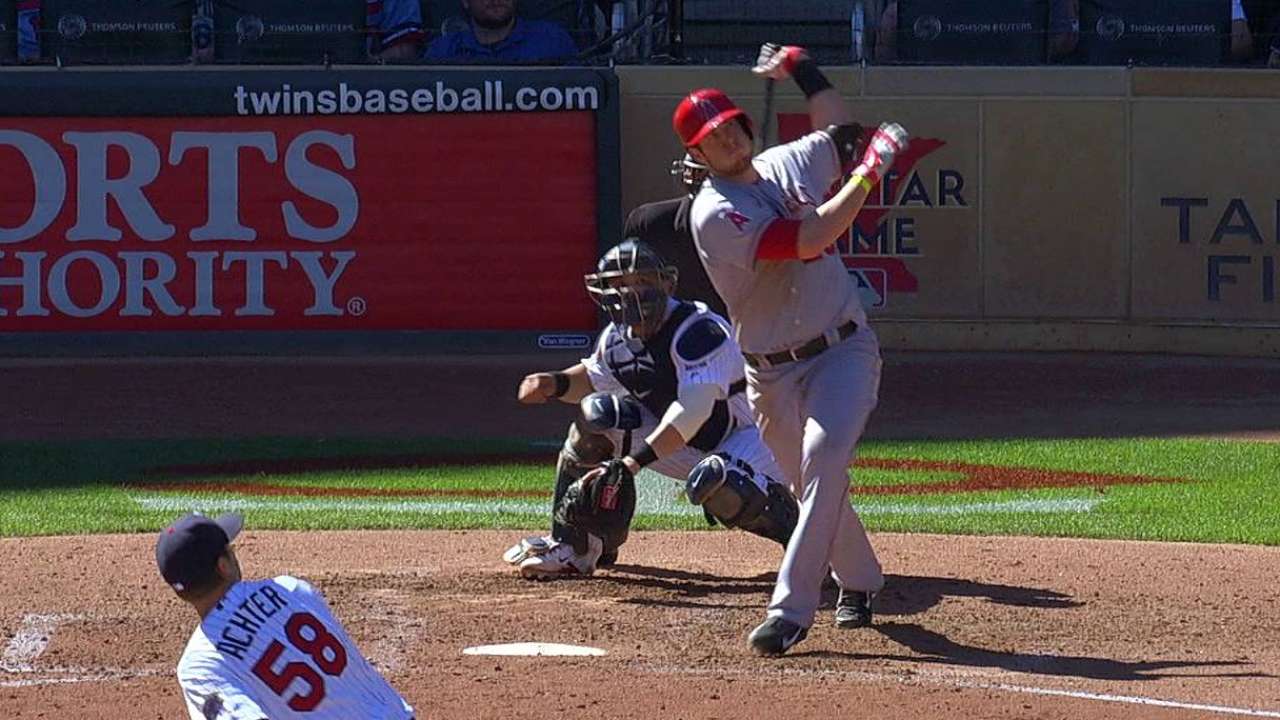 And now, with Josh Hamilton's situation so unclear, the Angels need it more than ever.
Matt Joyce is expected to be the everyday left fielder until Hamilton returns -- nobody knows when that will be -- and that means Cron will have a legit opportunity to stick as the designated hitter. The 25-year-old first baseman was drafted 17th overall six months before Albert Pujols was signed to a 10-year, $240 million contract, and it's a wonder he hasn't been traded yet.
"When the path is that blocked -- I mean, Albert's the best in the game -- it's always in the back of your mind that it could definitely happen," Cron said. "But you can't really think about it. You just have to keep playing and make it tough on the organization to trade you."
Cron got his first taste of the big leagues in 2014, batting .256/.289/.450 with 11 homers, 37 RBIs and 61 strikeouts in 79 regular-season games, then serving as the Angels' DH in a short-lived postseason. Cron eventually established a routine at DH, hitting off a pitching machine while the Angels were on defense so he could see some velocity, but he struggled with plate discipline.
Last year, Cron swung at a whopping 40.7 percent of pitches outside the strike zone, which was tied for 14th -- with Hamilton -- among players with at least 250 plate appearances.
"C.J.'s the type of guy that when he gets a pitch he can hit, he can break open a game, he can hit it hard," Angels manager Mike Scioscia said. "But like a lot of young players, you're still trying to understand plate discipline."
Scioscia compared Cron to Mark Trumbo, as he's prone to do.
"He's maybe not quite to that extreme," Scioscia added, "but he can take pitches a little bit out of the zone and still hit them hard. The expansion of his zone -- I think he can manage it OK with some experience."
Alden Gonzalez is a reporter for MLB.com. Read his blog, Gonzo and "The Show", and follow him on Twitter @Alden_Gonzalez. This story was not subject to the approval of Major League Baseball or its clubs.