Nava contemplating hitting only from left side
Red Sox outfielder's swing, approach to remain same, but he'll likely alter stance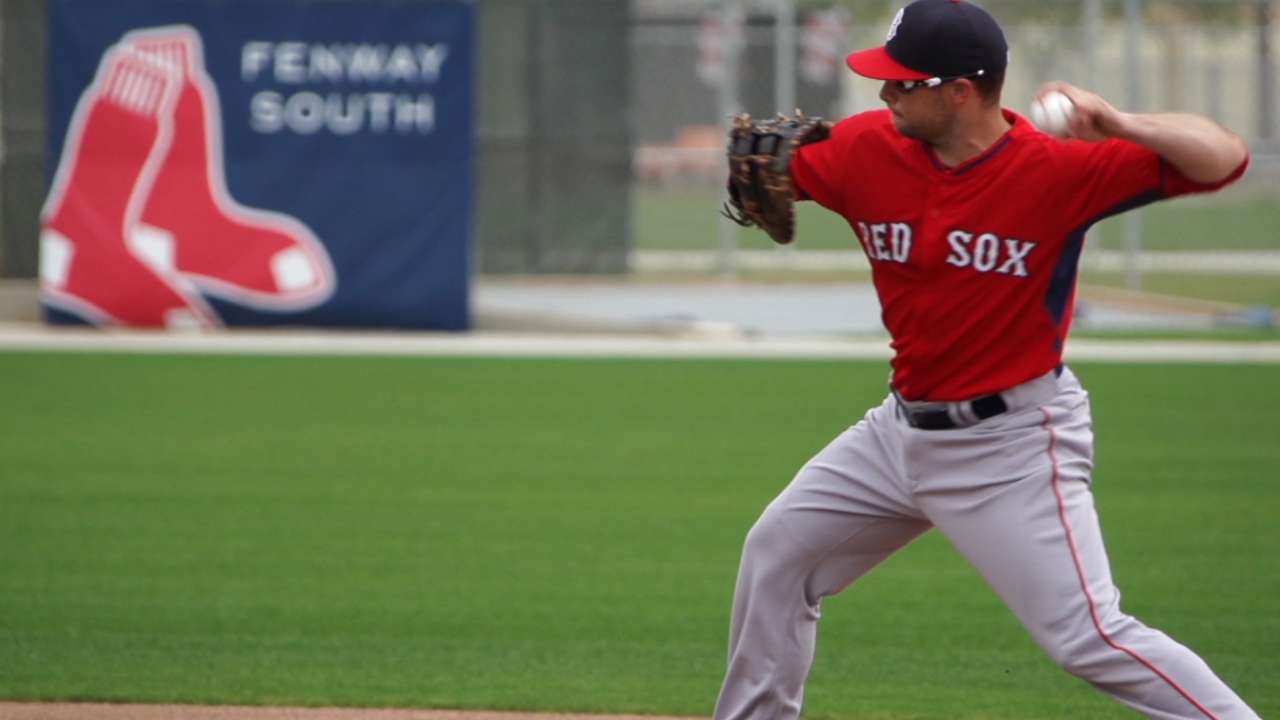 FORT MYERS, Fla. -- Daniel Nava is going to try switching out of being a switch-hitter. He is taking on a huge chore this spring in learning how to hit left-handed against left-handed pitchers.
The Red Sox think their outfielder can be more productive if he only swings from the left side of the plate, and they have a litany of statistics to support their cause. Nava, 32, is a career .293 hitter with a .428 slugging percentage against righties, but he sinks to .209 and .298 against left-handed pitchers.
Now facing lefties from his stronger side, Nava has a chance to reset his splits for good. His swing and his approach will stay the same, he said, but he'll likely need to tinker with his stance.
"It's more the setup where I can see the ball," he said of choosing from an open and a closed stance. "From the right side, you see with both your eyes, but from the left side, it's a little more challenging. If you're facing Andrew Miller, who's throwing from the dugout, I guess I'd be Tony Batista."
Nava has never hit lefty against a left-handed pitcher in the Major Leagues, but that will change this spring. Boston will take the opportunity early in the Grapefruit League to test Nava against southpaws, and if he succeeds, he'll take that strategy into the regular season.
"It was a combination of his performance and his splits," said manager John Farrell. "This conversation and talks began late last season with him, and the feeling that he's a more productive hitter from the left side. Focus on that one side of the plate. I think he'll see some right-handed at-bats in camp, but there's going to be early opportunities against left-handers in which he'll hit left-handed."
Nava, to his credit, didn't wait for Spring Training to start working on his new adjustment. He added the new skillset into his offseason work, including some chances at live batting practice.
"I got some at-bats in Arizona where i was working off a left-hander. Actually, off a Cape Cod [League] All-Star," said Nava. "I got to face a guy who knew what he was doing, which was a good feeling. [I'm thinking], 'Am I going to get hit or something?' But this guy had great control. ... I took some curveballs and just tried to do as much as I could trying to focus on here. But we get so many reps here that there's no way you can compare it. Now that I've been out here, it's definitely been more of a focus."
Spencer Fordin is a reporter for MLB.com. This story was not subject to the approval of Major League Baseball or its clubs.