PR director remembered by Orioles in camp
Showalter says team "looks ready to play," ok with predictions of struggle for upcoming season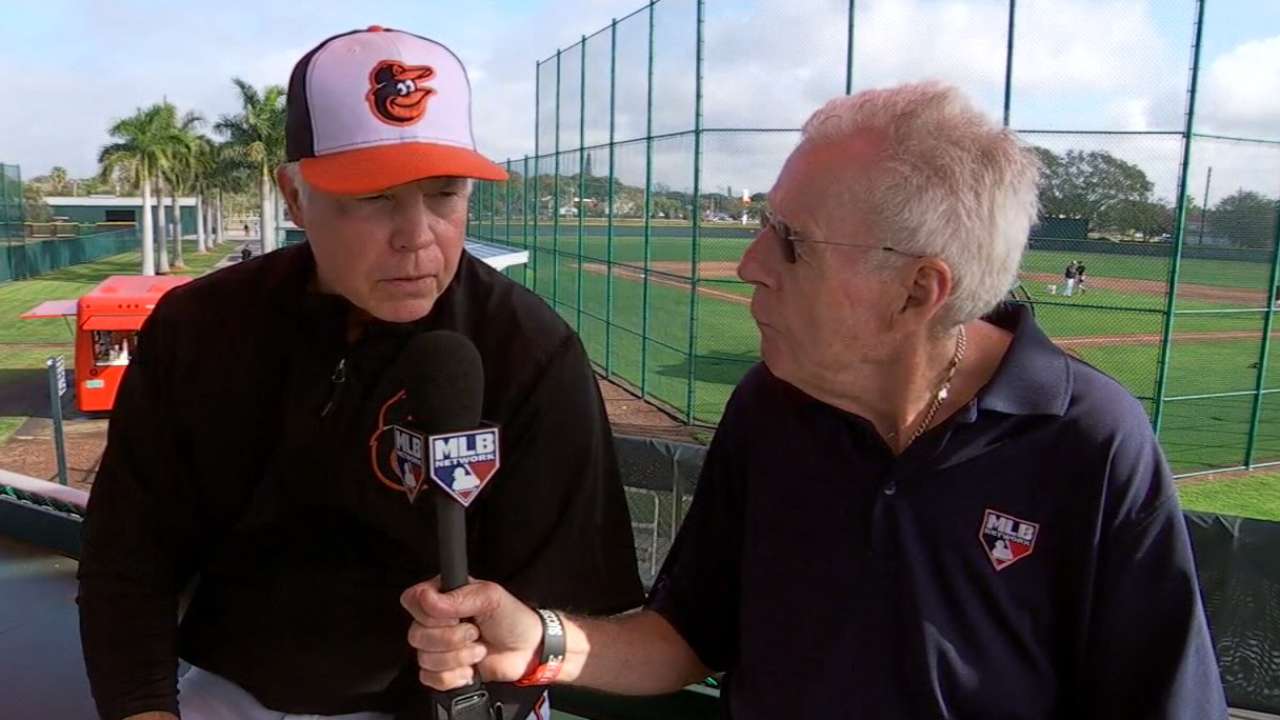 SARASOTA, Fla. -- The Orioles honored late public relations director Monica Barlow on Saturday, one year to the day after she passed away following a battle with lung cancer that lasted more than four years.
Orioles players, coaches and staff took the field Saturday wearing orange shirts for the LUNGevity Foundation, the nation's largest lung cancer-focused nonprofit for which Barlow was a spokesperson.
Printed beneath the foundation's name and motto ("Find it. Treat it. Live.") were four more words: "In memory of Monica."
"It's not just today you think of her," Orioles manager Buck Showalter said.
Barlow was 36 years old, a non-smoker diagnosed with Stage IV lung cancer in September 2009. She continued to work despite the diagnosis and became one of Major League Baseball's biggest advocates for the "Stand Up To Cancer" initiative.
Around the horn
•Several preseason predictions have been relatively unkind to the Orioles this spring, but Showalter isn't getting too worked up about the prognosticators' projections. Fangraphs.com currently says the Orioles will finish the season 79-83, while the PECOTA projection system has Baltimore putting together a 77-85 record.
In both projections, the Orioles are slated to finish last in the American League East, a year after easily winning the division with a 96-66 record.
"What do they know that I don't know?" Showalter joked Saturday afternoon. "No, actually, I kind of like it. It kind of fits us."
•Showalter noted Saturday that the Orioles looked like they were ready to start playing games. They'll get a chance Sunday in an intrasquad contest at Ed Smith Stadium.
The six-inning game will be catcher Matt Wieters' first behind the plate since May, but he won't attempt to throw out any baserunners as he eases back into playing shape following Tommy John surgery last June. Each of the club's six catchers is expected to catch two innings in the game.
•The Orioles sent eight pitchers to the club's Minor League complex on Saturday to face hitters in live batting practice: right-handers Dane De La Rosa, Steve Johnson, Miguel Gonzalez, Kevin Gausman, Oliver Drake and Eddie Gamboa and left- handers Brian Matusz and Wei-Yin Chen.
Adam Berry is a reporter for MLB.com. Follow him on Twitter at @adamdberry. This story was not subject to the approval of Major League Baseball or its clubs.