Healthy again, Masterson seeking career reboot in Boston
Back with original team, righty throws free and easy in first batting practice session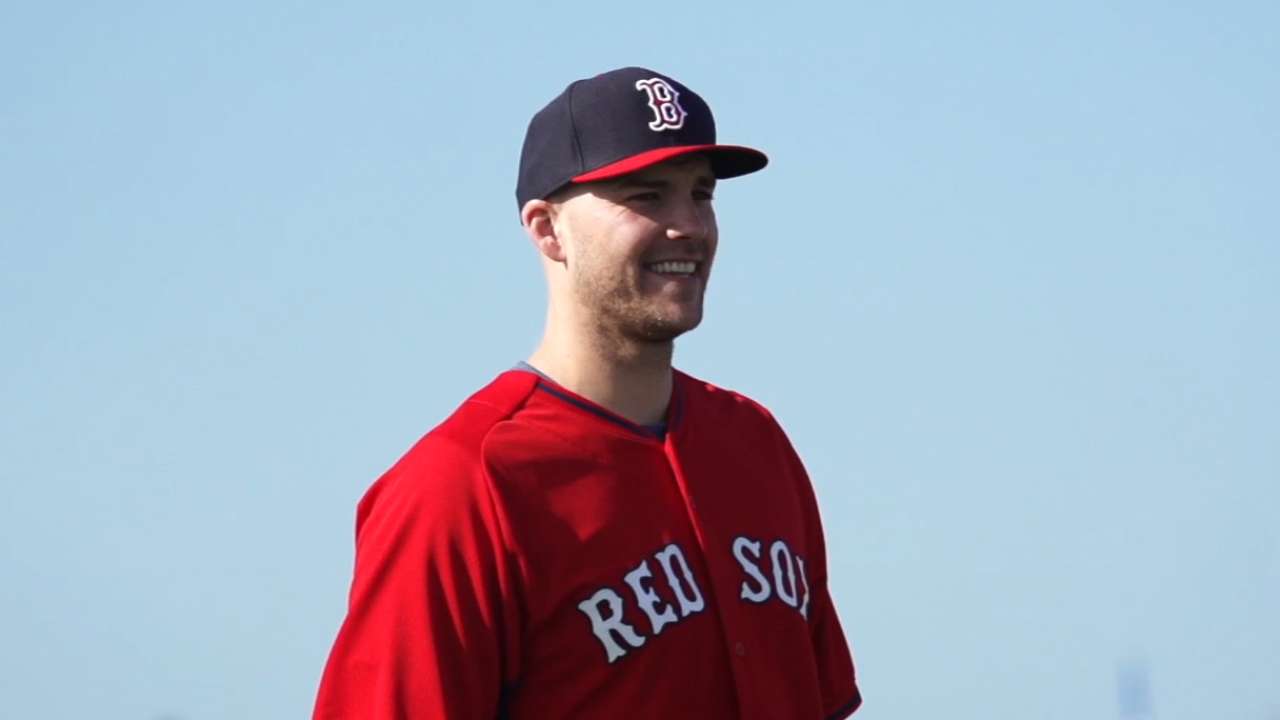 FORT MYERS, Fla. -- It's easy to look like a former All-Star in live batting practice.
Justin Masterson threw the ball free and easy Saturday in his first shot against hitters, and he said after that it was a positive step toward reestablishing himself. Masterson, an All-Star in 2013, was plagued by injuries with Cleveland and St. Louis last year before signing with Boston in December.
Masterson is healthy again and he's back with the team that drafted and developed him, but he's not sure whether he's throwing at peak velocity. The right-hander threw 25 fastballs against Pablo Sandoval and Shane Victorino on Saturday and came away happy with his performance.
"I feel a lot better. I feel more flexible, I'm getting more rotation and things are going better," said Masterson, evaluating his condition. "I just wasn't in a good spot last year, and I was trying to battle real hard through some stuff. This year, I'm much better, but I'm still working and still fighting."
Masterson, drafted by the Red Sox in 2006 and traded to Cleveland in '09, said he's thrilled to be back among familiar faces. The 29-year-old said that many of the coaches he worked with in the Minor Leagues are still in the organization, which affords him a chance to get comfortable quickly.
The veteran struggled with an oblique injury last winter and with a knee ailment during the season, and he posted an ERA (5.88) more than two runs higher than he managed in 2013 (3.45). Those numbers are in the past, though, and Masterson is eager to start a new season with a new team.
Masterson said he won't start throwing his slider until the second or third Spring Training game, and he said his fastball felt good. Only one player -- Sandoval -- hit a ball hard against Masterson, but the pitcher said you can't really read much into that result.
"The hitters always start off slow and crank it up at the end. Pitchers always have the upper hand when it comes early on," he said. "For me, it's nice to see reactions -- to see poor swings or whatever -- but it's also, 'Well, the ball isn't coming in that hard and there's some movement here.' They're just seeing things. They don't want to hit one too hard because they don't want to take off your forehead."
Masterson got a typical result four times in his brief session: A bouncer right back to the mound. The veteran fielded each of them cleanly and threw to first base even though there was nobody there to cover, and he said afterward that getting so many ground balls is a good sign.
"When I'm pitching well, that's what I always get," said Masterson. "They hit about four or five back to me; throw it over to first and get some double plays. That's my pitching career right there."
Masterson, indeed, has lived and died with the ground ball, logging a career ground-ball percentage of 56.6. He was still getting grounders in 2014 -- nearly 65 percent, according to FanGraphs.com -- but his walk rate was a full walk (4.83) higher than his career average (3.71).
Now, with Spring Training games starting next week, Masterson is hoping to begin his rebound.
"Like every guy, he's getting his timing in," Boston manager John Farrell said. "I thought the second half of his BP session was more crisp. The sinker and the action of his pitches were on the plate more consistently. He's just following the progression towards games here next week."
Spencer Fordin is a reporter for MLB.com. This story was not subject to the approval of Major League Baseball or its clubs.