Mariners prospects keep Sanchez in thoughts
Young right-hander remains in coma after being hit by water craft
PEORIA, Ariz. -- Even while some of the younger Mariners prospects are enjoying the experience of their first Major League camp this spring, they can't help but stop at times and ponder the gravity of the situation facing teammate Victor Sanchez.
The 20-year-old right-hander remains in a coma in a hospital in Caracas, Venezuela, two weeks after being hit in the head by a water craft while swimming off the shore of the eastern coastal city of Carupano in his home country.
Sanchez was one of the Mariners' top pitching prospects and would have been taking part now in the club's Minor League mini-camp, but instead, he's in critical condition and fighting for his life following brain surgery.
Though he's never been in Seattle's big league camp, several of the younger players at this year's Spring Training spent time with him in the Minors after he signed with the Mariners as a teenager in 2011.
"I know him pretty well," said catcher Tyler Marlette, who played with Sanchez all three of his seasons in the organization. "I found out on Twitter what happened, which was pretty devastating to a lot of us. He's a big dude -- we'd always call him Shrek -- with a lot of humor. He's always pleasant, always positive with everybody. It's a real shame because you don't really know where it's going to go."
Those who know Sanchez speak of his large mound presence and quiet demeanor. At 6-foot-2, 265 pounds, he was a big man even as a young boy when he arrived at low Class A Everett in 2012 and proceeded to go 6-2 with a 3.18 ERA.
Patrick Kivlehan arrived the same year in Everett as a fourth-round Draft pick, but Kivlehan was 22 years old and had spent four years playing college football at Rutgers. Yet young Sanchez, who was 17 at the time, impressed Kivlehan with his composure.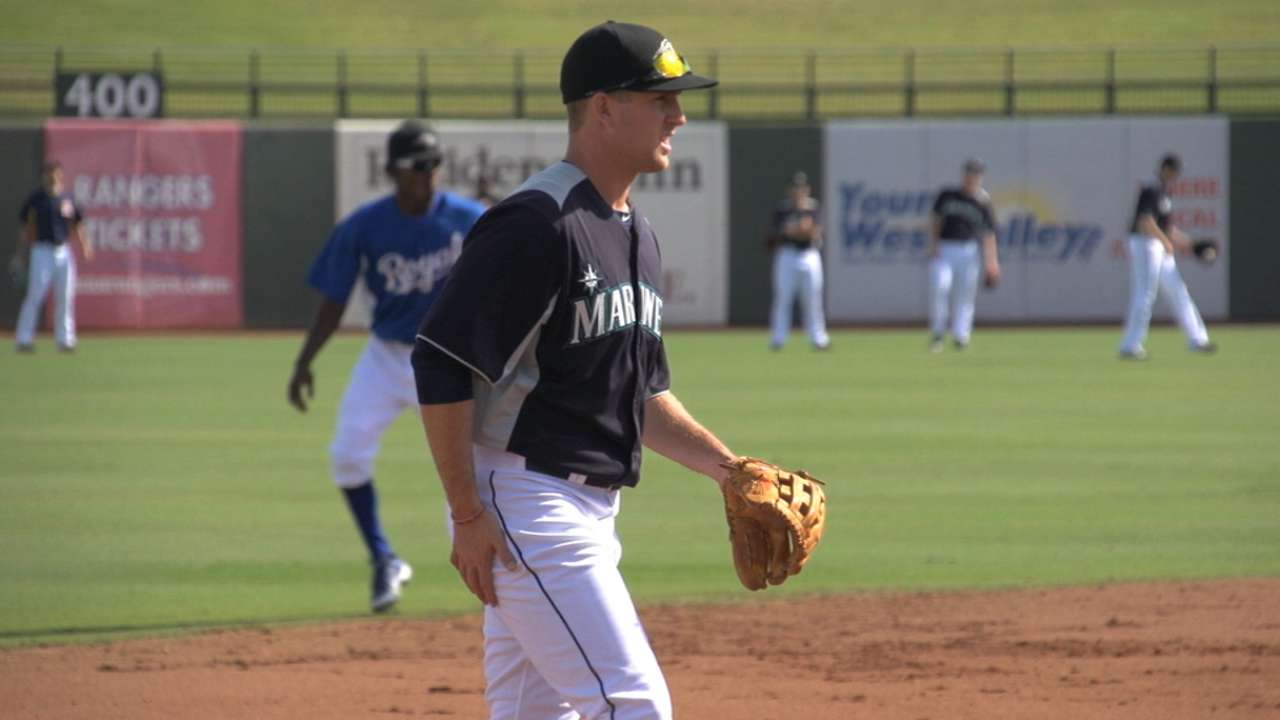 "When I first met him, he was a pretty quiet kid who kind of kept to himself," said Kivlehan, who spent time with Sanchez the following two years at Class A Advanced Clinton and Double-A Jackson as well. "But he kind of broke out of his shell over the years. That's the one thing you noticed. He was very mature for his age.
"He wasn't like the normal young kids that come in with a lot of money and most of them need to be humbled a little bit and grow up a little," Kivlehan said. "He kind of had that from Day 1. He knew what he wanted and was a very humble, quiet and soft-spoken kid. But very funny also."
Sanchez threw a no-hitter in 2013 with Clinton when he went 6-6 with a 2.78 ERA and began establishing himself as an up-and-comer in the Mariners system, then took another step last year when he went 7-6 with a 4.19 ERA in 23 starts as the second-youngest player in the Southern League.
But just days before he was to fly to Arizona to report to the Mariners mini-camp, the unthinkable happened and now Sanchez remains in critical condition. Emilio Carrasquel, the Mariners coordinator of operations in Venezuela, told Lavinotinto.com on Saturday that Sanchez's situation remains unchanged since an EEG test showed a small amount of brain activity on Monday.
Marcus Littlewood, who is in his first Major League camp, caught Sanchez's no-hitter in Clinton and also played with him his first season in Everett.
"We're just hoping he comes through and can get back to being himself afterward," said Littlewood. "All we can do is pray for him."
Littlewood said Sanchez's size was imposing on the mound, but his strength was an outstanding changeup and his ability to mix speeds.
"He was 17 years old in Everett and coming in at 6-2, 265 and we were thinking, 'Holy cow, this is Mike Tyson here,'" Littlewood said. "But he's more of a finesse guy. For how big he was, we thought he was going to throw gas. But he sat more at like 90-93 and just located. He kept the ball down. It was surprising. He was very polished as a young pitcher."
Now his friends and former teammates are just hoping for the best.
"He's a fun-loving guy and he'd be the first one to buy you food or do anything for you," said Marlette. "It's a shame that it happened to him. It just reminds you how important life is and that it's not just about baseball. It was a big eye-opener for all of us."
Greg Johns is a reporter for MLB.com. Follow him on Twitter @GregJohnsMLB as well as his Mariners Musings blog. This story was not subject to the approval of Major League Baseball or its clubs.