Banister calls on top starters to lead pitching staff
Manager meets with Holland, Lewis, Darvish and Gallardo to discuss his expectations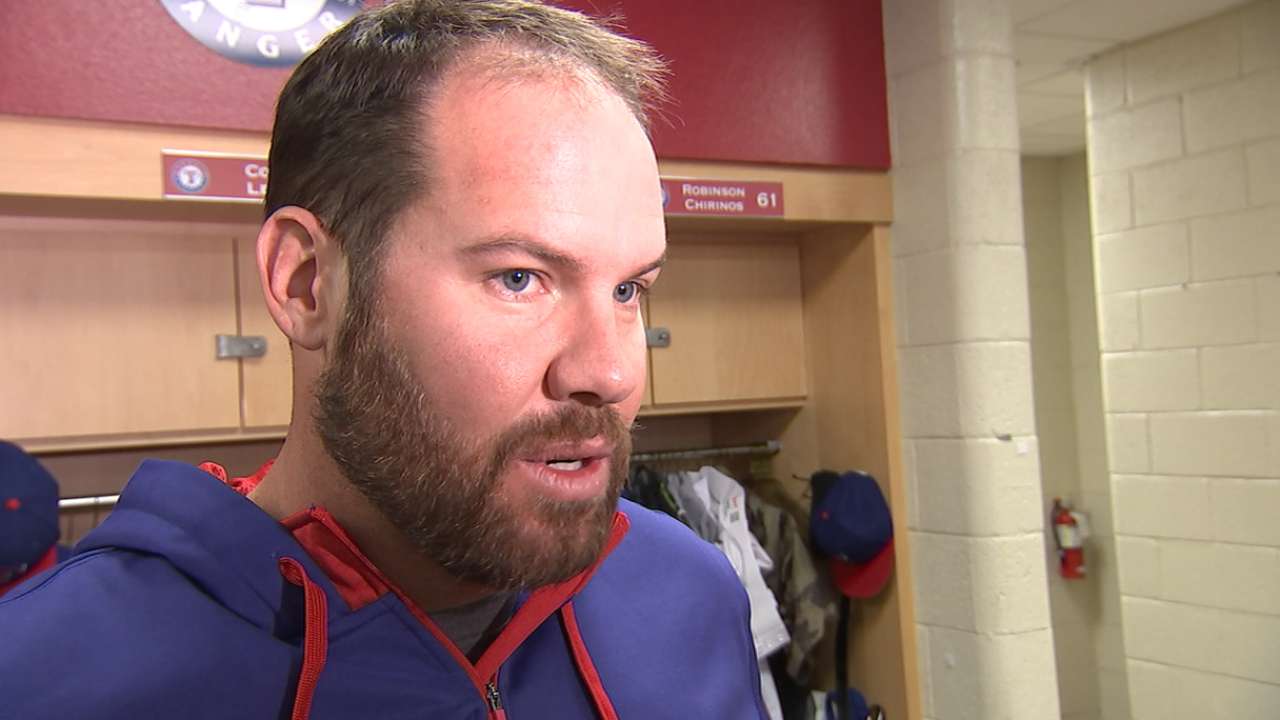 SURPRISE, Ariz. -- Rangers manager Jeff Banister met with his top four starters on Saturday morning and challenged them to be the leaders of the pitching staff.
Pitching coach Mike Maddux and bullpen coach Andy Hawkins were there when Banister had a "fun conversation" with Derek Holland, Colby Lewis, Yu Darvish and Yovani Gallardo.
"We started the process where their leadership [is concerned], some of their expectations, developing the bond," Banister said. "It has been fun to watch those four men and how they have actually gone about their business. One thing I encouraged them to do is to have that internal competition with each other. Continue to push each other but also lift each other up."
Banister said the Rangers haven't told the four what order they will pitch in to start the season. The Opening Day starter has not been identified. But Banister believes all four pitchers will be crucial to the Rangers' success.
"Understand their responsibility to each other and continue to grow a competitive atmosphere and not forget the fifth spot," Banister said. "Whoever wins the fifth spot, welcome them in and recognize there is another group that if we need an extra starter, it will have to come from within that group."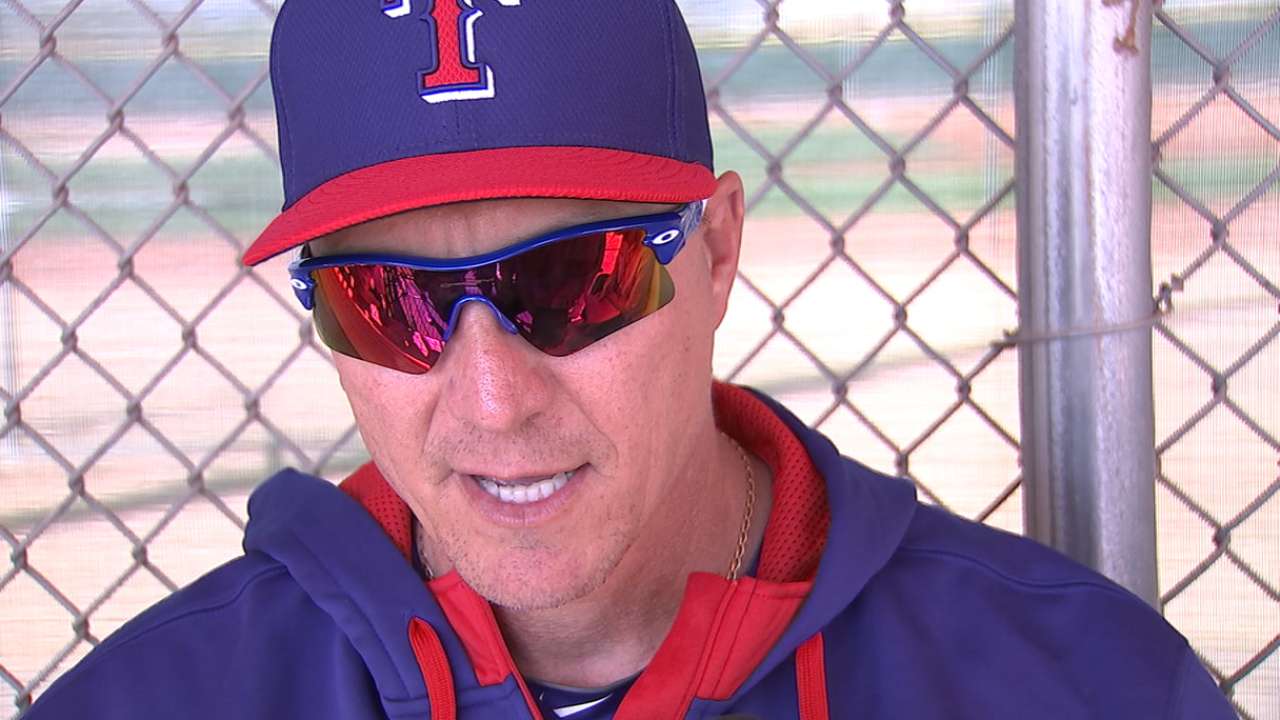 Holland and Lewis said the four starters were trying to take on that role even before meeting with Banister, Maddux and Hawkins.
"That's what I said I wanted to do," Holland said. "I had a good role model in [special assistant to the general manager] Michael Young. He set the tone for me and I want to continue that. I think we're already doing what he is asking for. The Four Horsemen or whatever you want to call us, we're already bonding, clicking."
The four pitchers have combined for 565 starts in the Major Leagues and another 17 in postseason.
"It was good to have the meeting," Lewis said. "We all know our roles. For me it was a reassurance of the track we're headed. We saw in 2010-11 that when we have a strong staff that is together, it leads to collective success of the team."
Holland and Lewis have never been shy about speaking their mind. Gallardo is new to the team. He has a strong presence but is still feeling his way into the mix.
"It all starts with pitching," Gallardo said. "We need to set the tone from Day 1. If we take care of business, the guys behind us are going to score some. It's just a matter of the fifth guy stepping right in."
Darvish is more of a mystery. Entering his fourth year with the Rangers, he has always shied away from any kind of leadership role within the team framework. He has his own program that he follows zealously, and his interaction with teammates can be limited far more often than not.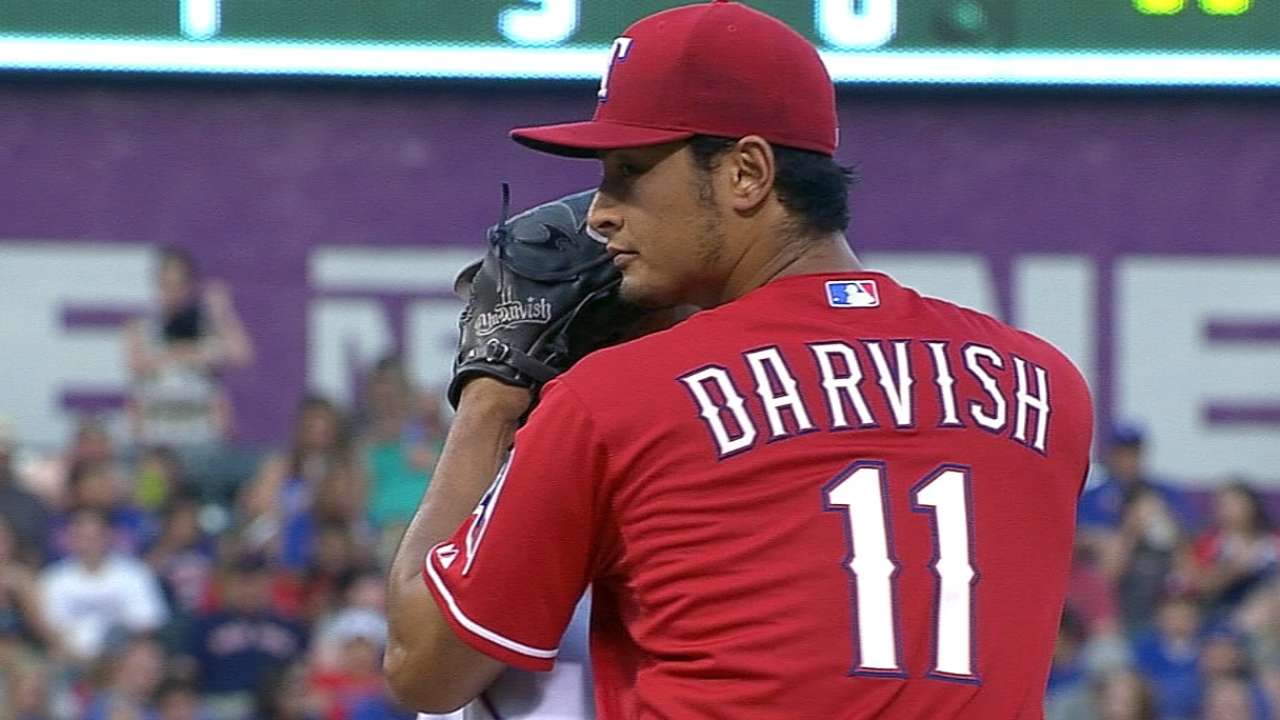 But Banister still sees Darvish as someone who can at least lead by example.
"I don't think anybody is going to outwork him," Banister said. "It's more about his work ethic and how he gets after it every day. He wants to be a champion. He wants to be a leader. He wants to be a guy everybody looks to, somebody they can rely on."
The fifth-starter competition hasn't even started yet, but the contenders are left-hander Ross Detwiler and right-handers Nick Tepesch, Nick Martinez, Anthony Ranaudo, Lisalverto Bonilla and Ross Ohlendorf.
T.R. Sullivan is a reporter for MLB.com. Read his blog, Postcards from Elysian Fields, and follow him on Twitter @Sullivan_Ranger. This story was not subject to the approval of Major League Baseball or its clubs.