Bruce puts 2014 knee injury, offensive slump in rear-view
Reds right fielder says post-injury period was 'worst six months of my life'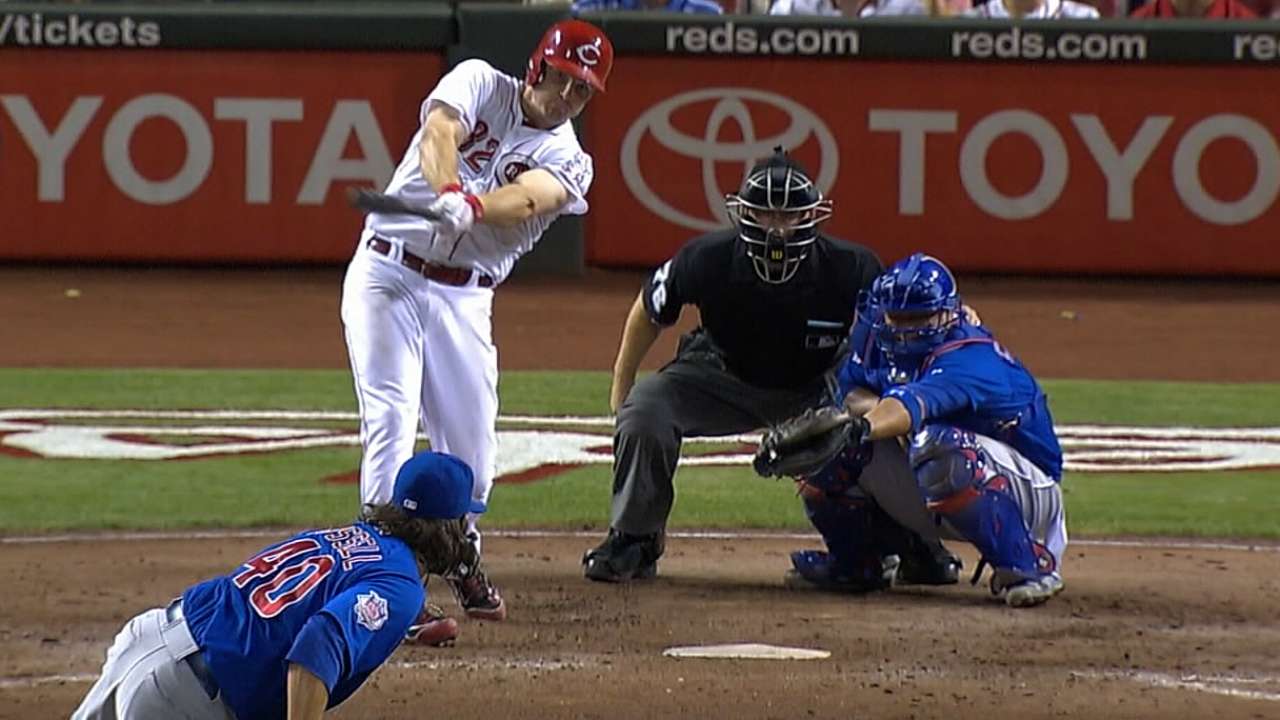 GOODYEAR, Ariz. -- As far as Reds right fielder Jay Bruce was concerned, talking about his knee, and his struggles at the plate last season, was so 2014.
Bruce missed only two weeks in May after having arthroscopic surgery to repair torn meniscus cartilage in his left knee. The issue had ramifications the rest of the season, but he said that's no longer the case. Bruce allowed only one question about his knee, and one more about his performance in 2014.
"One-hundred percent, non-issue," Bruce said of his knee. "There's nothing more to say about it."
Turning 28 on April 3, Bruce batted .217/.281/.373 with 18 home runs and 66 RBIs in 137 games last season. From 2011-13, he averaged 32 homers and 102 RBIs.
"It was the worst six months of my life," Bruce said. "It's something that I don't look back on lightly but something I don't dwell on either. I think my knee surgery was probably the biggest factor, but at the end of the day, I didn't play well. That's all anybody cares about. That's all I care about. It's about playing well. You can say and hope and prepare but doing is all you have. You have to do it."
Reds manager Bryan Price now regrets that Bruce came back so soon after surgery and would have handled it differently if he could. For starters, he would have sent him on a rehab assignment.
"But there were a lot of components in that decision," Price said. "One of them was we were scuffling. Number two, he was trying to be that responsible middle-of-the-order player that came back and played. We had a lot of injuries at the time.
"I'm saying this after the fact. At the time it seemed like we put Jay through all the paces. He passed all the tests. We got a thumbs-up, and we went with it. But I don't believe that we were looking at Jay Bruce at 100 percent at any point in time after the injury last year. "
When the season ended, Bruce went home to Texas and spent the first three weeks fully rehabilitating his knee. Then, he believed, it was just a regular offseason and his workouts reflected that.
"I just got back to feeling athletic and feeling like a baseball player again," Bruce said. "In the offseason, I didn't change a whole lot other than getting back to feeling athletic and to feeling normal."
Like Joey Votto and Brandon Phillips, Bruce returning to his normal output would a huge component for the Reds to have a chance to contend this year. He's not limiting his goals to the 30-homer, 100-RBI plateaus he consistently had approached. His career high was 34 homers in 2012.
"That would be selling myself short," Bruce said. "Who knows what I can do? I leave it open. I want to prepare every day and give myself the best opportunity to be successful. The way I look at it is the best is yet to come. There is so much in there where I can be better."
Mark Sheldon is a reporter for MLB.com. Read his blog, Mark My Word, and follow him on Twitter @m_sheldon. This story was not subject to the approval of Major League Baseball or its clubs.