Brewers will be in run mode again
Manager Roenicke wants to be aggressive on bases again this season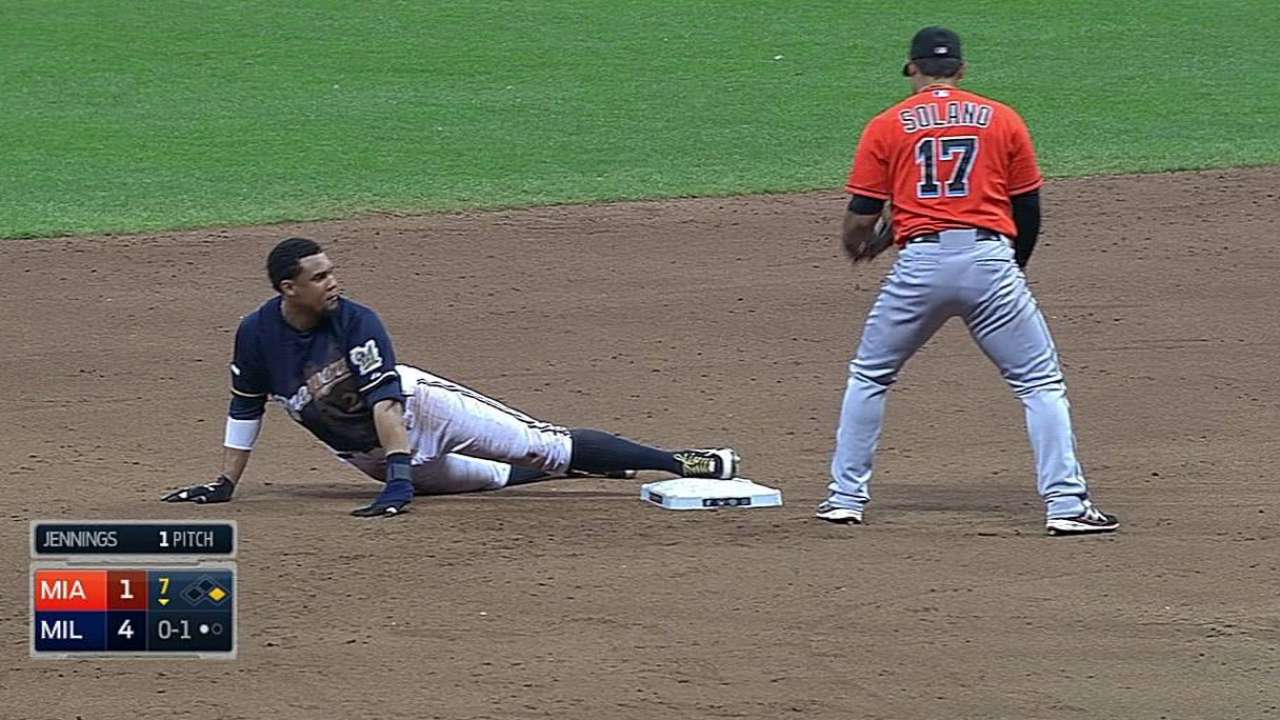 PHOENIX -- Even after putting the brakes on some of the Brewers' aggressive baserunning late last season, manager Ron Roenicke has not wavered in his belief that taking chances on the bases creates more benefit than harm.
"No question about it," Roenicke said. "I think if you're more aggressive on offense, you'll be more aggressive on defense, which you need to be. I think the freedom, that they're not stressed and they're not looking over their shoulder at us, that creates a better opportunity for them to perform well."
Of course, there is one important caveat.
"Personnel dictates more what you can do. That's No. 1," Roenicke said. "But knowing the pitching is better means you have to try to figure out how to create more runs. The only way I know how to get guys in scoring position more often. So, how do we go about that?"
For much of his first three seasons as Brewers manager, Roenicke took a "green light" approach to baserunning, especially with speedsters like Carlos Gomez, Ryan Braun and Jean Segura. But Segura was one of several players who struggled on the bases last year, falling from 44-for-57 in stolen base attempts in 2013 to 20-for-29 in 2014. Gomez went from 40-for-47 in 2013 to 34-for-46 in 2014.
As a team, the Brewers' steal rate has been falling:
In 2012, the Brewers led the Majors with 158 stolen bases and ranked third with an 80.2 percent success rate.
In 2013, they ranked third with 142 steals, and 10th with a 74 percent success rate.
In 2014, the Brewers fell all the way to 11th with 102 steals, and were in the bottom half of baseball -- 18th of 30 teams -- with a 70.3 percent success rate. League average was 73 percent.
Late last season, with offense lagging around baseball, Roenicke discussed the baserunning with GM Doug Melvin and decided to dial back the level of aggression, in terms of stolen bases and otherwise.
The Brewers went from second in the Majors in 2013 with 65 outs on the bases -- a measure that excludes caught stealing -- to seventh in 2014 with 61 outs on the bases.
"It was by design," Roenicke said. "I think we were running into too many outs that way. I like to be aggressive, but if the personnel doesn't allow you to create enough opportunities to score runs versus giving up outs, then you have to change some."
Asked where he stands on the matter going into this season, Roenicke said, "We'll see. I think we'll let the guys go, and then we'll see how it goes."
Adam McCalvy is a reporter for MLB.com. Read his blog, Brew Beat, and follow him on Twitter at @AdamMcCalvy. This story was not subject to the approval of Major League Baseball or its clubs.