Last Call: Brewers report strong individual ticket sales
Brewers bench coach talks about not having his brother on the staff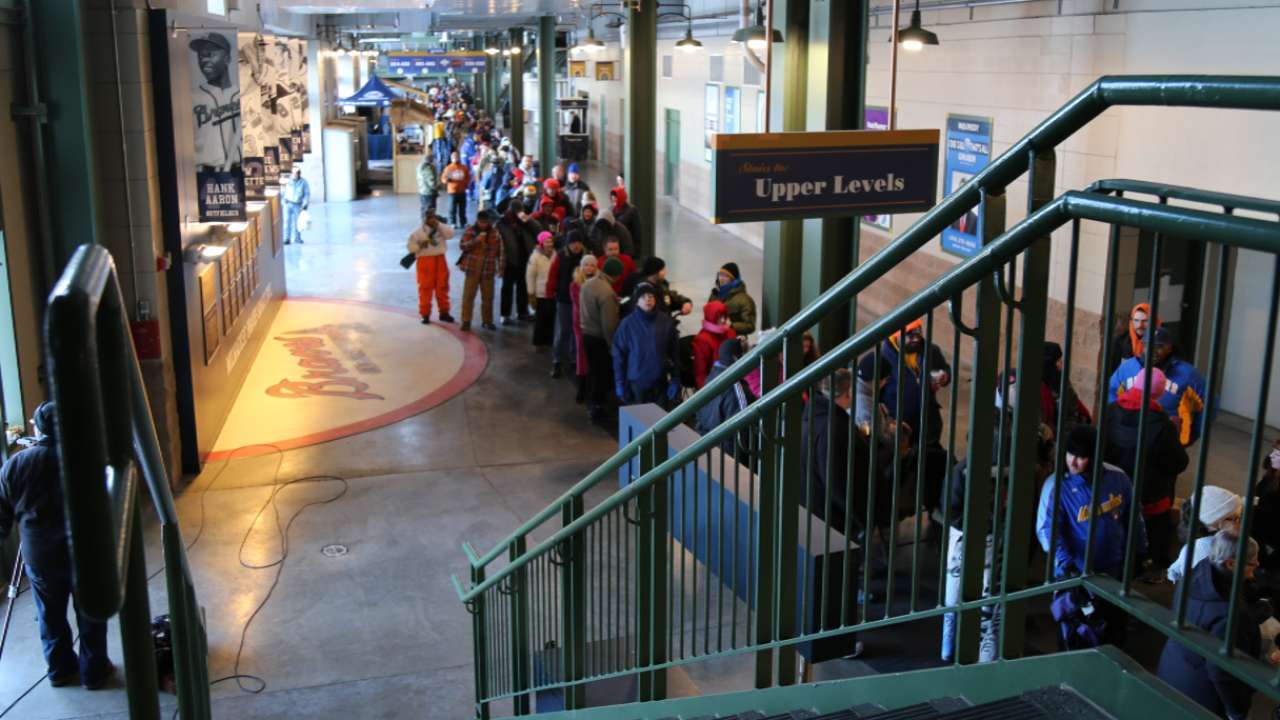 PHOENIX -- Last Call is a spot for all the notes and anecdotes from Brewers camp that didn't find a home elsewhere on the site. Today, hot tickets off the frozen presses:
• The Brewers reported selling 101,000 tickets by 3 p.m. CT on Saturday, the first day of individual sales. That's a 10,000 ticket bump from a year ago, and just shy of the single-day record of 104,000 set in 2009.
Not surprisingly, Opening Day sold out, except for a limited number of tickets held to be sold as part of season seat packages.
"Once again, Brewers fans proved that spring and summer come early when it comes to being ready for baseball, and we appreciate their incredible support," Brewers COO Rick Schlesinger said. "We encourage everyone to purchase tickets in advance, not only because several games have limited inventory remaining, but also because the best deals with demand-based pricing are typically for tickets purchased early."
Many fans braved the elements to buy their tickets in person at Miller Park, where frigid temperatures forced the Brewers to cancel plans to allow diehards to set up camp in advance of Saturday's "Arctic Tailgate." As usual, fans can keep their gloves and scarves in the closet and order tickets from the comfort of their home computer at Brewers.com/tickets.
Tickets in hand! #ArcticTailgate pic.twitter.com/7Nxco96Glp

— Milwaukee Brewers (@Brewers) February 28, 2015
• The Brewers reached terms with another slew of their so-called "zero to three" players, those shy of the service time necessary to qualify for arbitration. The salaries are almost always near the Major League minimum, and are set using a team formula.
Saturday's signees were Matt Clark, Hector Gomez, Johnny Hellweg, Jim Henderson, Luis Jimenez, Taylor Jungmann, Corey Knebel, Jason Rogers, Luis Sardinas, Logan Schafer, Tyler Thornburg, Wei-Chung Wang and Rob Wooten. Thirty-five members of the full 40-man roster are now signed for 2015.
• Catcher Robinzon Diaz has inked a Minor League contract to re-join Milwaukee's farm system. He played 83 games between the Brewers' Double-A and Triple-A affiliates last year.
• Brewers bench coach Jerry Narron never roomed with younger brother Johnny in Spring Training when they worked together on Milwaukee's staff, but they saw each other every day at the office. Since Johnny Narron was dismissed as hitting coach at the end of last season, that's no longer the case.
"It's all part of the game. It's what we do," Jerry Narron said. "It's tough any time you lose somebody on the staff, but no tougher just because he was my brother. When he was here, I never looked at him one day as being my brother on the staff. Not one time. I look at all these guys here the very same."
Johnny Narron landed with the Angels, getting a two-year contract to be their Triple-A hitting coach. Darnell Coles took over as Brewers hitting coach.
• Stop us if you've heard this one before, but right-hander Jimmy Nelson's live batting practice session was bumped another day while he recovers from a hamstring tweak. Manager Ron Roenicke said once again Saturday that the issue was minor, and that Nelson was scheduled to throw Sunday. Roenicke said he "would be surprised" if Nelson gets pushed back again.
• One by one, every player in camp has been meeting individually in Roenicke's office. Saturday's schedule included talkative veteran Dontrelle Willis. "He's got a great attitude, and the things he said are exactly what you want a player to say," Roenicke said. "He gets it."
Adam McCalvy is a reporter for MLB.com. Read his blog, Brew Beat, and follow him on Twitter at @AdamMcCalvy. This story was not subject to the approval of Major League Baseball or its clubs.