Cardinals mix hitters with pitchers to talk 'shop'
Matheny has players discuss strategy while working out indoors due to rain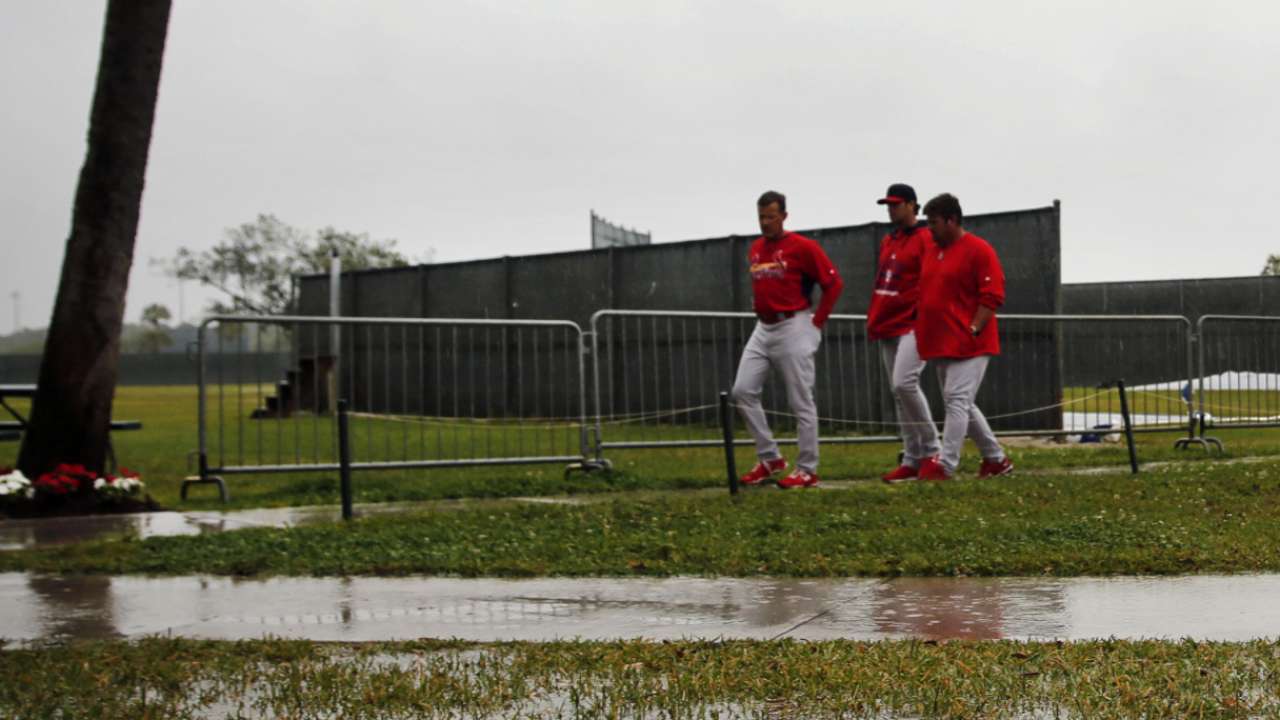 JUPITER, Fla. -- It's too early in Spring Training to be taking a day off just because of lousy weather.
So when rain forced the Cardinals indoors for workouts Friday, manager Mike Matheny decided to use part of the time for discussion groups among the players and coaches. Pitchers and hitters were divided into groups to discuss various situations that might happen in games.
"There was a lot of input from pitchers toward hitters. It was an absolute highlight of the day, how the guys got some banter going back and forth between a veteran pitcher and a veteran hitter and what they're thinking," Matheny said. "Meanwhile, you've got some of these kids just out of A ball that are watching All-Star-caliber players talk the game. That's the one thing that I think that's changed more than anything, is talking shop.
"I learned more as a young player just hiding in my locker during Spring Training and during the season, too, just listening to the guys talk about their approach. I'd listen to a pitcher and try to do that through a hitter's eyes, and [say], 'OK, this is what he's thinking in that situation, this is what he's trying to do, and how that can benefit me.' The guys did a great job yesterday. The guys basically took over [the conversations]."
Stephen Piscotty, the club's top prospect and a non-roster invitee to Spring Training, said it was a great learning tool for him.
"It's good to share. It was a cool experience," Piscotty said. "Just kind of observe as much as you can."
Steve Dorsey is a contributor to MLB.com. This story was not subject to the approval of Major League Baseball or its clubs.