Smith brings quiet approach to first Mariners camp
Veteran outfielder looks forward to getting to know new teammates
PEORIA, Ariz. -- While much of the early focus of Mariners camp has centered around the arrival of new cleanup hitter Nelson Cruz and late addition of veteran Rickie Weeks, Seth Smith has quietly gone about his business of getting ready for his ninth Major League season in relative anonymity.
But Smith, 32, figures as one of Seattle's significant offensive upgrades as a potential No. 2 hitter in the lineup and a proven and productive left-handed bat.
After watching the 6-foot-3, 210-pounder go about his work for the first few days, manager Lloyd McClendon reaffirmed what he expected from the outfielder, who was obtained by trade from the Padres for promising young reliever Brandon Maurer.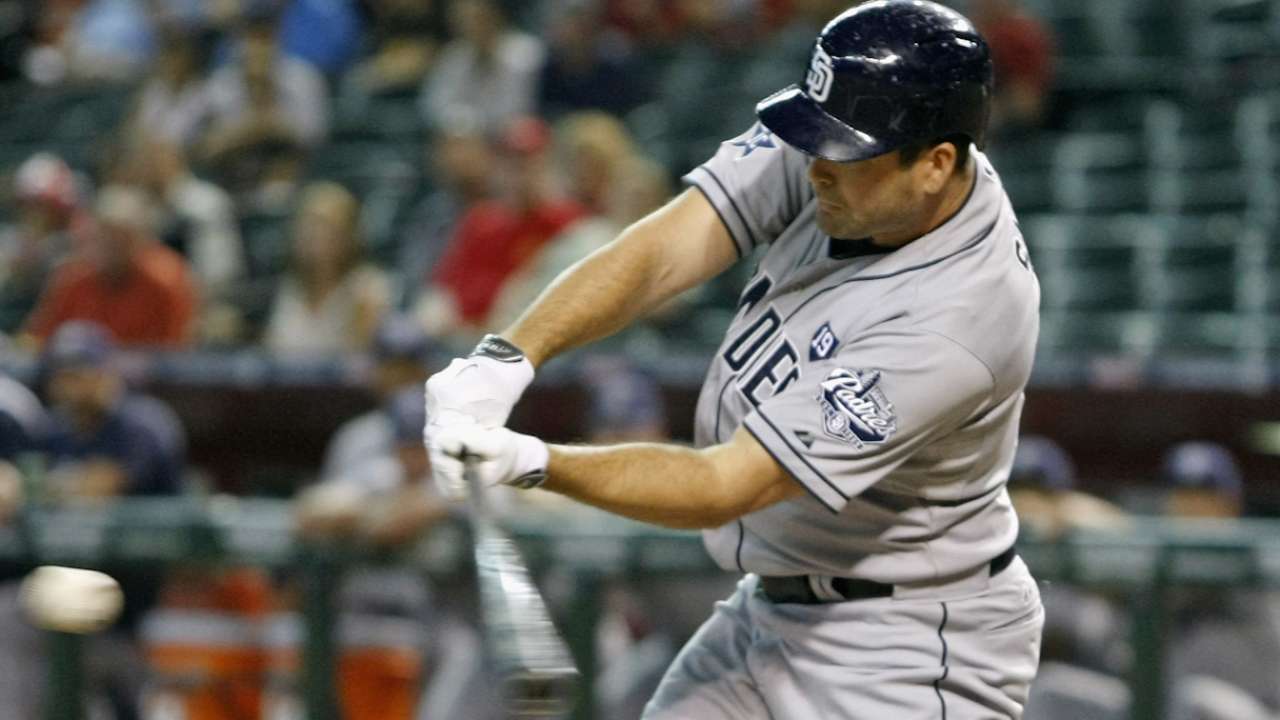 "He's solid," McClendon said. "He's a veteran guy that knows how to go about his business. He's got a nice track record, he's a good player, he's well-liked and respected in the locker room."
The first issue for Smith was finding that locker room, having played last year in the Padres' adjacent facility on the other side of Peoria Stadium.
"I wasn't sure how to get over here, but it's pretty easy," Smith said with a smile. "I went to Mariners Way [the street leading into Seattle's facility] and figured that was a good starting point."
Now the Mississippi native is going about learning the Mariners way on the field, where outfield coach Andy Van Slyke already has his troops going through his array of challenging drills.
"It's good work," Smith said. "It's what you hope for. Just come to the field, get your work in and try to prepare yourself in a way where you can win some baseball games."
Having spent five seasons with the Rockies, two with the A's and one with the Padres, Smith said he's played against most of the Mariners, but has never been teammates with any of the current group. So introductions are underway.
"You kind of just come and take care of your baseball stuff," he said. "There's plenty of time in the clubhouse and around the breakfast table to get to know guys. It's also a long season. We have a lot of time to figure it all out."
While Smith works his way in with his new squad, McClendon already has an idea where he might fit into the lineup. The left-hander will likely split time with the right-handed-hitting Justin Ruggiano in right field, and the skipper likes the idea of slotting in one of those two behind leadoff man Austin Jackson and in front of the 3-4-5 combo of Robinson Cano, Cruz and Kyle Seager.
"We'll look at it and see how it plays out," McClendon said. "We have three guys that have hit extremely well in the No. 2 hole -- Smith, Ruggiano and Weeks. We have options."
Greg Johns is a reporter for MLB.com. Follow him on Twitter @GregJohnsMLB as well as his Mariners Musings blog. This story was not subject to the approval of Major League Baseball or its clubs.