Singleton confident despite last season's disappointment
Young slugger focused on consistent contact, slowing game down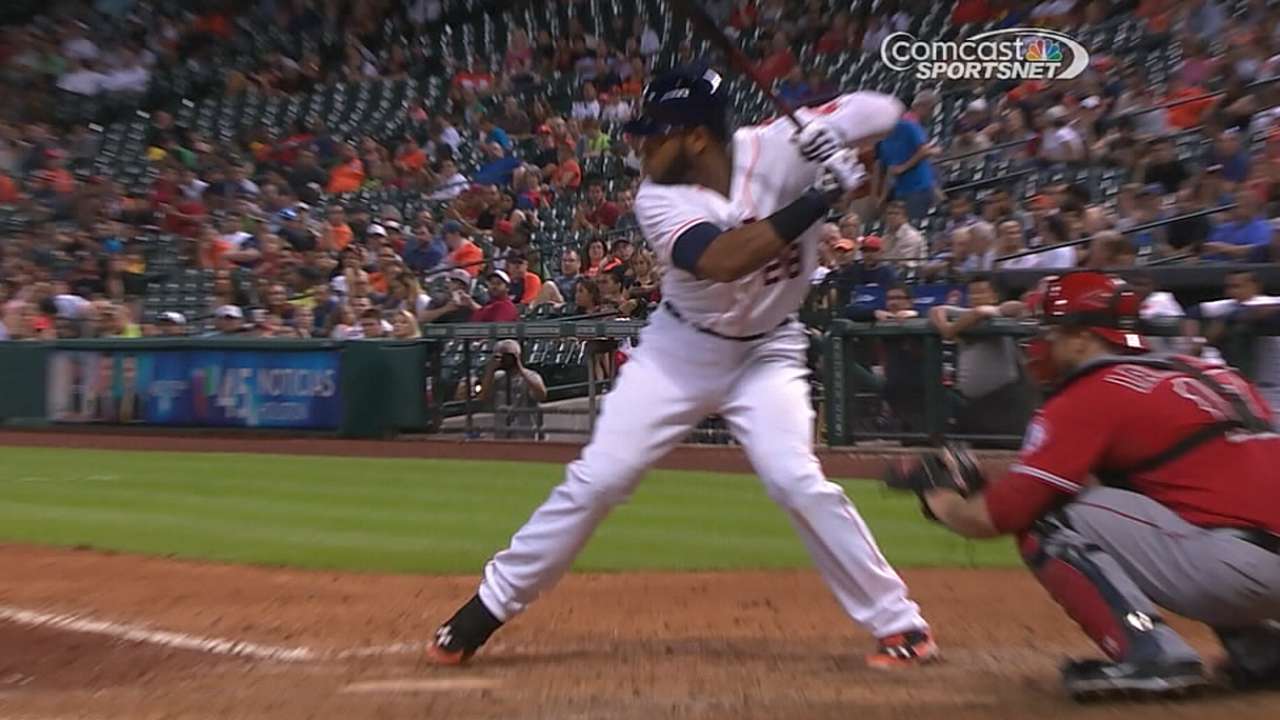 KISSIMMEE, Fla. -- Each at-bat weighed heavily on his mind, and each failure only led to more disappointment and doubt. Nothing seemed to come easy last year for Jon Singleton, whose long-awaited Major League debut didn't come close to the big numbers he'd posted in the Minors.
The Astros thought enough of Singleton as a prospect to sign him to a five-year, $10 million deal before he even stepped foot on a Major League field, and then watched the first baseman hit .168 with 13 homers, 44 RBIs and 134 strikeouts in 310 at-bats in his first 95 games in 2014.
Singleton, 23, came to camp in good shape and with the right frame of mind to establish himself as the feared slugger the Astros envision. Despite his contract, he's going to have to compete for a spot on the team this year, considering the Astros have options at first base now with the Evan Gattis and Chris Carter combo.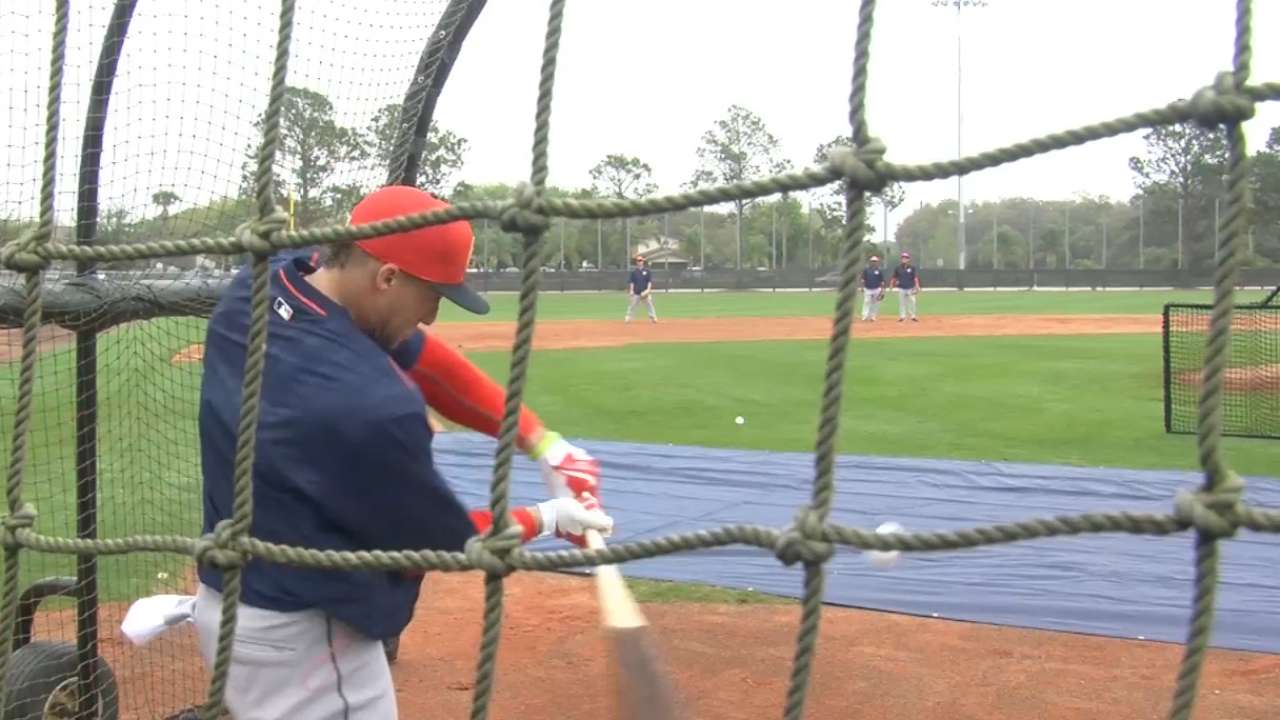 "To be honest, I believe the only competition I have is myself," Singleton said. "I feel like I'm the only person who can prevent myself from reaching the potential I need to reach or getting out of the game what I need to get out, but if I prepare and I work and I leave it all out there, there's nothing really else to worry about."
The strikeouts are a concern, and Singleton is focusing on swinging at the right pitches in the right counts and making more consistent contact. If he can, he's a threat to hit 30 homers and drive in a ton of runs in manager A.J. Hinch's lineup.
"He's done what he needs to do this offseason to come in and improve off of, not only a tremendous Minor League career, but his start to the Major League career last year, which was mixed," general manager Jeff Luhnow said. "My money's on Jon Singleton to do the things he needs to do to make this club."
Gattis was acquired for his bat, but where he and fellow right-handed slugger Carter fit into the lineup depends on Singleton. If Singleton makes the club, Gattis will see less time at first and more in the outfield, while Carter will be used primarily as the designated hitter. If Singleton doesn't make the club, the Astros could alternate Gattis and Carter between first base and DH. They have options.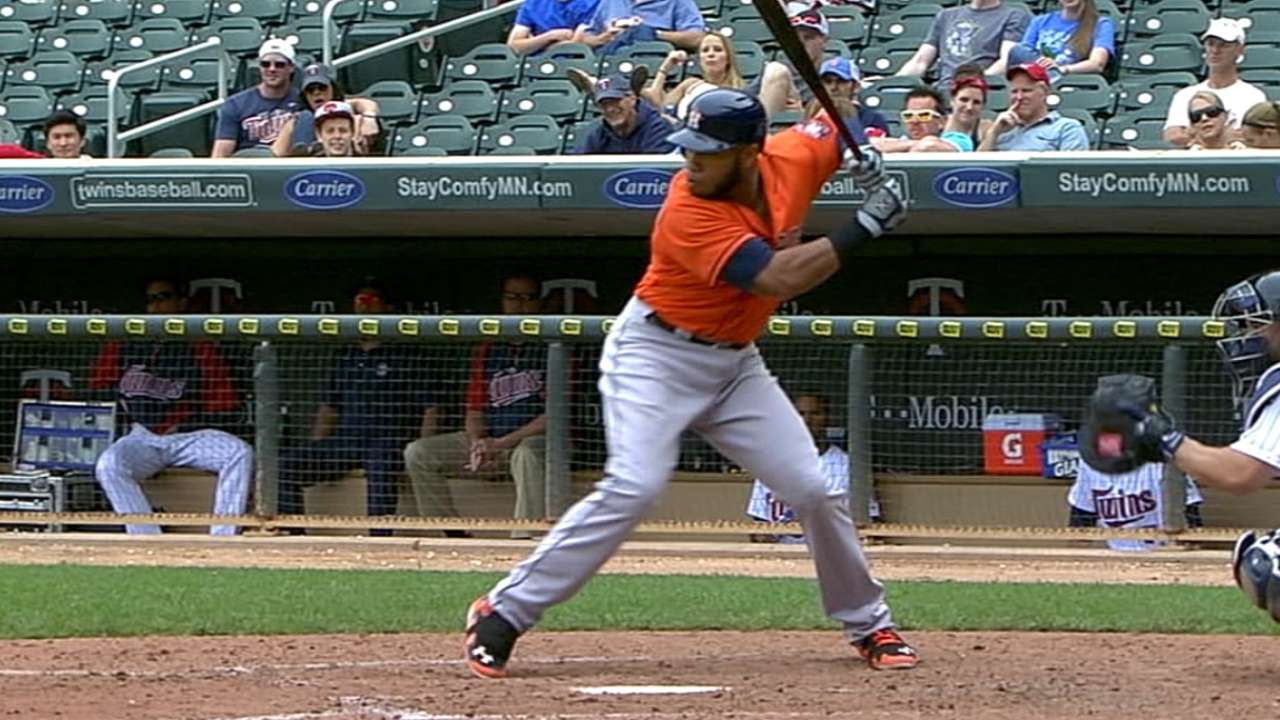 "That's where A.J. and his staff really need to figure out what they're going to do," Luhnow said. "It's too early to speculate, but certainly we're rooting for Jon to show us what he's capable of doing, and I think it would be a great outcome if he's our Opening Day first baseman."
Singleton has said several times he needs to slow the game down, which is reminiscent of what George Springer said last year when he struggled early in his debut. Springer wound up hitting 20 homers and driving in 51 runs in 78 games before getting injured in July.
"You can't move faster than the game is moving," he said. "You have to slow down your thoughts and premeditate what you want to do before you do it."
There are still going to be hurdles and obstacles he'll have to overcome, but Singleton hopes to have a breakout season and put last year's disappointment behind him.
"It seemed like there was a lot of pressure, that being my first opportunity and all," he said. "Now it's different. Hopefully, I can go out and play like I was a kid again."
Brian McTaggart is a reporter for MLB.com and writes an MLBlog, Tag's Lines. Follow @brianmctaggart on Twitter. This story was not subject to the approval of Major League Baseball or its clubs.