MLB.com Columnist
Lyle Spencer
Grandal catching on quickly at Dodgers camp
Offseason acquisition from San Diego clicks with Yeager in early workouts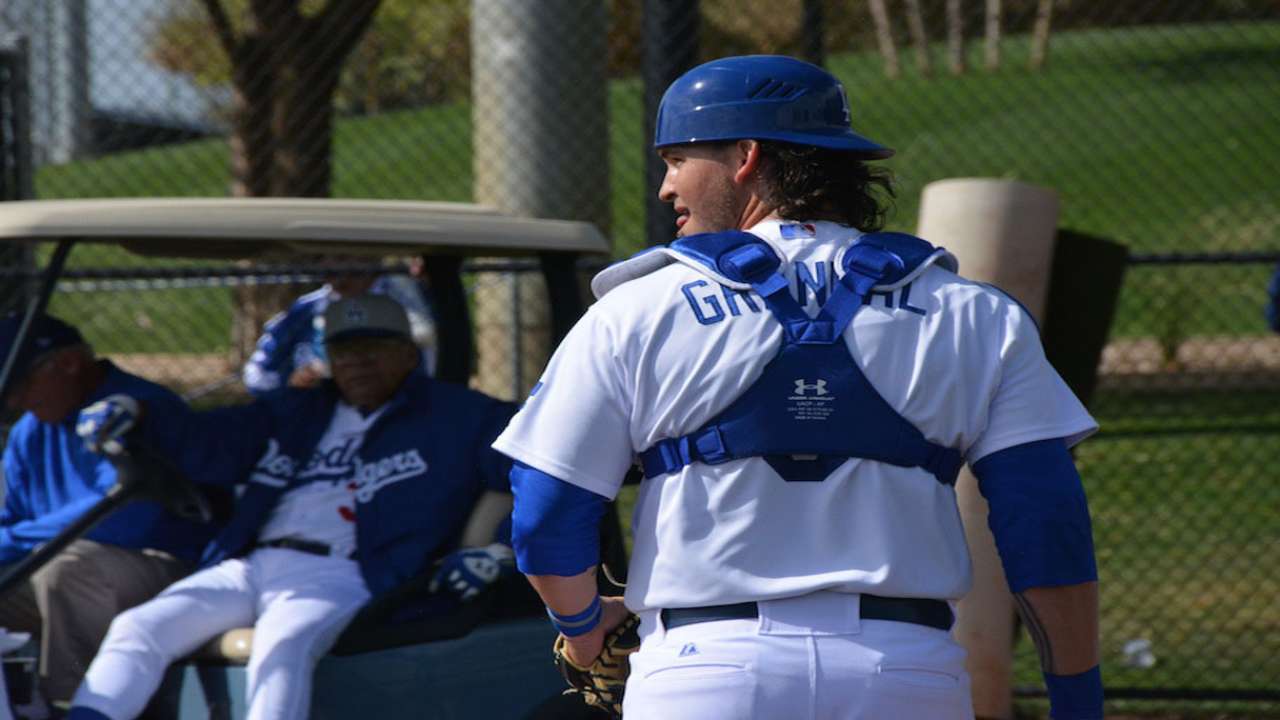 GLENDALE, Ariz. -- Camp Boomer, presided over by Dodgers coach Steve "Boomer" Yeager, just opened, but newcomer Yasmani Grandal -- the centerpiece in the Matt Kemp trade with the Padres -- already has opened eyes.
"I like what I see and what I hear from him," Yeager said. "It takes time to gain the respect of the pitching staff and teammates whenever a catcher comes from somewhere else, but some of them already know him. In the old Dodger tradition, we've welcomed him with open arms. He has come in with a good attitude; you don't have to go looking for him. He's right there, ready to go to work."
Grandal, 26, hopes he can benefit from Yeager's wisdom and insight the way Russell Martin, one of Boomer's former students, did. It all began for Martin, the Blue Jays' $82 million offseason prize, when Yeager transformed the infielder from Canada into a catcher virtually from scratch.
"First day of Spring Training," Yeager recalled, "I said, 'Stick a finger down and we'll go from there.' He had an idea, but it took a lot of work. We had some battles. I love him. I'm happy for him."
Grandal, a first-round Draft pick of the Reds in 2010 out of the University of Miami, was shipped to San Diego in the Mat Latos swap after the 2011 season. With 145 Major League starts behind the plate, Grandal doesn't need basic training. But a few refinements can't hurt.
"We'll sort out what works for him and try to make his game even better than what it is," Yeager said. "That's our goal, making everyone better. Every catcher is different. He can't catch my way any more than I could catch someone else's way."
Respected veteran A.J. Ellis, Clayton Kershaw's guy, is back. The expectation is Grandal, a 6-foot-2, 225-pound switch-hitter, will get about two-thirds of the starts in a platoon. But with the occupational hazards involved, nothing is ever etched in stone with catchers.
All 15 of Grandal's home runs in 377 at-bats for the 2014 Padres came against right-handers, against whom he hit .241 compared to .162 against lefties. He finished strong with a .795 OPS in the second half.
"A lot of people look at numbers and don't have too much feel for behind the scenes," Grandal said. "From my perspective, I learned a lot last year and was feeling like myself the last two months. I'm mentally strong."
Yasmani Grandal from the left side. #DodgersST https://t.co/vLMJbAPwhb

- Los Angeles Dodgers (@Dodgers) February 28, 2015
Grandal gets high marks for his game-calling and pitch-framing, but skeptics question his ability to control the running game based on his 11 percent success rate with base stealers in 2014. Yeager doesn't put much stock in those numbers.
"You don't steal off the catcher unless he throws it into center field," Yeager said. "Ask [Dodgers coach] Davey Lopes, and he'll tell you he's timing pitchers, not catchers. If the pitchers give us half a chance, we're going to throw guys out."
Yeager sees nothing wrong with Grandal physically or technically.
"His arm strength is good, his transfer is good, his feet are quick," Yeager said. "We'll change something only if we see fit."
Grandal said he has made a quick connection with Yeager, one of the game's elite receivers with the Dodgers of the 1970s and early '80s. He shared 1981 World Series MVP honors with Ron Cey and Pedro Guerrero when the Dodgers toppled the Yankees.
"In a short time," Grandal said, "I've already learned a lot. Getting to know the guys, catching bullpens, I'm getting a feel for how they throw. Everything comes with time. Once the games start [on Wednesday], it'll definitely come a little faster.
"I need to get to know what guys are looking for in a catcher, what their mentality is. Some guys like you to give them a pat on the back. With others, it's a different approach."
A clean slate should be key for Grandal, who endured a 50-game suspension in 2013 after testing positive for a high testosterone level.
"When the trade happened," said Grandal, who was born in Cuba and raised in South Florida, "I was glad I stayed in the same division. I know the pitchers, hitters. There is a comfort level with this being my fourth year in the division. I don't have to start all over."
Kershaw might prefer working with Ellis for comfort reasons, but the Dodgers' ace must be happy to see Grandal on his side. Yasmani is 5-for-14 (.357) against the great one. He's a .296 hitter with a .481 slugging mark in 62 career plate appearances at Dodger Stadium.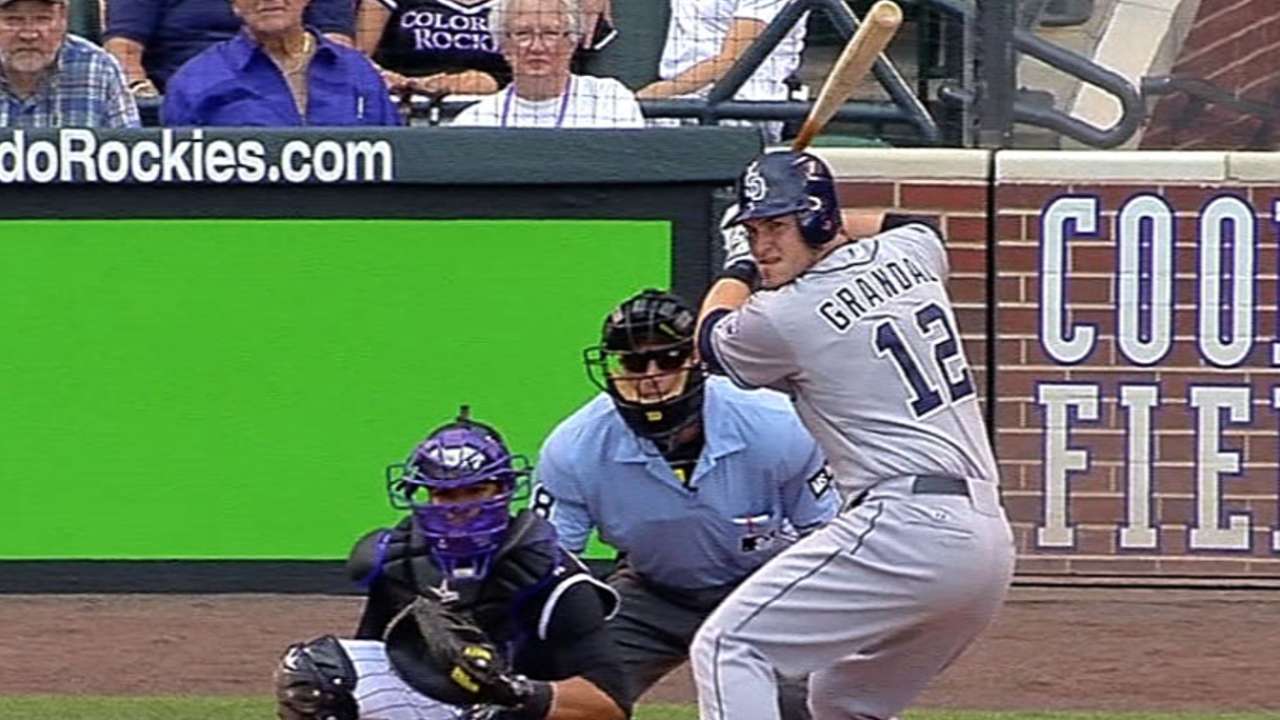 If his Dodgers debut is anything like his first Major League start for the Padres, the fans will go crazy. Grandal homered from both sides of the plate on June 30, 2012, against the Rockies, a first in history.
Lyle Spencer is a reporter and columnist for MLB.com. This story was not subject to the approval of Major League Baseball or its clubs.