MLB.com Columnist
Richard Justice
New-look Marlins excited to begin season
Offseason acquisitions have put Miami in position to compete for postseason berth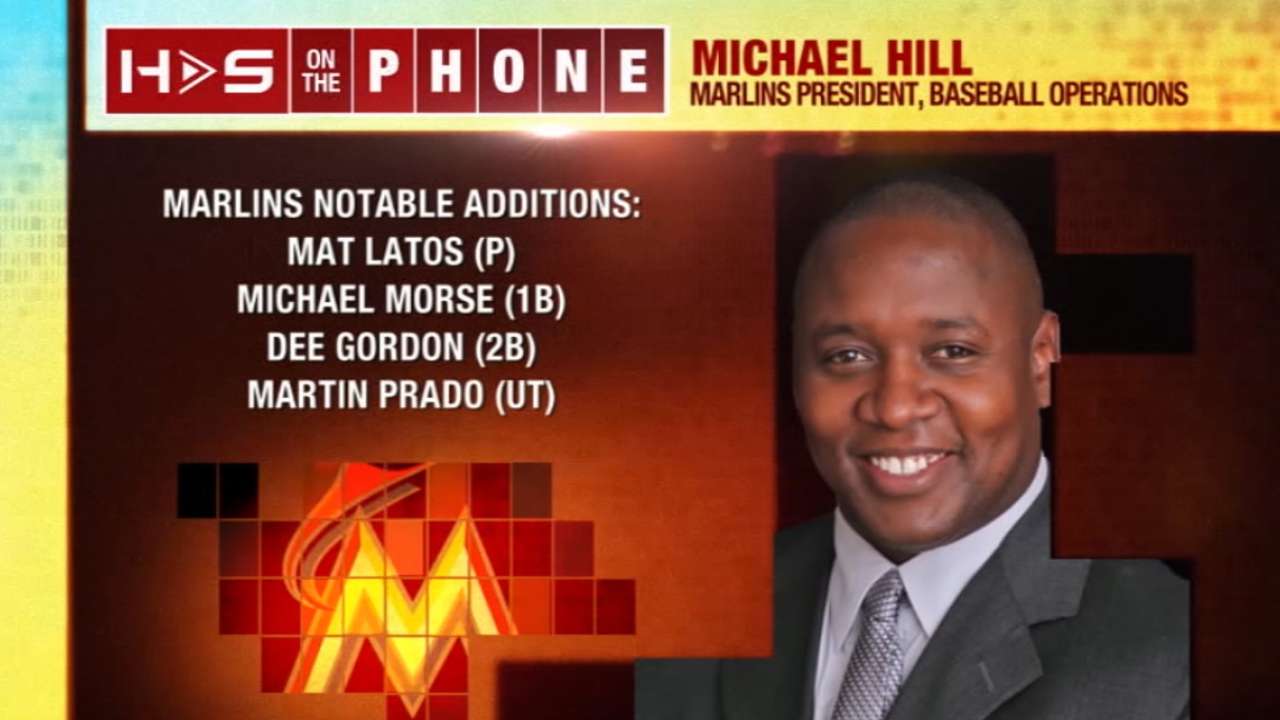 Finally, after months of comings and goings, one of the most interesting teams in baseball emerged from spreadsheets and news conferences and projections to take the field this week.
"You're like a kid at Christmas, seeing these guys in uniform," Marlins president of baseball operations Michael Hill said.
So much has happened to this franchise in recent years, so much hope and disappointment, so much growth. In the end, though, the bottom line is clear.
The Marlins have a chance to be a solid, entertaining baseball team -- perhaps a baseball team good enough to make the playoffs.
"I can't wait to start games and get the feel back on the field," Stanton said. "I can't wait to put it together in the games."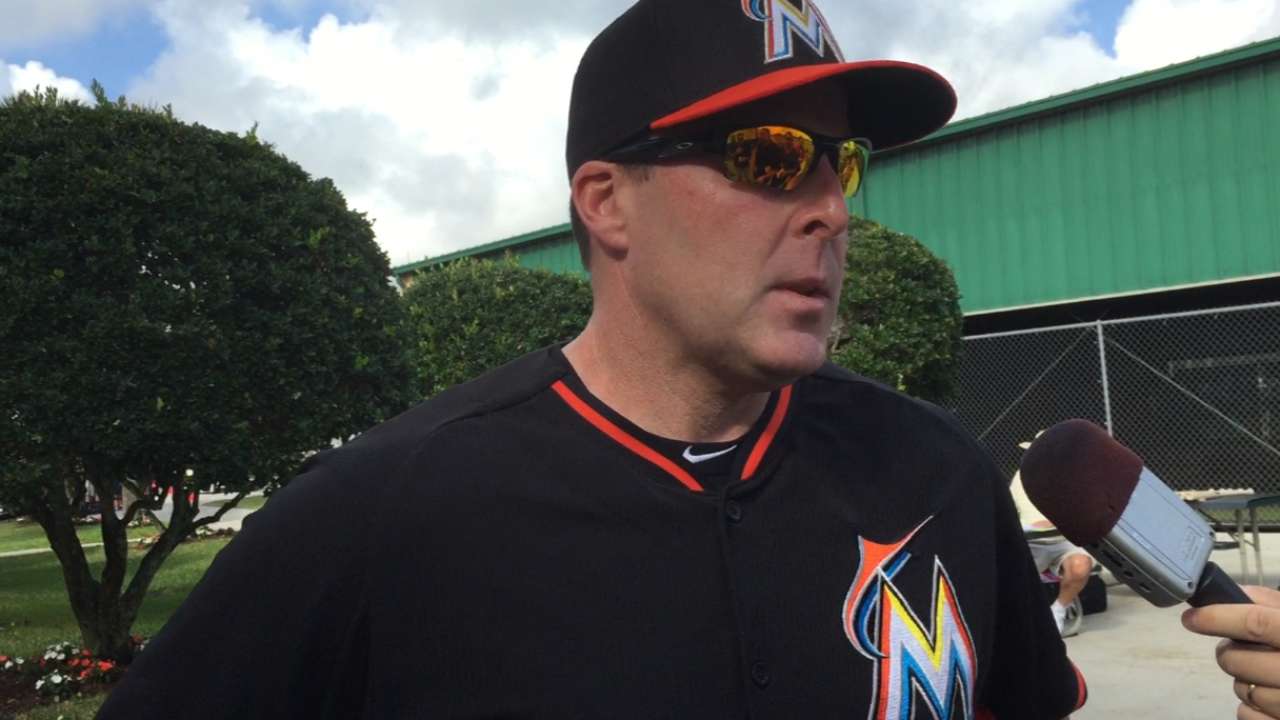 They're a nice blend of youth and experience, with plenty of high-end young talent combined with veterans who are prepared to lead the way.
"I like our chances to compete with anyone," veteran infielder Jeff Baker said.
This offseason unfolded nicely. First, Marlins owner Jeffrey Loria signed Stanton, one of the game's great young players, to a 13-year, $325 million contract. Once that was done, the Marlins had a clear vision of where to go and how to get there.
"That was our biggest goal -- to make him a Marlin for life," Hill said. "That kicked off our offseason. We knew we could move forward and build with the best power hitter in the game locked up. You could build your lineup from there."
When Stanton agreed to that deal, Loria promised to put a competitive team around him. The Marlins took a huge step forward in 2014, when they improved by 15 games and were within 5 1/2 games of a postseason berth on Sept. 1.
They were a joy to watch for much of the summer, with Hill and general manager Dan Jennings having put a mix of kids and veterans together to go 77-85.
"I was very proud," manager Mike Redmond said.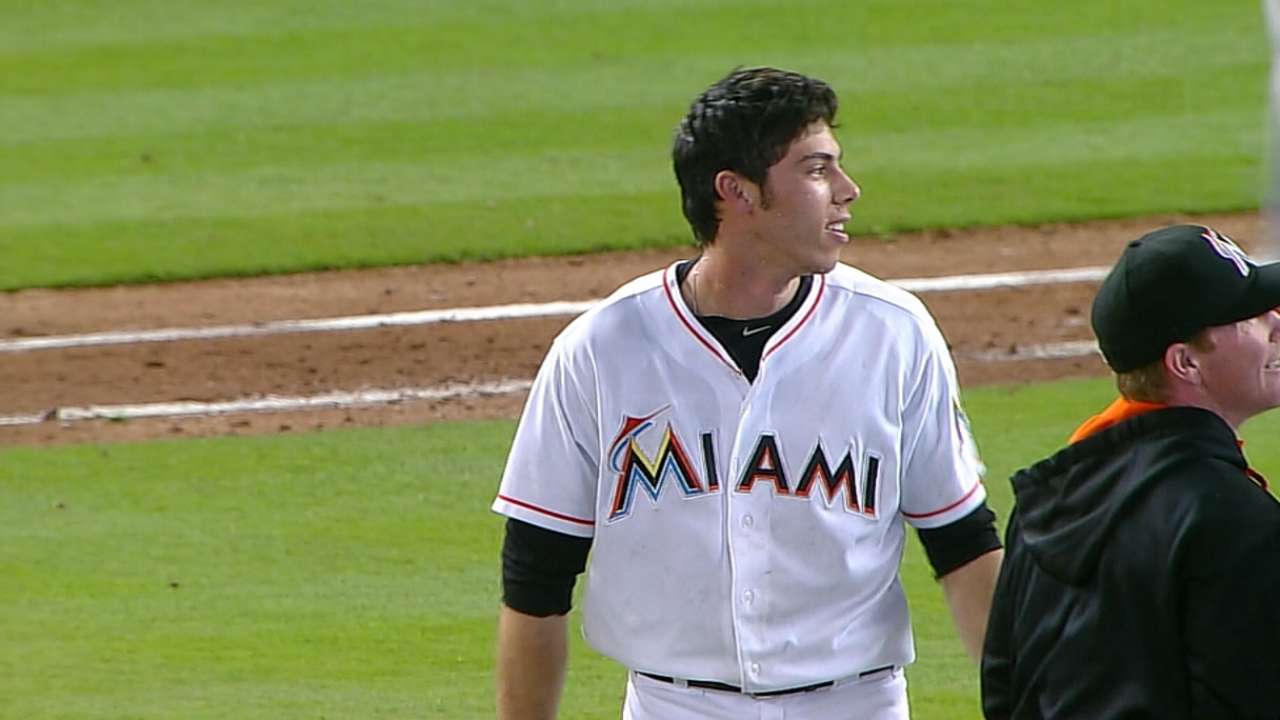 Redmond traces last season's success back to 2013, when the Marlins lost 100 games. But while losing, they got important playing time for a bunch of young players, especially outfielders Christian Yelich and Marcell Ozuna.
"Maybe we suffered record-wise, but it was a great year for those guys to get experience," Redmond said. "You saw the benefit of that last season. Those guys were much more comfortable."
And when Stanton agreed to that new contract, Hill and Jennings began with the changes. When he was done, he'd gotten a new second baseman (Gordon), third baseman (Prado) and first baseman (Morse). Latos and Haren will begin the season in the rotation, and Phelps could as well.
"It was great," Stanton said. "Every couple of days, it was something new, something positive. It was a good offseason and [an] exciting one."
So the new lineup likely will begin with Gordon, the National League's leader in steals (64) for the Dodgers last season, hitting first or second in front of Stanton. And Morse, who had 51 extra-base hits for the Giants last season, will hit right behind Stanton.
"I'm excited," Gordon said. "These guys are great talents, great players. I'm just happy to be part of it. We'll see how we jell together."
One of the things all the newcomers point out is that they're coming to a club that already had a nice foundation in place.
When Stanton agreed to his contract extension, Hill sent his staff, scouts, coaches, etc., an email congratulating them on the work they'd done in drafting Stanton and helping him get to this place in his career.
"It was a proud moment for our organization," Hill said. "So many of those young guys last season were drafted and signed by us. We were able to nurture and grow them. When a player reaches the big leagues, it's because a bunch of people did their jobs well."
Now the Marlins are hoping to take the next step, and they have positioned themselves nicely to do just that.
"It's a great opportunity to be part of a team that's going in the right direction," Morse said. "This team is going to be able to compete. The moves they made, getting Prado here and Dee, it's going to be fun. I'm very, very happy to be a part of it."
Richard Justice is a columnist for MLB.com. Read his blog, Justice4U. This story was not subject to the approval of Major League Baseball or its clubs.