MLB.com Columnist
Phil Rogers
Reds have talent to write new ending this year
After falling to Giants in 2012 NLDS, Cincinnati looking to rebound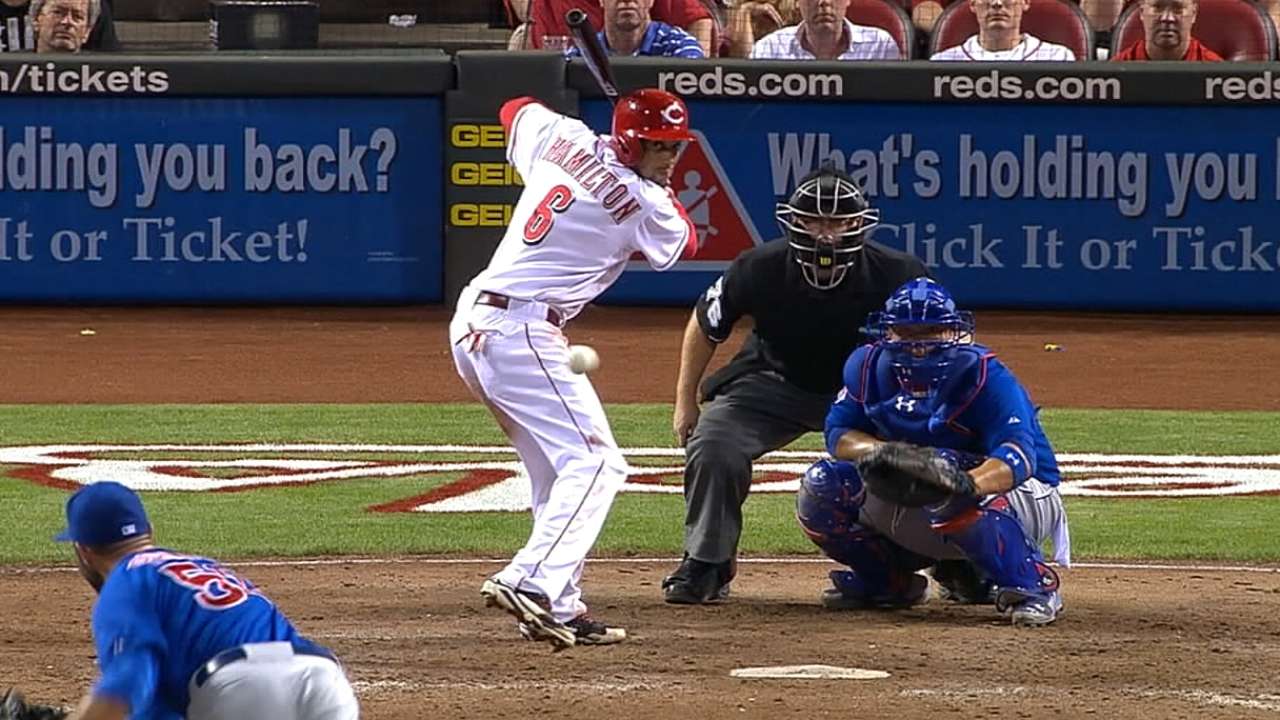 GOODYEAR, Ariz. -- Some losses leave scars that last years.
Ask the Reds about not being able to put away the Giants in the 2012 National League Division Series. They had three cracks in front of their home fans at Great American Ball Park and delivered what the kids would call an epic fail, beginning with a 10-inning loss in Game 3.
That would be the legacy for a 97-win team, and nothing they've done since then has changed it. The result is that one of the NL's best teams the last five seasons is overlooked, even though it has only three fewer regular-season wins than the Giants, who consider themselves a dynasty after winning the World Series in 2010, '12 and '14.
"Baseball should be celebrating what the Giants have accomplished -- winning the World Series three times in five years after not winning the Series since 1954,'' said Reds manager Bryan Price, who can talk baseball history as well as 1980s rock. "You have to celebrate that. We talk about the Yankees for years, and now the Giants have done so much. They just seem to connect down the stretch and are able to carry it into the postseason.''
That wasn't immediately apparent in 2012. The Reds won the first two games of that series at AT&T Park, even though ace Johnny Cueto left injured only eight pitches into the opener. But a 2-1 loss in Game 3 started the emotional descent that a veteran team continues trying to reverse.
Video: Baker on tough Game 3 loss
"The difference for us comes down to 2012,'' Price said. 'If we finish off that series -- that was our series to win, and we didn't -- [then we change the history]. What we don't want to have happen is for that to define us.''
There was less angst over a 6-2 loss to the Pirates in the Wild Card game in 2013, as you could more easily see it coming. Yet Dusty Baker paid with his job. He was dismissed afterward and replaced by Price, his pitching coach.
"In 2013 we were sputtering at the end, and we just weren't able to compete against Pittsburgh in the [Wild Card] playoff,'' Price said. "We just sputtered to the finish. It wasn't because people don't care. You don't get to the postseason when people don't care, or they're not prepared, they don't want it enough. It doesn't come down to that. Just the better teams won.''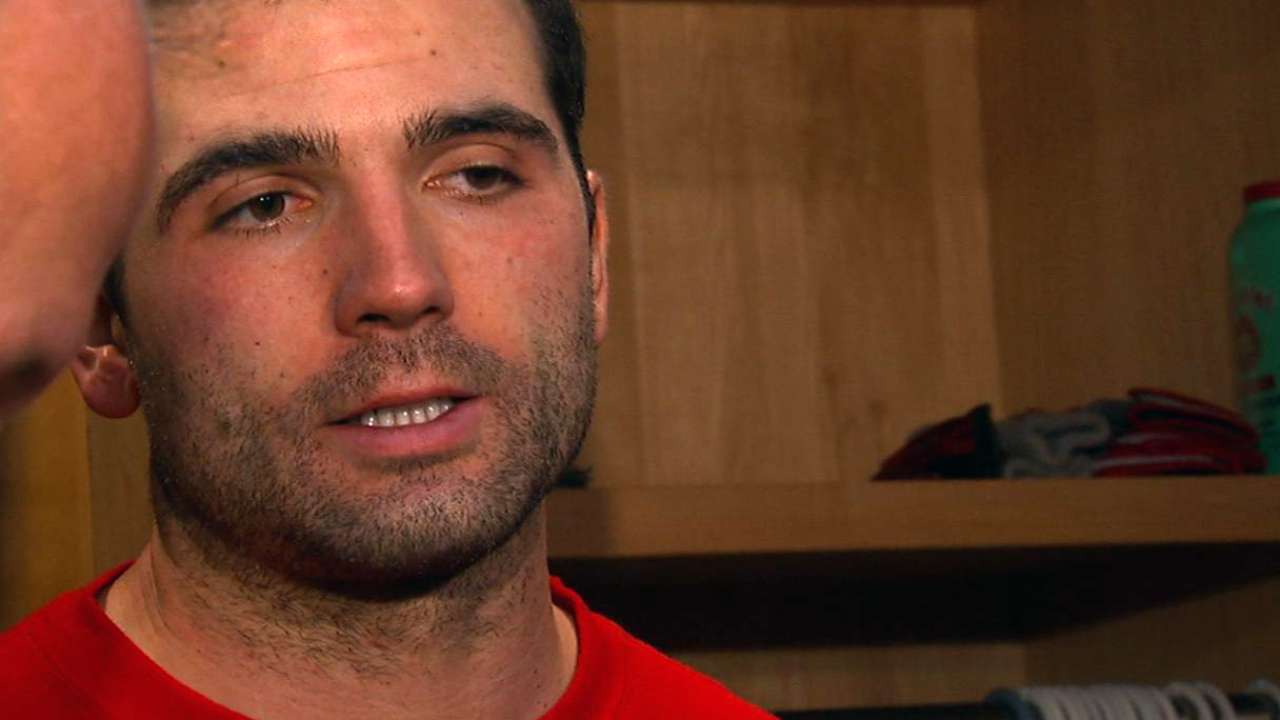 Twelve players remain from the team that couldn't put away the Giants, with Joey Votto, Brandon Phillips, Jay Bruce, Aroldis Chapman, Homer Bailey and Cueto the most high profile. They spent the first week of Spring Training responding to criticism from former teammate Mat Latos (ironically the Game 5 loser in 2012) about a lack of leadership, as well as the team's handling of his injuries.
There's no doubt that the Reds lost something when Scott Rolen retired after 2012. He was one of a handful of baseball players who could play the dual role of player/sherpa, which was why general manager Walt Jocketty brought him to Cincinnati to end his career. But buying into what Latos was selling is horribly unfair to a lot of people.
It's also silly.
"Baseball's such a strange game,'' Price said. "It's hard to define why things happened. We want to say it happened because of leadership or timing or wanting it more. That's just whatever we assign to it. It doesn't mean it's accurate.''
Despite rookie center fielder Billy Hamilton emerging as a star, the Reds were 76-86 last season. They struggled to score runs and to hold leads, with the bullpen a hideous 11-31.
Jocketty imported Marlon Byrd to play left field and hit in the middle of the order, and he traded away two of his starting pitchers, Alfredo Simon and Latos, in part because of the major commitments to Votto, Phillips and Bruce.
Good teams are strong up the middle, and the Reds figure to be that with Hamilton, Phillips, shortstop Zack Cozart and catcher Devin Mesoraco. They remain one of baseball's most athletic teams and might be the best fielding team in the NL. Improving the bullpen is a major concern, and the early showing from bounceback candidate J.J. Hoover is almost as encouraging as the addition of Burke Badenhop.
There's work to be done, no doubt, but the Reds remain awfully talented, even if all the talk in the NL Central is about the Cardinals, Pirates and Cubs.
"Really, I think a lot of what will define what kind of season we have will be the ability to kind of recollect and do what we can offensively, and [secondarily], see what we can get out of the four and five spots and have a rebound year out of the bullpen,'' Price said. "We may have more question marks than we have had in years past, but there's no reason to have less optimism and less expectations.''
One of those questions is whether they can keep Cueto beyond the season. Both he and Leake are heading into free agency, which adds a sense of urgency for a team already trying to make up for lost times.
The Reds' window may be closing, but it certainly hasn't slammed shut. There's time to write a different ending.
Phil Rogers is a columnist for MLB.com. This story was not subject to the approval of Major League Baseball or its clubs.