Healthy Phillips eyes return to form at plate
Veteran Reds second baseman won't be limited after 2014 thumb injury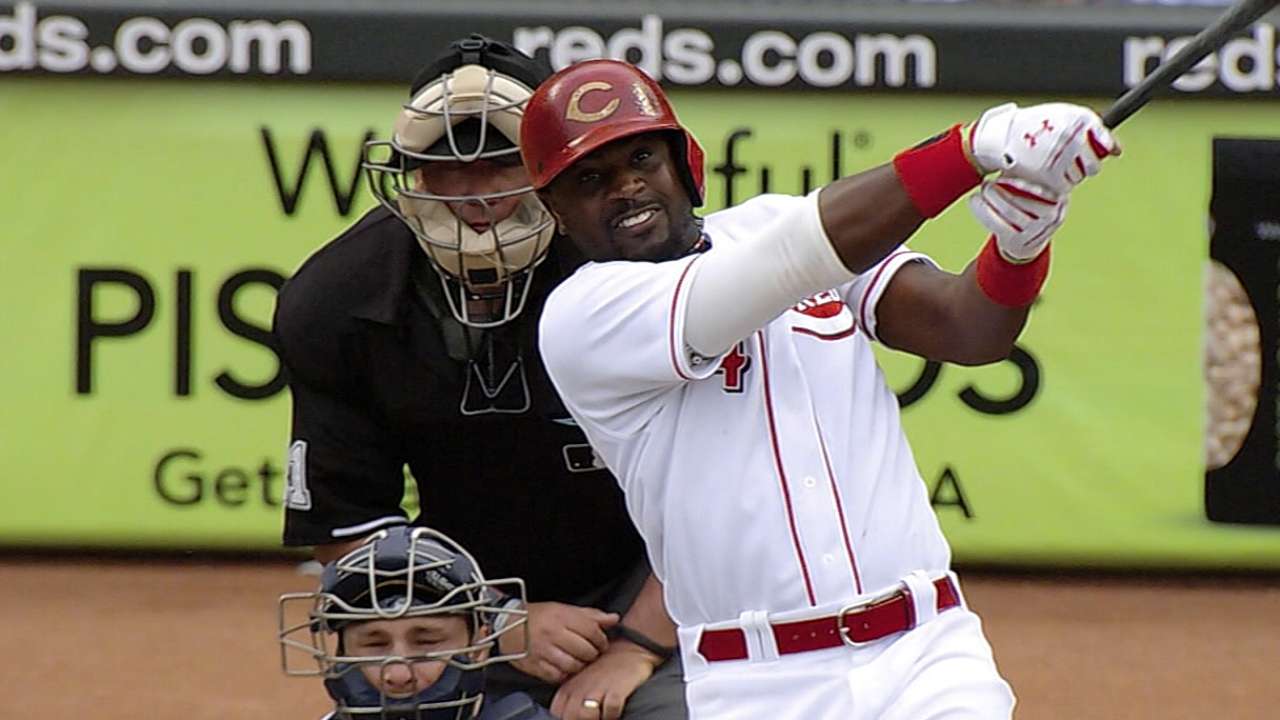 GOODYEAR, Ariz. -- Among key Reds hitters who were knocked off by an injury last season, the club missed getting offensive production from second baseman Brandon Phillips. The longest-tenured player in Cincinnati, Phillips missed 33 games in the second half with a torn left thumb ligament that required surgery.
All expectations this spring are that Phillips is fully recovered.
"It is in my book and my understanding," Reds manager Bryan Price said on Saturday. "He looks great to me. We didn't come into the season with the precautions or limit the number of swings, he's not on a rehab."
Now 33, Phillips has seen some of his production numbers slide the past two seasons, in part because of two injuries. Both seasons saw his slugging percentage dip below .400 for the first time since joining the Reds in 2006. It was at .396 in 2013 and a career-low .371 in '14. His on-base percentage dipped to a new low at .306, as well, while he batted .266 with eight home runs and 51 RBIs in 121 games.
In 2013, Phillips had a career-high 103 RBIs batting behind Joey Votto and Shin-Soo Choo, the league's on-base percentage leaders. Until June 1, the day he was drilled on the left forearm by a fastball from Pirates reliever Tony Watson, Phillips was a .296/.347/.481 hitter. After missing four games, he wasn't the same and batted .241/.288/.349 the rest of the way.
"I think for us to be successful, we have to have contributions from our entire roster. I'm not turning up the heat on Brandon or anybody else," Price said. "You look at Brandon driving in 103 runs in 2013, he played the second half of the season with a significant ligament injury. Last year, he never was the same player after he messed up his thumb ligaments and had to have that whole procedure done. He was never the same offensive player, nor did we expect him to be. It was just too big of an injury to recover from and expect him to be back at 100 percent."
Phillips, who has three years and $39 million remaining on his contract, hasn't seen his strong defense lapse because of the injuries. He missed out on a fifth National League Gold Glove when it was awarded to the Rockies' D.J. LeMahieu.
"Certainly Brandon was killed by the five or six weeks he missed," Price said. "When you vote, everyone has the statistics and you look at games played."
Offensively, Price has every belief that he will return to the track record of success he's had in past seasons.
"I have not lost one bit of confidence or expectation that he's going to have a big year," Price said. "I don't think there is any reason to think that he can't be a reliable and productive offensive player."
Mark Sheldon is a reporter for MLB.com. Read his blog, Mark My Word, and follow him on Twitter @m_sheldon. This story was not subject to the approval of Major League Baseball or its clubs.