Henderson on road to recovery
Brewers reliever feels good after right shoulder surgery last season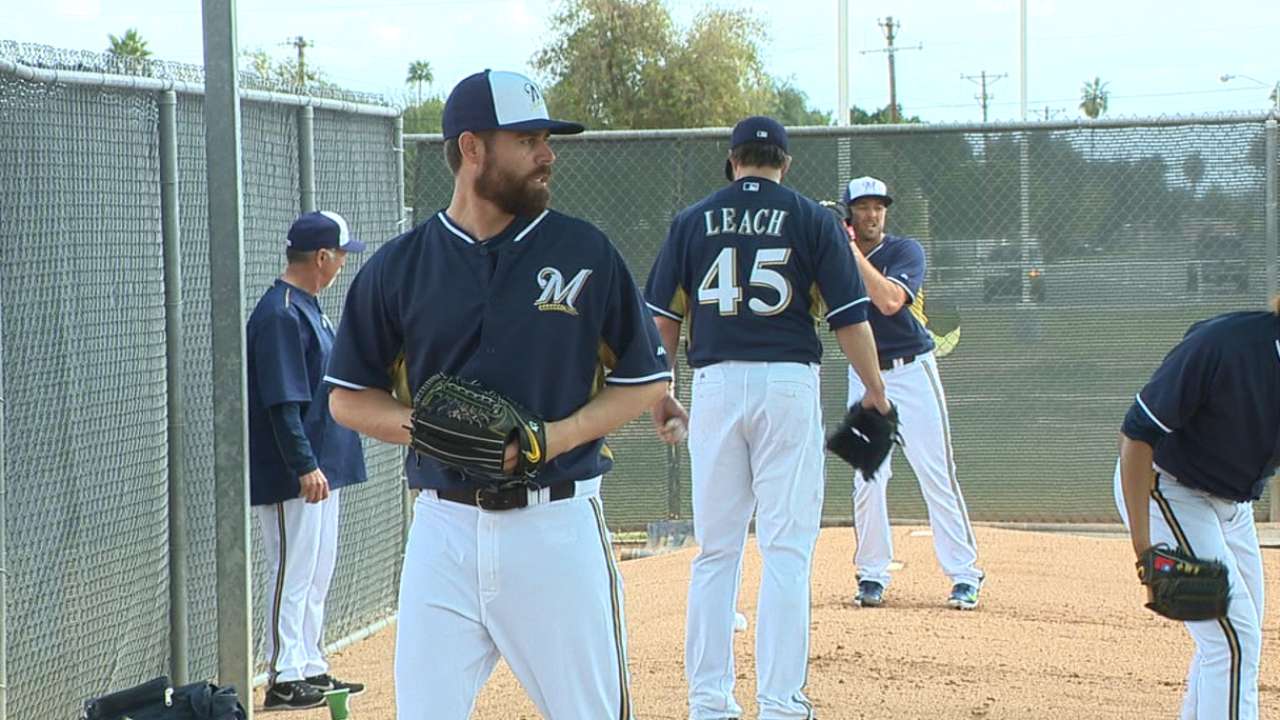 PHOENIX -- Unless Mother Nature has other ideas, Brewers reliever Jim Henderson will encounter a milestone on Sunday, when he is scheduled to face hitters for the first time since last year's right shoulder surgery.
It's only live batting practice, but Henderson views it as a notable step in his comeback bid.
"I'll be curious after live BP, because that's when hitters step in and the intensity picks up more," said Henderson, who underwent surgery in August to remove bone spurs, and repair the damage those spurs had done to his labrum and rotator cuff.
"We'll see how it feels after that, and then once the games start, I'll be curious for sure. Then I'll be able to see how far away we are. Right now, it feels good, it feels strong, it feels healthy, but I've always been a velocity guy, so [seeing those numbers] will tell me how far I need to go."
The Brewers do not employ radar guns in these early camp sessions because velocity isn't the point just yet. Beginning Wednesday, when the Brewers play their first exhibition game against the University of Wisconsin-Milwaukee, the seats behind home plate will be populated by scouts taking down readings.
In 2012, when Henderson took over as Brewers closer and logged 28 saves with a 2.70 ERA, his average fastball velocity was 95.3 mph. Last year, with his shoulder compromised, it fell to 93.9 mph.
"I feel like I'd be in the low to mid-90s if I wanted to let one go right now, but I really have no idea," Henderson said. "It's hard to tell without a hitter. For me, even when we're in season, I'll throw my last warmup pitch and look at the radar gun and it says 91 [mph]. Then the first pitch to a hitter will be 95 [mph]. So it's hard to tell with me."
If Henderson avoids setbacks, the Brewers could have as many as four former closers in their bullpen. The team re-signed Francisco Rodriguez this week to handle closer duties, pushing Jonathan Broxton to a set-up role. Former Indians closer Chris Perez is also in camp on a Minor League contract, trying to make the team.
To complete his own comeback, Henderson, 32, would have to overcome the second shoulder surgery of his career. He had a major surgery in 2008 with the Cubs that nearly derailed his career.
"I look at it two ways," Henderson said. "Second surgery, this could be difficult to come back from. But you can also look at it as even when I was hurting last year, I was still getting up to 96, 97 [mph] at times with a bad shoulder. So since it was just a cleanup, I should be able to get back there."
Adam McCalvy is a reporter for MLB.com. Read his blog, Brew Beat, and follow him on Twitter at @AdamMcCalvy. This story was not subject to the approval of Major League Baseball or its clubs.