Brave words: Saturday, Feb. 28
Interesting quotes from Atlanta's Spring Training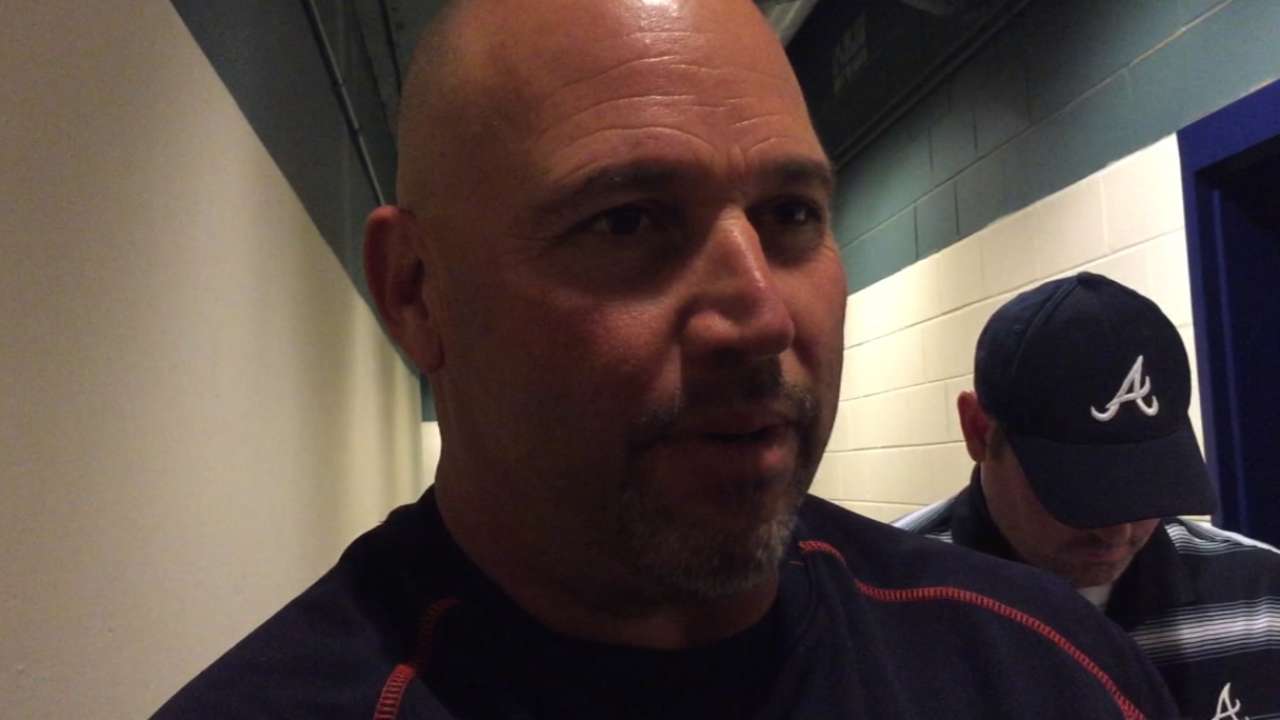 LAKE BUENA VISTA, Fla. -- Braves manager Fredi Gonzalez was not too bothered by the steady rainfall that prevented his club from being on the field for Saturday afternoon's workout. Mother Nature's interruption just happened to fall on a day when none of the pitchers were scheduled to throw live batting practice.
Thus, the Braves position players took some swings in the indoor cages located beyond Champion Stadium's left-center-field wall and the pitchers simply conditioned their arms while throwing at one of the vacant gyms located across from the stadium at ESPN Wide World of Sports complex.
Because of physicals, the Braves are scheduled to begin Sunday's workout at 1 p.m. ET. Catcher Jesus Flores, a non-roster invitee who had some visa issues earlier this week, arrived in camp on Friday. Dian Toscano remains the only player who has not arrived, and the club is not sure when he will be cleared to leave Cuba and enter the United States.
Much of Saturday's attention was placed on Melvin Upton Jr. and what the Braves will do in center field while he misses at least the season's first month with a left foot injury. Some interesting thoughts regarding these topics are listed below.
Gonzalez on the fact that Upton will have to wait at least a month to resume some of the offseason work he did with new hitting coach Kevin Seitzer
"I would have liked to see if the hard work [Melvin] was doing in the winter was going to pay off. Now, we've got to wait a little bit. I don't think it's going to hurt him. He's just going to have to wait a little longer."
Upton on when he began feeling the left foot discomfort
"It was kind of a gradual thing," Upton said. "I told the trainers there was something there, but I didn't think anything of it. I was just going to go out and do my thing. At the end of the first workout, I couldn't really walk on it. I came in the next day -- it wasn't bad, but it definitely wasn't good. I thought it would be a week at the most. It turned into a little bit longer than that."
Eric Young Jr. who will have a chance to play center field, despite primarily playing left field and second base during his Major League career
"I pride myself on being able to play a lot of different positions. Now, this is an unfortunate situation for Melvin, but in the meantime I know I can handle the position, if asked. I put a lot of my work in my pregame routine and getting myself ready with balls off the bat, just so that when the game situation comes, it will become second nature."
Mark Bowman is a reporter for MLB.com. This story was not subject to the approval of Major League Baseball or its clubs.