Taste of Majors fuels Tuivailala at Cardinals camp
Pitching prospect learned much from his first big league experience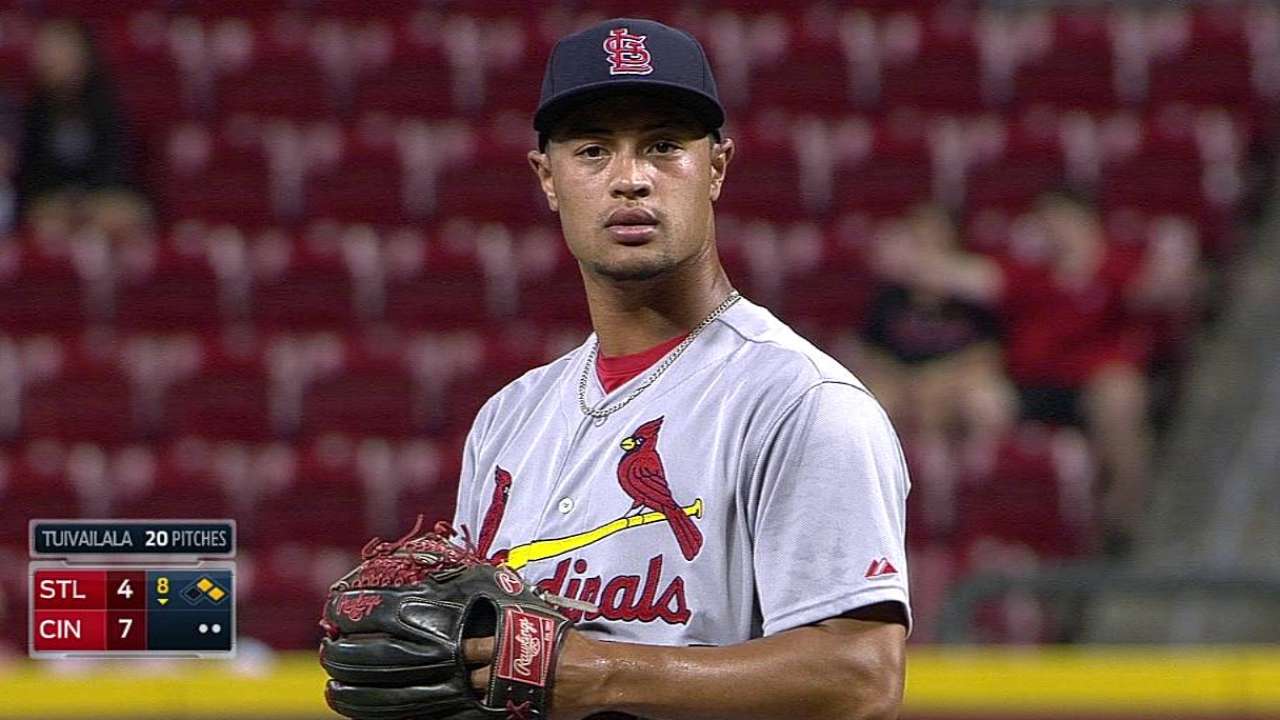 JUPITER, Fla. -- Sam Tuivailala, 22, acknowledges that he was a little overwhelmed last September when the Cardinals called him up to the big leagues.
"Words can't really describe it. It's everything that you always dreamed of," the right-hander said prior to the Cardinals' workout on Saturday at the Roger Dean Stadium complex.
Tuivailala's first two appearances out of the bullpen for St. Louis, however, were not the stuff of dreams. He gave up five hits, including two home runs, and had a 36.00 ERA and a 7.00 WHIP in only a full inning of work.
"Now it's just trying to get over that little wow factor that I'm finally here and now you just want to play," Tuivailala said. "When I first got the callup, obviously it was a dream come true. I kind of had to take a couple of big deep breaths when I finally got up there.
"When I finally got up there, you're so used to having the level above you, you're trying to work hard and everything. Now, it's the same thing, you're just trying to work hard to stay here. Going into this season I feel more comfortable, the confidence is there and I finally got a taste of what it's like up there, so going into camp I feel pretty good about everything."
Tuivailala said the biggest change he's made is learning how to pitch instead of just throwing.
"I'm still learning how to throw my offspeed and when to throw it," he said. "Now it's just learning how to pitch in games and when to use certain pitches at certain times."
That's something that Tuivailala, ranked by MLBPipeline.com as the Cards' No. 13 prospect, worked on extensively during the Arizona Fall League and is continuing to work on this spring.
"It was useful. I needed to work on certain stuff with my pitches, mostly the offspeed, curveball, changeup, and threw it a lot there," Tuivailala said of his stint in the Arizona Fall League. "I was going to fail a couple of times there, but you need to throw it in order to get better."
Tuivailala said having had a little taste of the Major League level, he feels more comfortable approaching the veteran pitchers on the Cardinals, such as ace Adam Wainwright and closer Trevor Rosenthal.
"Waino talks to me every now and then. They're the guys, they know what to do, so you take in whatever they say," Tuivailala said. "Just trying to pick out little things they do, I've learned a lot from throwing with those guys. You're going to learn something every day. There's not going to be a day in this game where you're going to stop learning."
Steve Dorsey is a contributor to MLB.com. This story was not subject to the approval of Major League Baseball or its clubs.