Stanton hit by pitch in sim game, continues to play
Marlins ace Alvarez plunks slugger in left hip during first spring contest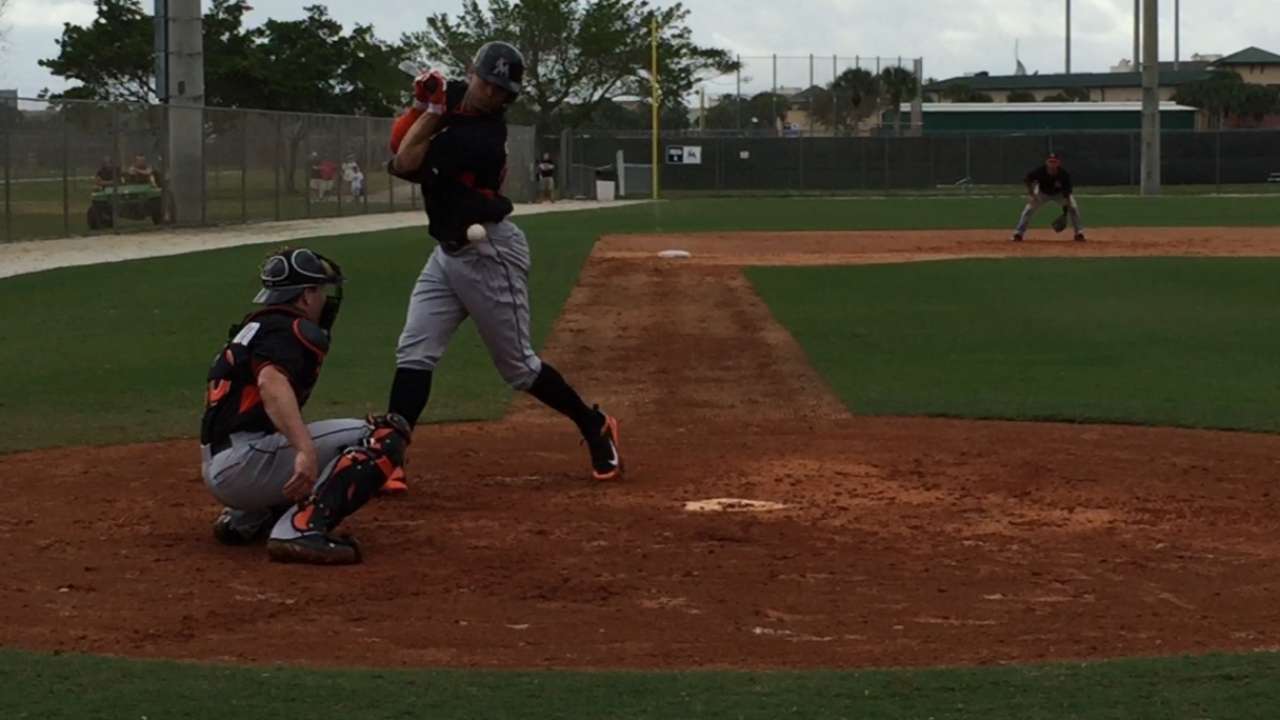 JUPITER, Fla. -- It was bound to happen sometime. For Giancarlo Stanton, it happened to be on his third plate appearance in the Marlins' first simulated game.
The two-time All-Star was plunked on the left hip by a Henderson Alvarez two-seam fastball on Saturday morning on field 4 of the Roger Dean Stadium complex. The pitch caused no damage, nor did it spoil an otherwise productive day that featured game action.
Each Stanton at-bat is being met with great anticipation, especially after his 2014 season ended when he was hit by a pitch in the face. On Saturday, the slugger batted four times. He also took the hit-by-pitch in stride.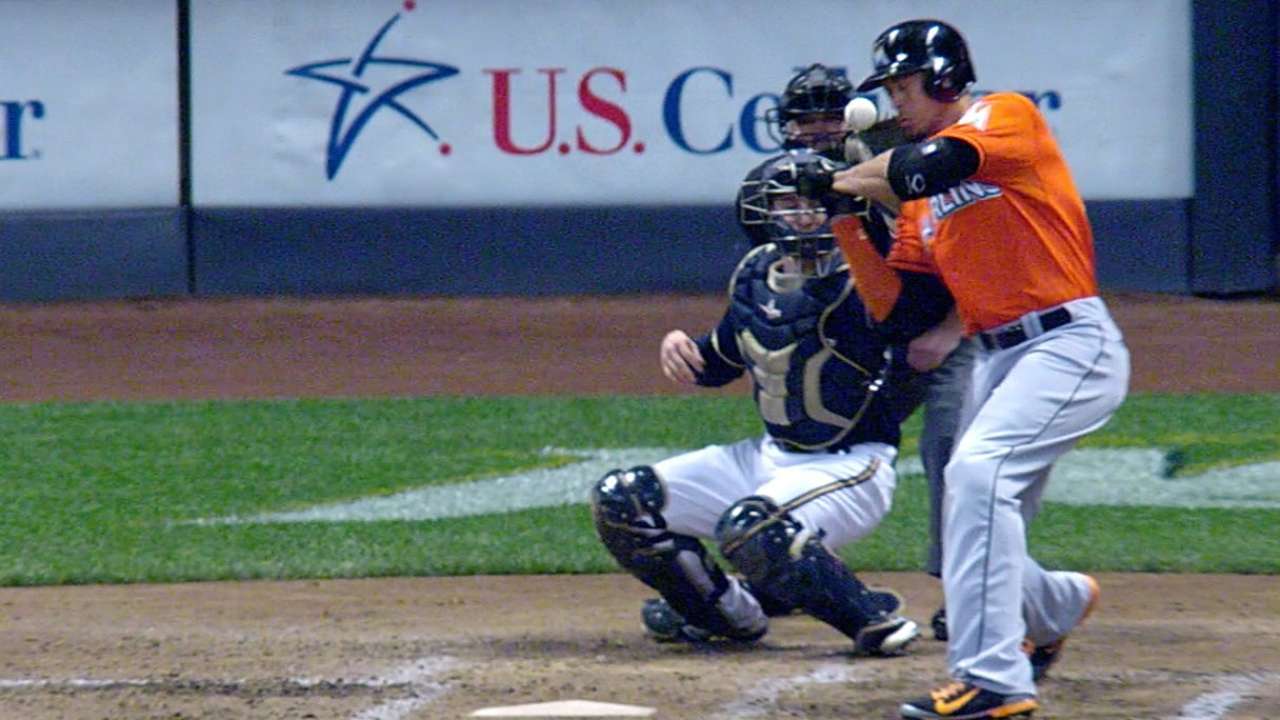 "Honestly, it doesn't matter either way, if you get hit or not," Stanton said. "I'll get hit again, eventually."
During the simulated game, Stanton sported his specially-designed helmet face guard. All went well with the attachment, which resembles a football face mask.
"Better than I thought, to be honest," Stanton said of his new gear. "You can't get it fully out of your vision, out of your peripheral, at least. But in terms of focusing on the pitcher, I had no trouble with that. But walking up or running the bases, it's more noticeable, because you're not focusing on one thing."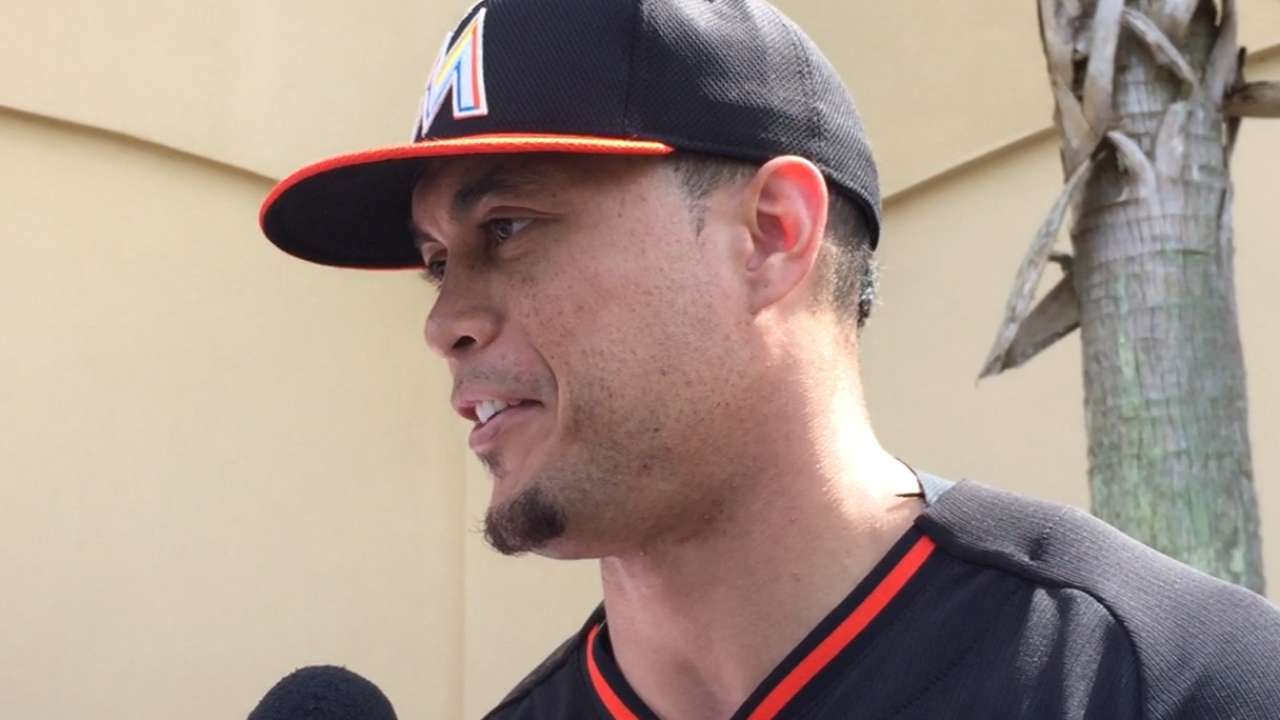 After being pegged, Stanton had some fun with the incident, and he joked with Alvarez, nicknamed "Alien."
"Yeah, the Alien, wherever he's at now," Stanton said mockingly, looking for his teammate in the clubhouse.
What caught the Marlins' attention was how Stanton handled the situation.
"The good thing is he turned the right way," manager Mike Redmond said. "I think we've all kind of anticipated when that was going to happen. It's probably better to get it out of the way now. I know it's been in all of those pitchers' minds when he steps in there."
Stanton simply stepped out, and then he stayed in for one more pitch.
The other three Stanton at-bats were less eventful. His first time up, he faced Brad Hand and tapped a grounder to third for a fielder's choice.
Stanton's second at-bat was against Dan Haren, and he lifted a fly ball that center fielder Marcell Ozuna caught on the warning track. In his final at-bat, Stanton laced a long fly to deep left, but it turned just foul. He ended up striking out against Tom Koehler.
"His swings, his approaches, his at-bats, he looks totally comfortable," Redmond said. "He's been really good. Like I've said, this guy is a competitor. When you get into the box, your focus is to beat that pitcher. That's what he's trying to do."
Joe Frisaro is a reporter for MLB.com. He writes a blog, called The Fish Pond. Follow him on Twitter @JoeFrisaro. This story was not subject to the approval of Major League Baseball or its clubs.