Burnett expected to let it loose in final ride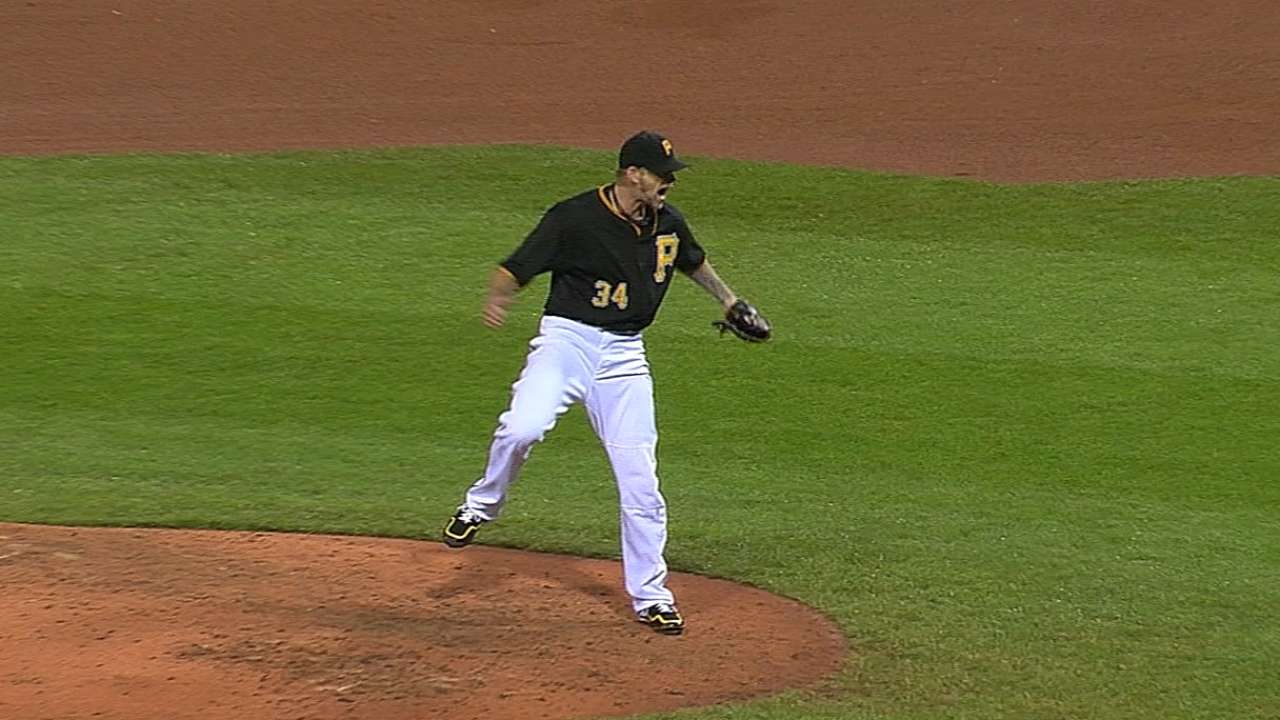 BRADENTON, Fla. -- A year ago, A.J. Burnett walked out of Pittsburgh. Then he talked his way back in. The Steel City, he decided, is where he wanted to take the final spin of a what will be a 17-year career.
Are the Pirates being taken for a ride, or will they get a joyride for their $8.5 million ticket? Having Burnett back in their midst has already flipped the fun switch in camp; the 38-year-old is always louder, bubblier and more caustic than anybody else in the room. Those qualities figure to be even keener in this final roundup, so he'll do a lot to keep the team loose.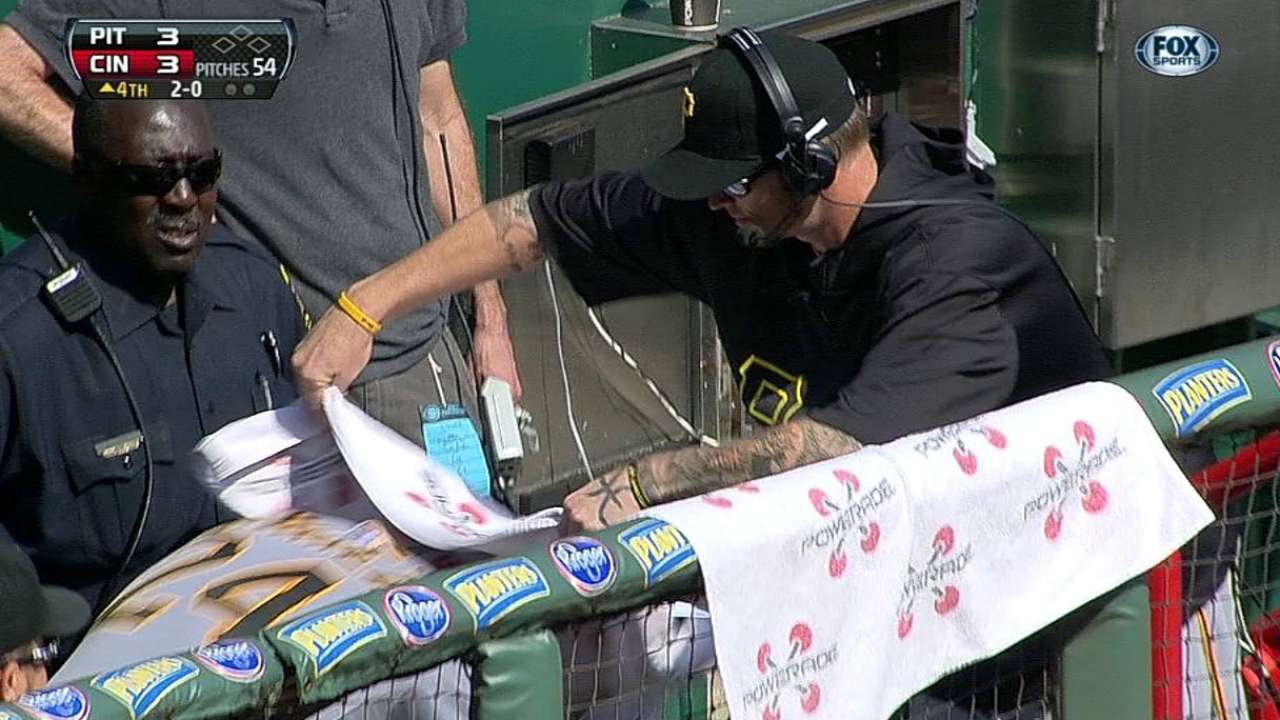 But, first, what he will do to help ensure the Bucs don't lose. Burnett is a workhorse, an innings-muncher on good days and bad. In his first two Pittsburgh seasons, he totaled 393 1/3 innings. The next high man on those 2012-13 staffs was Jeff Locke, with 200 2/3. Even during a 2014 season he spent dealing with a sports hernia, Burnett topped the Phillies with 213 2/3 innings.
"He'll leave it all on the field, as he's always done," manager Clint Hurdle said. "For us, he models the kind of behavior we want in all our starters."
Burnett will do less modeling this time around than last -- back then, he was asked to take an active role in educating a young staff -- but will be as pivotal, even though his reception back to Pittsburgh was strangely lukewarm.
There was less popular enthusiasm over Burnett's return than rancor over his departure a little over 12 months ago (he did not sign on with the Phillies until Feb. 16, 2014).
By letting him go, the Bucs had "misfired" on a chance to keep an invaluable pitcher and teammate. By bringing him back, the Bucs "settled" for an inferior pitcher. The public needle tends to swing wildly.
Such have been the knee-jerk reactions to his 18 losses and 96 walks, both National League leading numbers.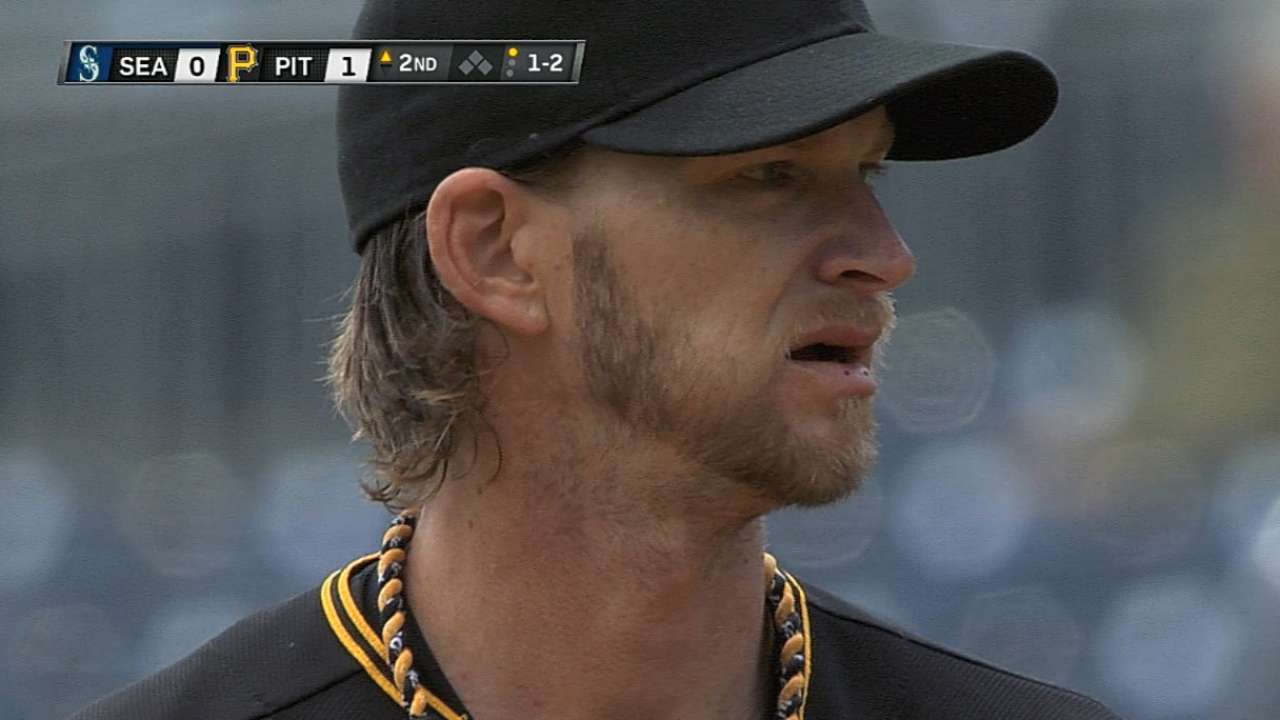 Hurdle, who openly envies rival staffs that have 200-inning pitchers, and GM Neal Huntington were drawn to a different set of Burnett numbers -- the starts (34, no one in the Majors made more) and the innings.
Huntington also dotes on big arms that deliver swing-and-miss stuff, and even while pitching with that hernia all season, Burnett had 190 strikeouts. The last Pittsburgh pitcher with as many not named Burnett (who had 209 in 2013) was Oliver Perez, in 2004.
That is a lot of tangible virtues for an old pro who, in what he has decided will be his final season, will also overdose on his intangibles of passion and competitiveness.
"When you know that hourglass has been flipped, it might result in more acute focus -- and he's always had really good focus," Hurdle said. "You want to make the most of the days that you have. Now, for A.J., there has been a number put on those days. He's going to have fun competing. It's going to be fun watching him compete and lead."
Tom Singer is a reporter for MLB.com and writes an MLBlog Change for a Nickel. Follow him on Twitter @Tom_Singer. This story was not subject to the approval of Major League Baseball or its clubs.