Kipnis among candidates to be Tribe's No. 2 man
Francona has Swisher, Ramirez also in mix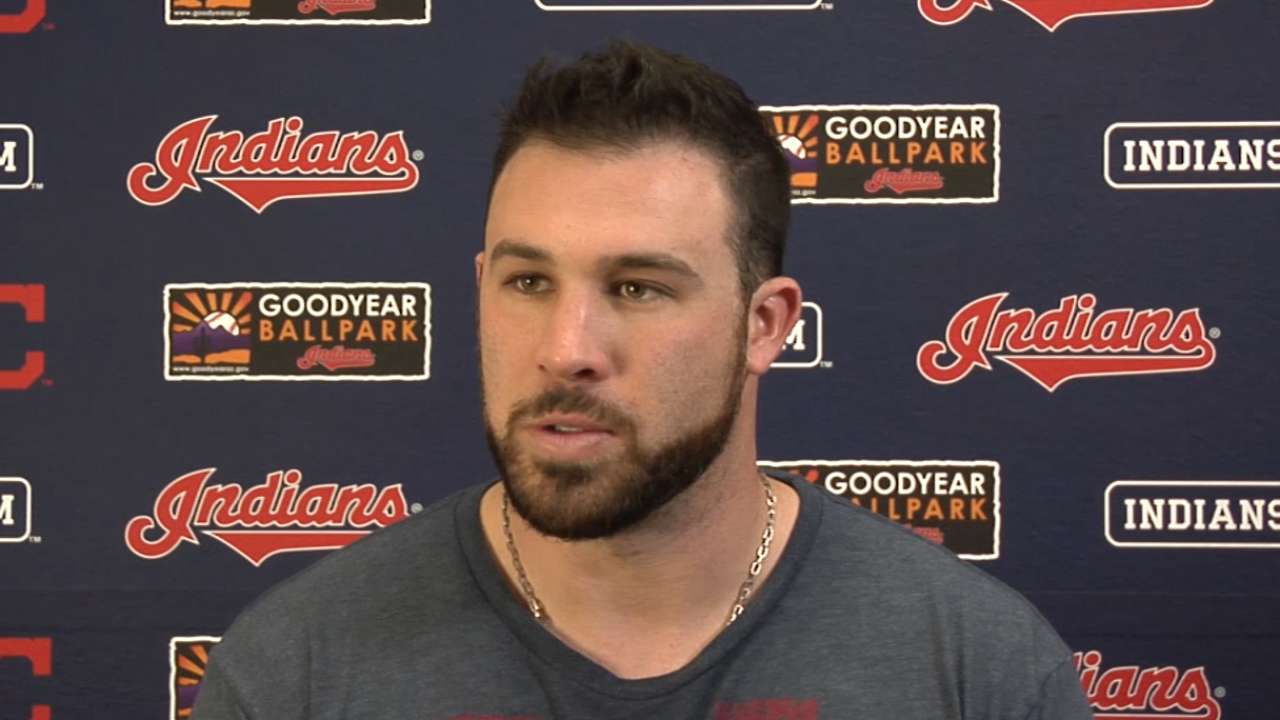 GOODYEAR, Ariz. -- When constructing a lineup, Indians manager Terry Francona likes to make things as difficult as possible for the opposition. If Francona can alternate left-handed and right-handed batters, it makes it that much harder for the other manager to make bullpen decisions late in games.
Right now, though, Francona is weighing whether it is worth it to use that approach for the top of his lineup. If Cleveland has Michael Bourn, Jason Kipnis and Michael Brantley in the first three spots of the order, respectively, that will stack three lefty batters in a row. Francona is in the midst of considering the risk and reward of such a move.
"The decision is, 'OK, do you take their first three at-bats and think we're putting ourselves in a really good position?'" Francona said. "But, you also have to remember that every lefty that that manager wants to bring in a game, [those hitters] are going to see him. So, you're not doing them any favors on that side of it, and you're making it easier for the opposing manager [to use his bullpen]."
In his first two seasons with the Tribe, Francona used a switch-hitter for 67 percent of the at-bats out of the second slot in the lineup. Nick Swisher (coming off surgery on both knees), Asdrubal Cabrera (now with the Rays) and Jose Ramirez (Cleveland's current shortstop) are the switch-hitters with the most experience in the two slot under Francona.
Last season, Ramirez hit .262/.300/.346 in 68 games overall, but he posted a .299/.335/.401 slash line in 42 games as the Tribe's main No. 2 hitter in the second half (after Cabrera was traded to the Nationals). As the second hitter, Ramirez compiled eight stolen bases, nine sacrifice bunts, 13 extra-base hits, 14 RBIs and 20 runs scored last year.
Kipnis is coming off a down year -- the second baseman was hindered most of last season by an oblique issue -- but he was an All-Star in 2013 and has a lot of experience in the No. 2 slot, too. In 143 career games as Cleveland's second batter, Kipnis has hit .276/.347/.448.
Putting Kipnis in the two hole could present challenges later in games, though.
"Some teams don't have three lefties [in the bullpen]," Francona said. "If you have one lefty, [the manager has] got to think, 'Man, do I use him tonight?' Well, you're making it easy for him if you run three [lefty batters] in a row."
Jordan Bastian is a reporter for MLB.com. Read his blog, Major League Bastian, and follow him on Twitter @MLBastian. This story was not subject to the approval of Major League Baseball or its clubs.