Long immersing himself in his work with Mets' hitters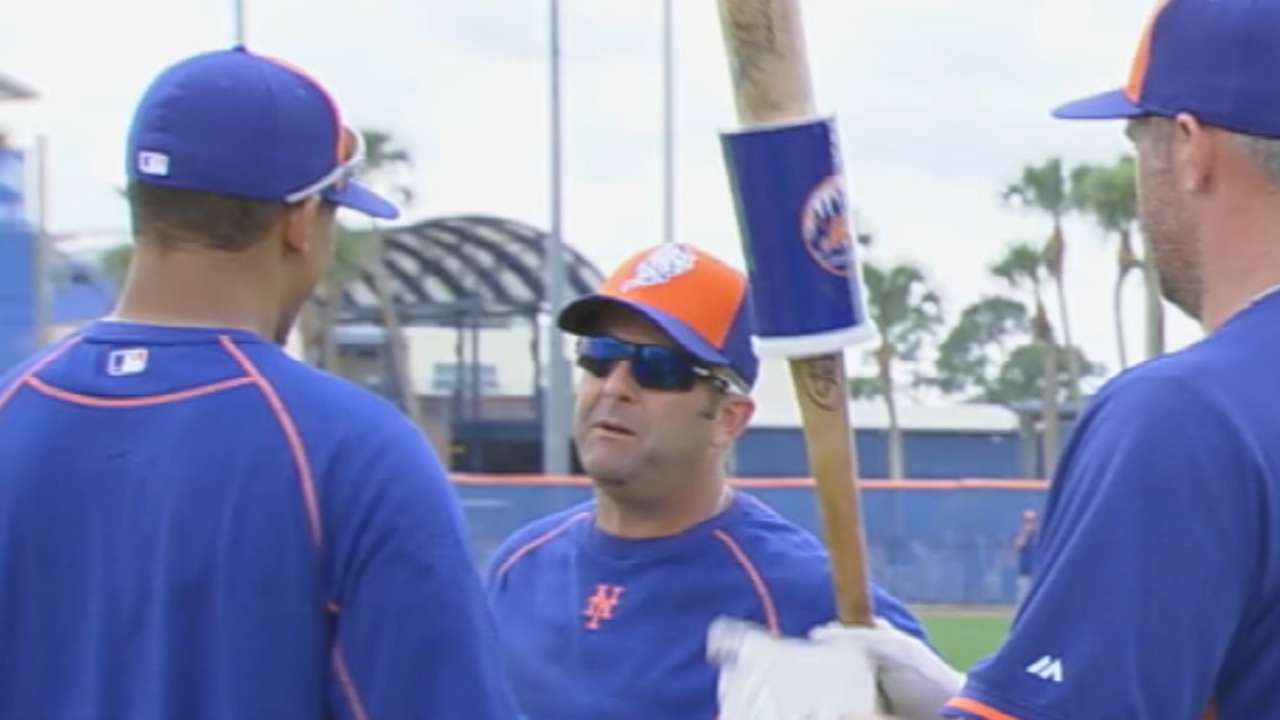 PORT ST. LUCIE, Fla. -- Within the confines of the Mets' clubhouse, no one studies hitting more than Daniel Murphy. His own harshest critic, Murphy is aware of every nuance of his swing, which allows him to know when something is out of whack. He is aware of his strengths. He understands his weaknesses.
So Murphy was amazed when new Mets hitting coach Kevin Long sent him an email this winter offering a thorough breakdown of the video he watched on Murphy's swing. It was clear to the second baseman that Long had not just watched his tape. He had devoured it.
"K-Lo's a rock star," Murphy said. "He's not as good as my wife, but he's a rock star. This guy's doing it, working harder than I am."
Less than two weeks after the Yankees dismissed Long -- who spent eight years in the Bronx working with superstars, including Robinson Cano, Derek Jeter and Alex Rodriguez -- the Mets scooped him up to replace interim hitting coach Lamar Johnson, who had taken over for Dave Hudgens last May. Long's philosophies, it quickly became clear, intersected with the organization's overarching thoughts on pitch selection and strike-zone judgment. His communication skills were off the charts.
"As I told Kevin, we have a pretty good philosophy here," manager Terry Collins said. "Now, it's about ... getting them to understand their swings a little bit better, perhaps, and as we've always said, try to shrink the strike zone down a little bit and get good pitches to hit."
That was why Long spent the rest of his winter poring over video, trying to learn the nuances of every Met's swing. Curtis Granderson, who enjoyed the best years of his career under Long's tutelage in the Bronx, may be his pet project. But Long has already spent ample time correcting issues he's seen with David Wright, Lucas Duda, Juan Lagares and others. Some, including Wright, even flew out to Arizona to work with him this winter -- with the goal of boosting an offense that finished 22nd in the Majors in runs scored last season.
"I'm going to ask these guys to do some things that maybe are uncomfortable," Long said. "To make some adjustments, to do some things that I believe will maximize their abilities. And there's some discomfort on my level, because I haven't been with these guys. I don't know them as well as I knew the guys on the other side of town. But I can tell you this: I'm excited. I'm looking forward to a new venture and a fresh start."
Even so, Long knows he is no miracle worker. Asked about longtime American League pitcher Bartolo Colon, who began last season 0-for-26 and finished 2-for-62, Long laughed.
"Bartolo's got some work to do," the hitting coach said. "He's not too vested in putting that much time into getting his swing where it needs to be. He said he had two hits last year, and I said, 'How about four hits this year?' And he said, 'How about three?' That's where we're at with Bartolo."
Anthony DiComo is the Mets beat reporter for MLB.com. He has been covering the team since 2010.
This story was not subject to the approval of Major League Baseball or its clubs.