The Bull Rush: Rangers refine slide step at camp
Pitchers embrace technique, which is useful against baserunners and hitters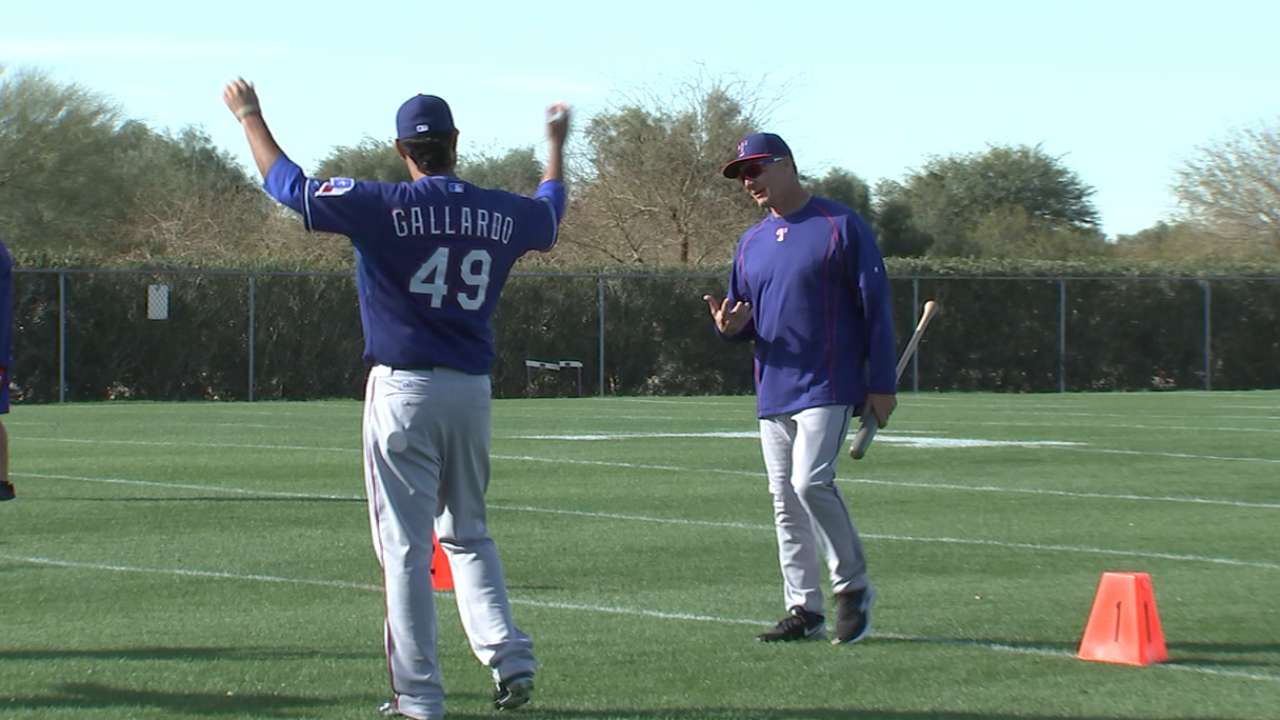 SURPRISE, Ariz. -- The Bull Rush is big in Rangers camp, and pitching coach Mike Maddux is thrilled his young pitchers are embracing it.
"It tells me they are open to learning new things," Maddux said.
The Rangers call it the Bull Rush, but it is known around baseball as the slide step. It was the lesson of the day for Rangers pitchers on Saturday morning as they refined a technique that has become an increasingly important part of pitching in the Major Leagues.
The slide step is simple. Most pitchers have a big leg kick in their delivery. To use the slide step, a pitcher will forego the kick and instead step straight toward home plate with the pitch.
"I use it all the time," pitcher Yovani Gallardo said. "I kind of got away from it a little bit last year, but I used to do it a lot. It also helps me get going a little quicker. If you're able to do it, then come back with the high leg kick, it's all about timing. They are trying to get their timing and you're getting them off balance."
The slide step was originally developed to hold a runner on base, allowing a pitcher to go quicker to the plate and give his catcher a chance to throw out attempted basestealers. But it has become useful against hitters as well.
"I think you saw it started being used in the early 2000s," pitcher Matt Harrison said. "Guys were using it to hold runners, all of a sudden hitters are fouling balls off or missing them and pitchers started using it as an offensive weapon."
Not only does it upset timing, but it also makes it seem like the fastball gets to the plate quicker. That's why pitchers throw a fastball most of the time when using the slide step. Thus it is called the Bull Rush.
"It makes your fastball more of a weapon," reliever Tanner Scheppers said. "You can use it out of the stretch or out of the windup even if there are no runners on base."
Reliever Shawn Tolleson, another slide-step advocate, said it helps with runners on second base even if they have no intention of stealing.
"It prevents them from getting a big secondary lead, so if I give up a base hit, I give my outfielder a chance to throw the runner out at home plate," Tolleson said.
The biggest concern with the slide step is it puts more stress on the arm when throwing a pitch. The leg kick is used for balance and reduces stress. That's why pitchers don't slide step all the time.
"I think you see it being used more," veteran outfielder Ryan Ludwick said. "You see veterans like LaTroy Hawkins use it as a quick pitch almost and take it to a whole new level. If you quick pitch in the middle of an at-bat, you can steal a strike. It's a great weapon."
T.R. Sullivan is a reporter for MLB.com. Read his blog, Postcards from Elysian Fields, and follow him on Twitter @Sullivan_Ranger. This story was not subject to the approval of Major League Baseball or its clubs.