MLB.com Columnist
Barry M. Bloom
Didi given opportunity to improve, thrive in New York
Girardi encourages new shortstop not to try to mimic departed Jeter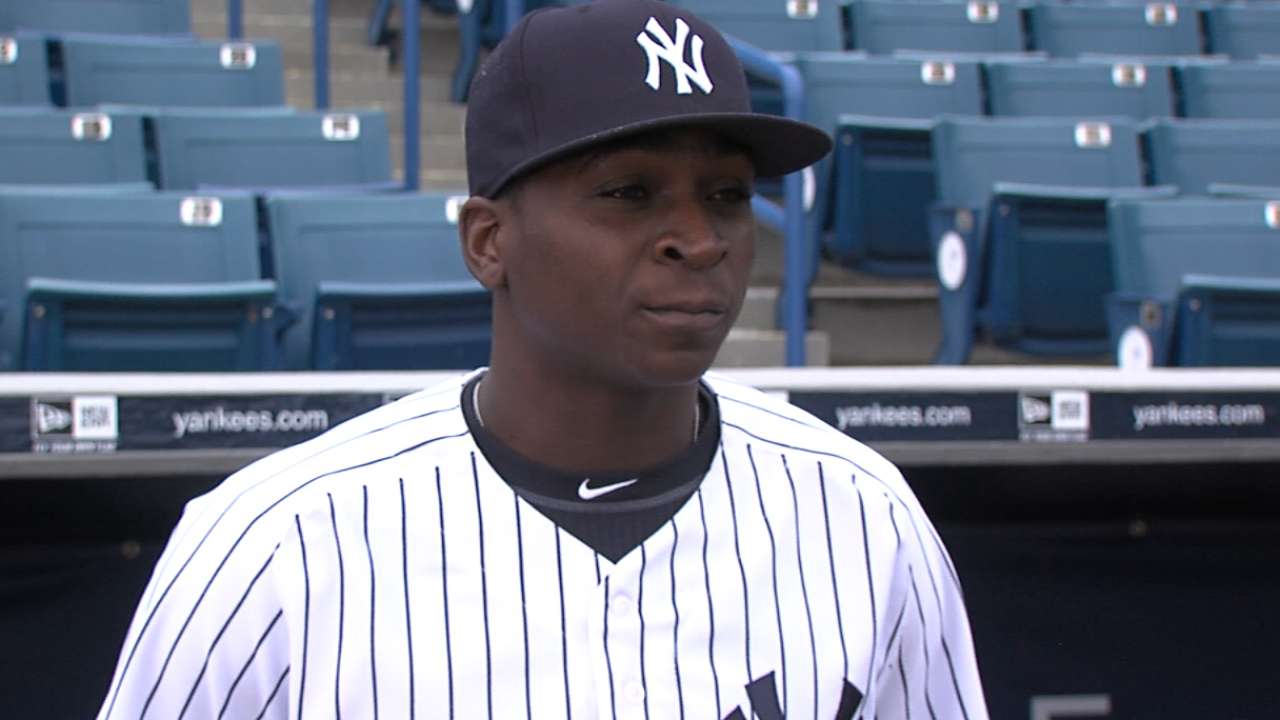 TAMPA, Fla. -- Upon arriving in Yankees camp for the first time this spring, new shortstop Didi Gregorius received these words of wisdom from manager Joe Girardi: Try to be the best Didi Grigorius you can be. Don't try to be like Derek Jeter, the retired icon he's replacing on the left side of the Yanks' infield.
"That's my choice if I want to let all that get into my head or not," Gregorius told a gaggle of reporters in the Yankees clubhouse at George M. Steinbrenner Field during a rainy Saturday. "I'm just going to relax and be the best that I can be when I go out there."
Still, the comparisons are inevitable. David Robertson shut down all of that last year when he replaced the retired Mariano Rivera and saved a very Mo-like 39 games. However, Robertson, who has since left for the White Sox as a free agent, ascended through the Yankees' system and set up for Rivera. Gregorius was obtained from the D-backs in a three-way trade this past Dec. 5 that sent pitcher Shane Greene to the Tigers.
Last spring at this time, Gregorius battled Chris Owings for Arizona's shortstop slot and lost. Gregorius was sent to Triple-A Reno to learn how to play second base. This year, he's the heir apparent and is projected to be the starting shortstop for the Yankees if he's healthy Opening Day against the Blue Jays at Yankee Stadium on April 6. What's a 25-year-old born in the Netherlands and raised in Curacao to do?
"I'm just going to go out there and play the game," Gregorius said. "That's all I can do. Go out and play the game hard. Day to day.
"I was telling everybody, what Jeter did, nobody else is going to do that. If they compare me to Jeter, there's nothing I can do. Everybody has their own comparisons. That's in their hands. Why would they want to do that?"
Save for those of us who saw him play often during the past two seasons at Chase Field, Gregorius basically is an unknown commodity in New York, although he did hit his first Major League homer at Yankee Stadium when he was playing for the D-backs two years ago. It happened on April 18, 2013, on the first pitch of his first at-bat for Arizona against former Yankees right-hander Phil Hughes. Gregorius had been called up to replace the injured Aaron Hill that day.
Hughes, as he was wont to do in his years with the Yankees, laid the pitch right over the plate, and the left-handed-hitting Gregorius laced it on a line into the short right-field porch. It was an auspicious start. But it was a false one.
Gregorius couldn't hit left-handers. He still has the ball in his trophy case, and Girardi certainly remembers that home run.
But how much has Girardi seen him play?
"Not a whole lot," Girardi said. "I saw him hit his first home run, though, I do remember that. I remember saying to myself, 'Who's this kid?' I remember saying that to myself. I'm looking forward to seeing him play."
With no offense to Jeter, who is on his way into the National Baseball Hall of Fame when he's eligible for the Class of 2020, Gregorius will be a big improvement defensively. Jeter made up for his lack of range with an intelligent approach to playing the position. But at 40 years old last year and coming off a fractured left ankle that caused him to miss most of the '13 season, Jeter couldn't match Gregorius' youthful athleticism.
Gregorious will reach and bobble balls that Jeter would have waved at. His arm is sharp and true, either in the pivot or fading toward the third-base hole. Gregorius is so smooth that he often glides across the middle and makes plays on the right side of the infield look easy.
"He's got a great arm and he's got range," Girardi said. "I just want to see him patrol the infield. I'm anxious to see it."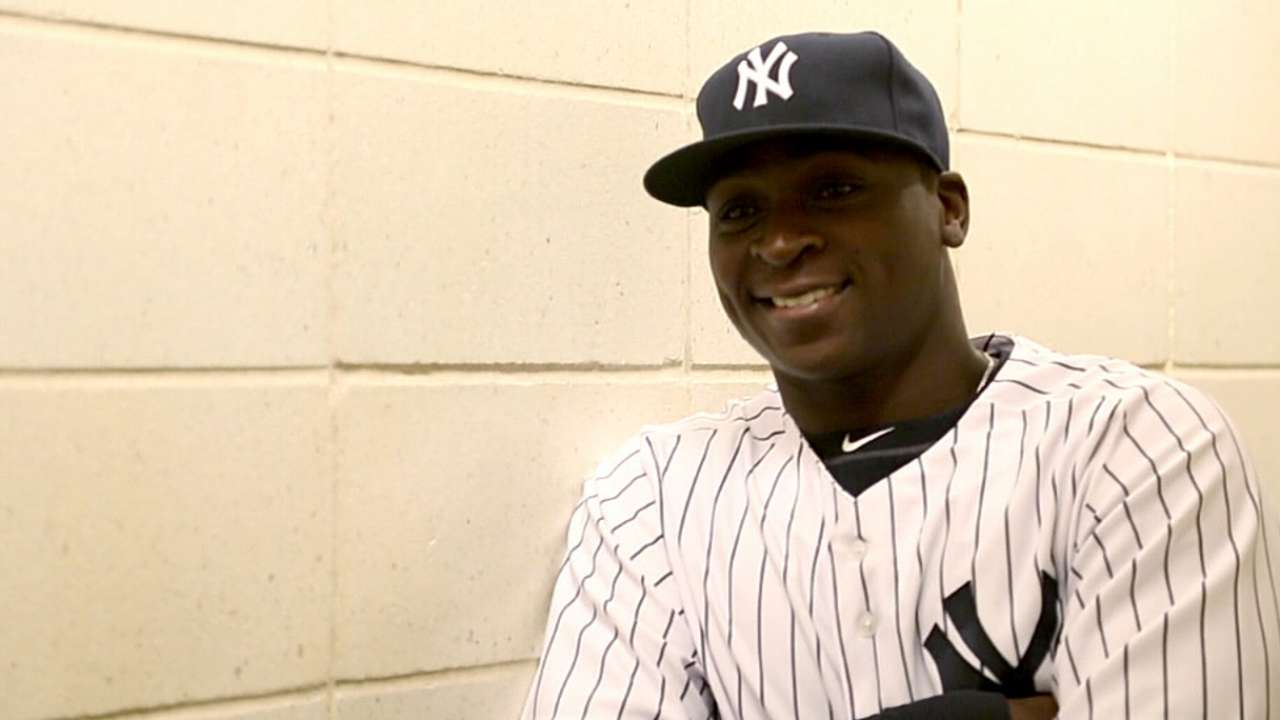 But he's nowhere near the hitter that was Jeter, who amassed 3,465 hits and a .310 batting average over the course of 20 seasons. Gregorius has hit .243 in 191 games, .262 against right-handers and an anemic .184 against left-handers. The latter statistic proved to be his undoing in Arizona. No matter what the situation during the past two seasons, former D-backs manager Kirk Gibson rarely allowed Gregorius to hit against southpaws. He had only 180 plate appearances against lefties, as opposed to 544 against righties.
That failure led to a loss of confidence by Gregorius, and thus a loss of stature in the eyes of his Arizona bosses.
"What was I supposed to do about it?" Gregorius said judiciously. "It was the manager's decision. I'm the one playing the game. He was the one managing the team. That's not in my hands. I'm not the one in control of him. He's the one making the decisions, and from there there's nothing I can do."
His new manager seems to have an answer: Gregorius will work incessantly in the batting cages and face a lot of left-handed pitching in live action this spring to see if he can make the necessary adjustment.
Gregorius will get the reps, Girardi said. "I'm just going to play him. I'm going to let him face lefties."
Really, that's all Gregorius can ask. A huge opportunity in New York is there. The Captain's position is ripe for the taking. The rest is up to him.
Barry M. Bloom is a national reporter for MLB.com and writes an MLBlog, Boomskie on Baseball. Follow @boomskie on Twitter. This story was not subject to the approval of Major League Baseball or its clubs.