Berkman to work with Astros as guest instructor
Former All-Star invested in team after 12 seasons in Houston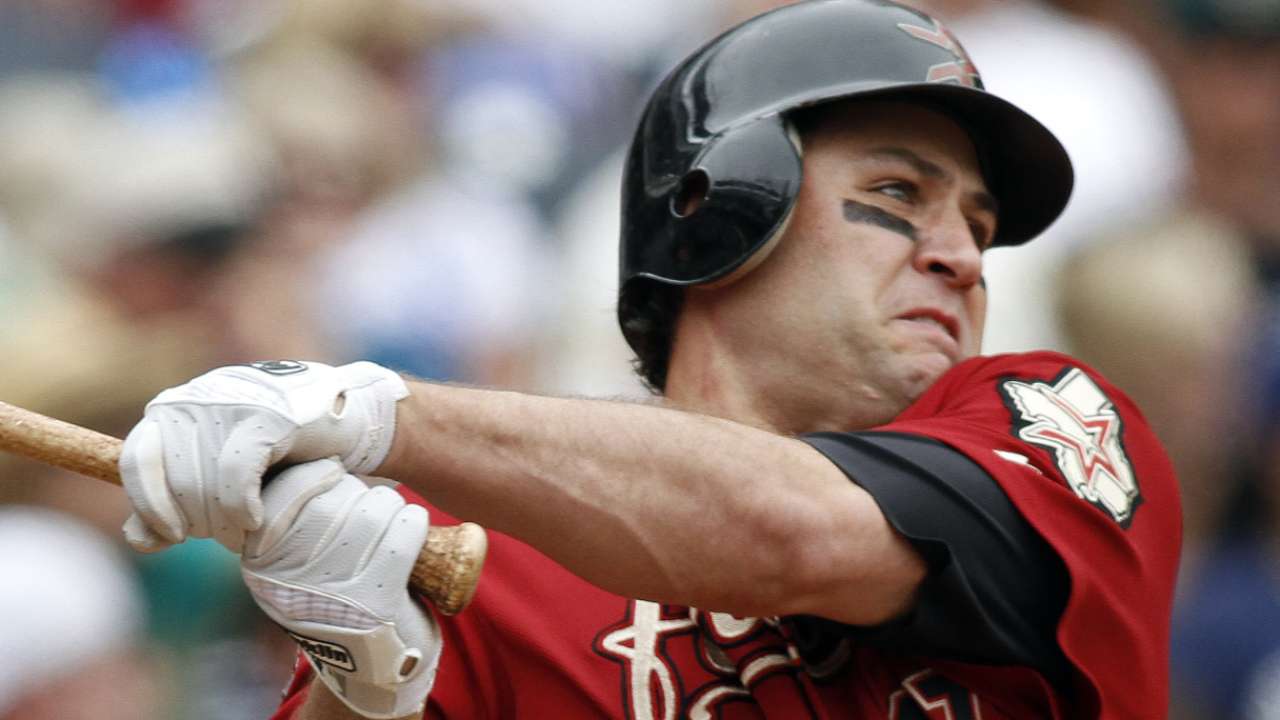 KISSIMMEE, Fla. -- Former Astros slugger Lance Berkman will be a guest instructor in camp for three days beginning Monday, manager A.J. Hinch said Saturday.
Berkman, a six-time All-Star who most recently has been a student assistant coach at his alma mater, Rice University, will be at Osceola County Stadium beginning Monday through Wednesday, Hinch said. He's one of several Astros legacy players who will come to Spring Training this year.
"He'll do a little bit of everything," Hinch said. "He'll touch on the hitters' approach, he'll work with our hitting coaches and our hitters. He'll be in and around the cage. He'll work a little bit with the first basemen, with [bench coach] Trey Hillman, [first-base coach] Rich Dauer. He's a great personality to have around. He'll soak up a few days of what we're doing, and we'll get some things out of him he can offer to help our players."
Berkman, with a 15-year career that included 12 seasons in Houston, is one of the game's greatest switch-hitters. He retired in 2013 after playing for the Rangers, but he still ranks in the top five among the Astros' best hitters in batting average (.296, fifth), on-base percentage (.410, first), slugging percentage (.549, first), runs scored (1,008, third), hits (1,648, fifth), homers (326, second) and RBIs (1,090, third).
"It's good for our guys to be linked to the successful players in the past that are really invested in the Astros," Hinch said. "I welcome it, our coaches welcome it. They have a lot of experience to pass along."
Roger Clemens, a special assistant to the general manager, spent a day in camp last week and will return, and Nolan Ryan, Craig Biggio and Jeff Bagwell are scheduled to come to camp as well. Ryan, an executive adviser, will be in Kissimmee, March 4-11 and 25-31. Bagwell will arrive in camp March 10, and Biggio, also a special assistant, typically spends a few days in mid-March.
Hinch hinted other special guests will be in camp at some point, too.
"I've got a few ideas on guys I have history with that aren't exactly former Astros, but nothing I can confirm or deny yet," he said.
Brian McTaggart is a reporter for MLB.com and writes an MLBlog, Tag's Lines. Follow @brianmctaggart on Twitter. This story was not subject to the approval of Major League Baseball or its clubs.