Pierre imparted wisdom on young Marlins at career's end
Speedster announces retirement after having served as role model in Miami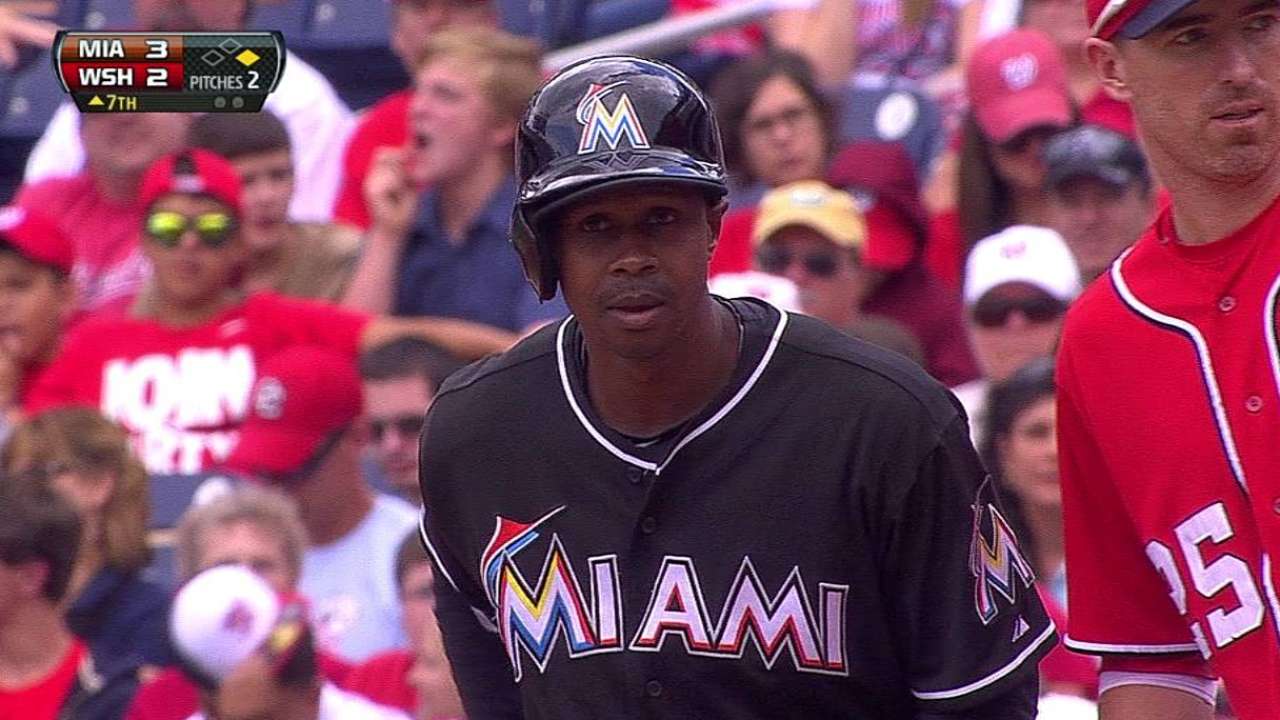 JUPITER, Fla. -- The work ethic, preparation and professionalism Juan Pierre displayed on a daily basis certainly rubbed off on his former Marlins teammates. Pierre's second stint with Miami was in 2013, and his influence is felt today.
Now that Pierre has announced his retirement after 14 big league seasons, Marlins players praised the veteran outfielder for making a difference.
"No one was here before him on the field," Giancarlo Stanton said. "He was a class-act guy. He had a work ethic you can't really top, and a focus that is hard to top as well."
In 2013, Pierre worked with all three of Miami's young outfielders, Stanton, center fielder Marcell Ozuna and left fielder Christian Yelich.
When you bring up Pierre's name, his unprecedented work ethic immediately comes to mind. The speedster would regularly be at the Spring Training complex around 6 a.m. ET and hitting in the cages before 7.
"He was great for the young guys, great for anyone," Stanton said. "To see how someone could do it for so many years, and to still have the fire in him as a guy who is trying to make the team."
The Marlins have approached Pierre about a coaching position in the future. In a text message to MLB.com, Pierre said he has "no interest in coaching as of right now."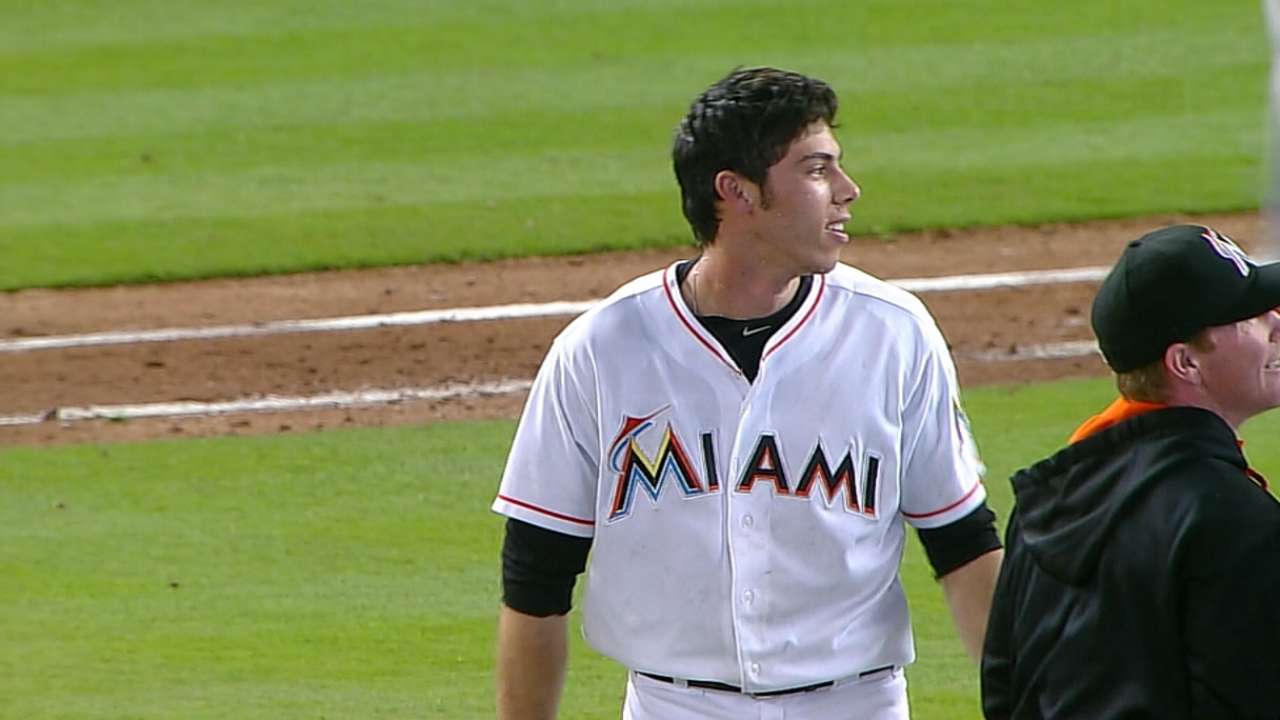 In Spring Training of 2013, Yelich immediately gravitated towards Pierre.
"I met him my first big league camp," Yelich said. "He took me under his wing and showed me the ropes of what it was like to play in the big leagues. How you're supposed to react. How you're supposed to prepare. I credit him a lot. He's a great guy and one of my favorite teammates."
Pierre quickly bonded with Ozuna, often giving him pointers in the dugout.
"He taught me the routine," Ozuna said. "He'd tell me, 'Keep doing what you're doing, and don't look back.' That's what he'd tell me all the time. You'd see him in the dugout telling me about the game."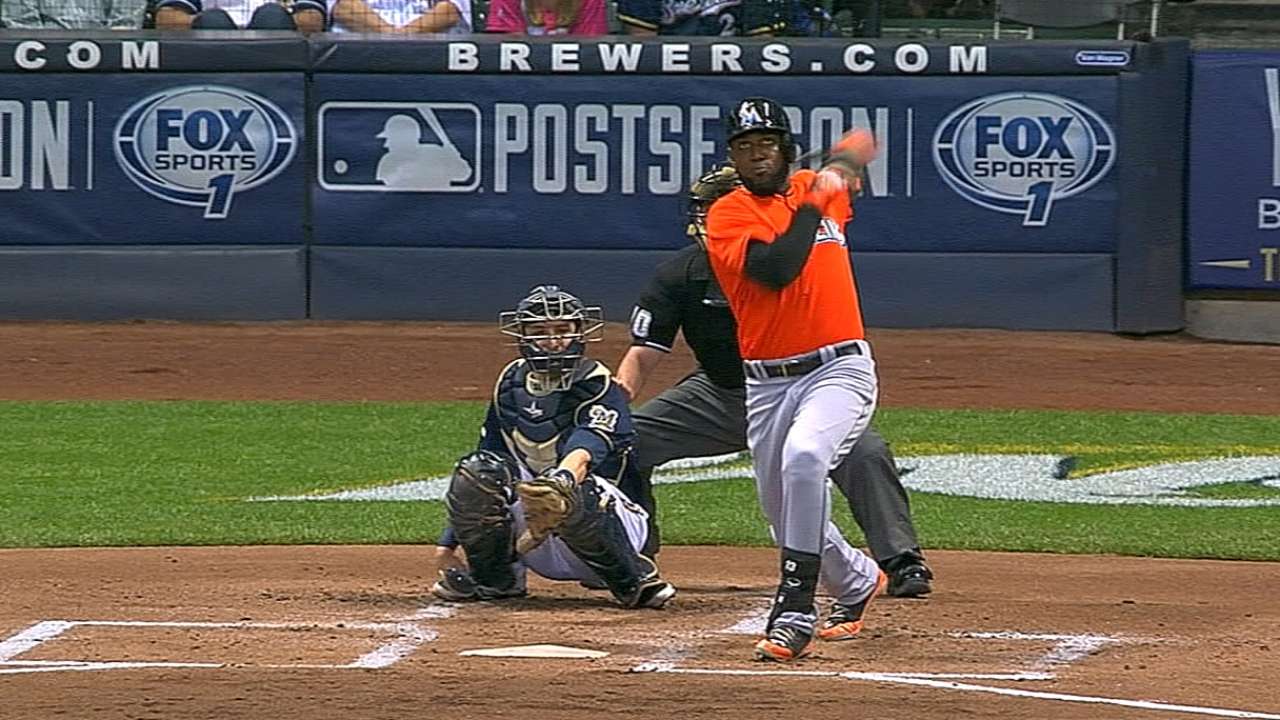 From 2000-14, Pierre's 2,217 hits are the eighth most in the Majors. Topping the list in that span is Ichiro Suzuki, with 2,844.
Ichiro, now with the Marlins, is impressed how Pierre could have such a long career despite his small stature -- listed at 5-foot-10, 180 pounds.
"I think you could say this [also] for Dee Gordon, or Chone Figgins, they're smaller-built guys," Ichiro said. "It's tough to stay in the game a long time. You have to use your head, and not just your physical abilities. That's what I want to do.
"To know there were guys of small stature who were able to stay in the game so long, that's very impressive."
Joe Frisaro is a reporter for MLB.com. He writes a blog, called The Fish Pond. Follow him on Twitter @JoeFrisaro. This story was not subject to the approval of Major League Baseball or its clubs.