MLB.com Columnist
Terence Moore
Irvin's legacy shouldn't be overlooked
Although not usually mentioned, former player one of game's greats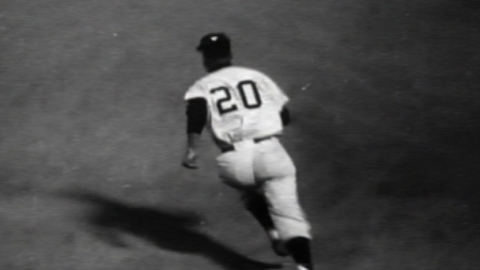 As Black History Month draws to a close, everybody mentions the usual suspects associated with Major League Baseball, but I'm thinking about those other significant African Americans.
One name keeps surfacing: Monte Irvin.
Unless you're a baseball historian, you probably know little about Irvin, but I'm sure you know a lot about Jackie Robinson. The man who integrated baseball on April 15, 1947, is referenced nearly as much as Martin Luther King Jr. when February comes around.
Then there is Hank Aaron, who combined his slugging ability with his striking grace to help the South's transition to an integrated society when he came to Atlanta from Milwaukee with the Braves during the mid-1960s.
Curt Flood? Well, he ranks with Robinson and Aaron among African American former players who did the most to influence baseball in particular and society in general. He became the Father of Free Agency in professional sports after he sacrificed his Major League career during the early 1970s to trigger the end to baseball's reserve clause.
Way before Flood, there was the national celebrity during the late 1940s and beyond of Roy Campanella and Don Newcombe, two of Robinson's African American teammates on the Dodgers. Ernie Banks evolved into Mr. Cub during the 1950s, and Willie Mays joined Aaron on the fast track toward Cooperstown without a flaw in their game. In 1975, Frank Robinson went from Hall of Fame player to the first African American manager with the Indians. In 1992, the Blue Jays' Cito Gaston became the first African American manager to lead his team to a World Series title. In 2005, the White Sox general manager Kenny Williams became the first African American GM to win it all.
You had Bob Gibson's otherworldly pitching in World Series games. You had Joe Morgan earning consecutive Most Valuable Award honors for his league, along with Banks before him and Frank Thomas and Barry Bonds (two straight and later four straight) after him. You had stolen-base kings, ranging from Maury Wills to Lou Brock to Rickey Henderson.
On and on we could go before somebody mentions Irvin.
I'm thinking about Irvin, but I'm also thinking about other African Americans who are deep in the baseball shadows.
I'm thinking about Bob Thurman, who became one of the game's first African American scouts when he was hired by the Twins in the early 1960s. Later, while working for the Reds, he discovered Johnny Bench. I'm also thinking about Bill Lucas, who was more than just Aaron's brother-in-law. He became baseball's first African American general manager during the mid-1970s after he spent a decade rising with the Braves from their marketing department to the head of their franchise. He set the foundation for those pretty good Braves teams of the early 1980s with Dale Murphy and Bob Horner.
I'm thinking about so many others, ranging from obscure yet effective Major League coaches such as Deacon Jones to that kindly gentleman who ran the frequently creaky elevator at old Atlanta Fulton-County Stadium to everybody in between. In fact, with more faces than names popping into my mind after covering the Major Leagues since the late 1970s, I'm thinking about a slew of African Americans in that in-between category.
Monford Merrill Irvin has his own category.
Working from the present to the past, Irvin turned 96 this week. He is the second-oldest living former Major League player, and he trails Bobby Doerr only by nine months. That said, Irvin is the oldest living former African American Major League player, and I'll return to his career as a player in a moment. Let's keep going backward, starting with the night in San Francisco he joined the likes of Mays, Willie McCovey, Juan Marichal and others by having the Giants retire his number. It happened before the start of the 2010 World Series, and when he was introduced, the ovation was loud.
Some folks remembered. They mostly remembered Irvin as a loyal Major League servant. He spent around 15 years through the late 1990s as a member of the Committee on Baseball Veterans that considers former players, coaches, managers and others for the National Baseball Hall of Fame who don't receive enough votes from the Baseball Writers' Association of America.
Before that, Irvin was the chairman on a special committee to help the Baseball Hall of Fame honor the Negro Leagues, which he knows much about. He was an accomplished player in those leagues, and the same was true of his stints in the Mexican League and the Cuban and the Puerto Rican Winter Leagues. He is in the Cuban Baseball Hall of Fame.
Sorry. I'm getting ahead of myself with Irvin's playing days, but they were so splendid. I'll elaborate after this: After his eight years in the Major Leagues ended following the 1956 season, he served as a part-time scout while working in private industry. Then, in 1968, Commissioner Bowie Kuhn hired Irvin as one of his assistants, and Irvin became the first African American to reach that stature in Major League history. He remained in that role until the mid-1980s when he accepted an advisory role.
Now to Irvin, the baseball player.
Wow.
Did I mention Irvin has a bust in Cooperstown? In 1949, he joined Hank Thompson to become the first African American players in Giants history. They were standouts, especially Irvin, fresh from his nine years in the Negro Leagues that produced a collective batting average of .358. Two years after joining the Giants, he helped set the stage for Bobby Thomson's heroics. That's because it was Irvin's near MVP season in 1951 (.312 batting average, 24 homers, NL-high 121 RBIs) that did the most to push the Giants from a huge deficit in the standings behind the Dodgers in August to that iconic playoff moment.
Not only that, Giants manager Leo Durocher put Irvin in charge of assisting Mays as a rookie, and Mays is eternally grateful to Irvin.
We should join Mays with that sentiment.
Terence Moore is a columnist for MLB.com. This story was not subject to the approval of Major League Baseball or its clubs.