Brave words: Friday, Feb. 27
Interesting quotes from Atlanta's Spring Training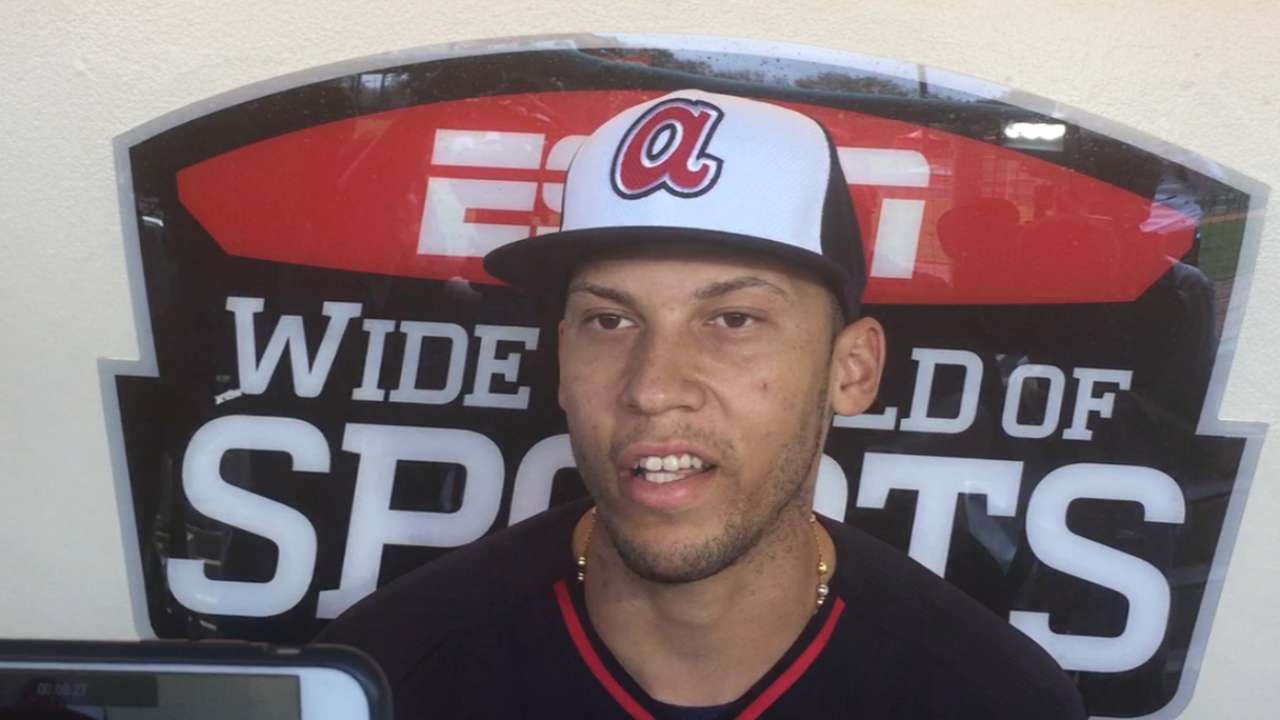 LAKE BUENA VISTA, Fla. -- Before learning Melvin Upton Jr. will miss the remainder of Spring Training because of a left foot injury, the Braves created some encouraging health-related news when they cleared shortstop Andrelton Simmons to resume all throwing activities.
But because of the unseasonably chilly temperatures that surrounded Friday morning's workout, the Braves limited Simmons to some light tossing. The Gold Glove shortstop, who came to camp with a sore left oblique muscle, also tracked pitches during live batting practice and took some dry swings. The club hopes to clear him for all activities within the next few days.
Simmons' return provided manager Fredi Gonzalez a chance to add an entry to one of the more interesting thoughts expressed recently in Braves camp.
Gonzalez on Simmons, who has always been overanxious about returning from injuries:
"We didn't want him throwing across the diamond because of the [cold] weather. He did play catch and warm up, but we didn't want him throwing across the diamond. With him, if he tells [trainer Jeff Porter] he's ready today, we'll give him an extra two days, just because of the history we've had with him."
President of baseball operations John Hart on the possibility of bringing some prospects to the Majors for part-time or platoon roles this year.
"I think there could be some growing pains with some guys. But again, I think Fredi having a little more maneuverability with his roster can allow him to develop a guy up here. There are a lot of ways to develop a young player. You don't have to run them out there 158 games. You can spot them and look at matchups. You can look at the body language of guys. Are they getting a little run down? Is the game moving a little fast for them? We've tried to provide some players that have a chance to help us win. But they may not do it every day. They might be a part of something."
Reliever Jason Grilli when asked if this year's Braves club reminds him of the 2013 Pirates:
"I don't like to compare teams because to me everyone is different. The bottom line is everybody has the same goal. The momentum is that by the first 45 games you usually see where you're at. Teams usually know where they're at through the first month or month-in-a-half of the season. I have no doubts that we're going to be right where we need to be."
Closer Craig Kimbrel on the changeup he annually toys with during the early part of Spring Training:
"It's so early in spring and my arm speed is not up to where it needs to be. My mechanics and my arm slot are not all there. [The changeup] always seems like it works early on. It actually was not bad yesterday, but that doesn't mean it's going to be better this spring. I'm going to start throwing different, a little more intense. So we'll see where it goes."
Mark Bowman is a reporter for MLB.com. This story was not subject to the approval of Major League Baseball or its clubs.