Collins watching lefty bench bat competition closely
Nieuwenhuis, den Dekker competing for spot on Mets' 25-man roster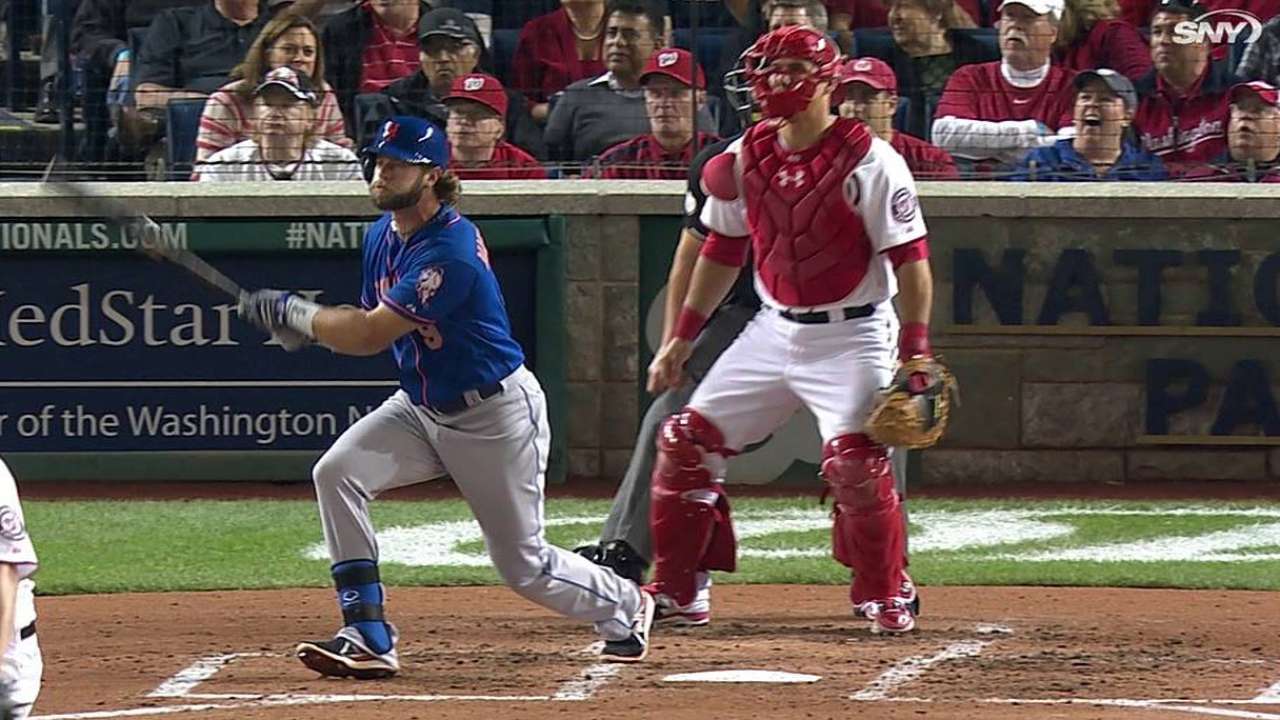 PORT ST. LUCIE, Fla. -- There's a position battle that Mets manager Terry Collins is going to be watching closely for the next month -- the one involving left-handed hitters Matt den Dekker and Kirk Nieuwenhuis.
"One of those guys has got to be on our bench, so it's up to them to show us this spring what they can do," Collins said following Friday's workout at the Tradition Field Spring Training complex. "If at the end of Spring Training Matt den Dekker outplays [Nieuwenhuis], hey, we got to go with the best 25."
Nieuwenhuis is out of Minor League options, but Collins said that den Dekker responded to the club's request that he cut down on his strikeouts when he was sent down to Triple-A Las Vegas last year.
"We'll just see how it translates this spring into what kind of an offensive player he can be," Collins said of den Dekker, who had a .250 batting average in 152 at-bats after being called up from Las Vegas at the end of last season. "We know he's got the defensive skills."
Nieuwenhuis also is a solid defensive outfielder, and Collins said that whoever shows the most offensive promise this spring likely will break camp with the Major League club.
"He plays the game right. He's fearless," Collins said of Nieuwenhuis. "But right now, we've got to get some offense from one of those two guys. Which one of those two guys is going to be able to come off the bench as a pinch-hitter? The best closers in our division are all right-handed, so the left-handed hitter off that bench is going to be a big piece."
Worth noting
Collins found some time between Matt Harvey's two batting-practice throwing sessions to also watch a couple of other pitchers throw Friday morning in addition to Noah Syndergaard, who alternated stints with Harvey.
"Jon Niese was pretty impressive, too, today. So was Steven Matz," Collins said. "I thought it was good for Noah to pitch in front of the number of people that were standing out there, because if he's going to pitch at this level, he's got to get used to that kind of attention [given to Harvey], and he threw the ball very well himself."
Steve Dorsey is a contributor to MLB.com. This story was not subject to the approval of Major League Baseball or its clubs.