Harvey draws positive reviews after facing batters
Mets ace throws 43 pitches in first outing on mound vs. hitters since surgery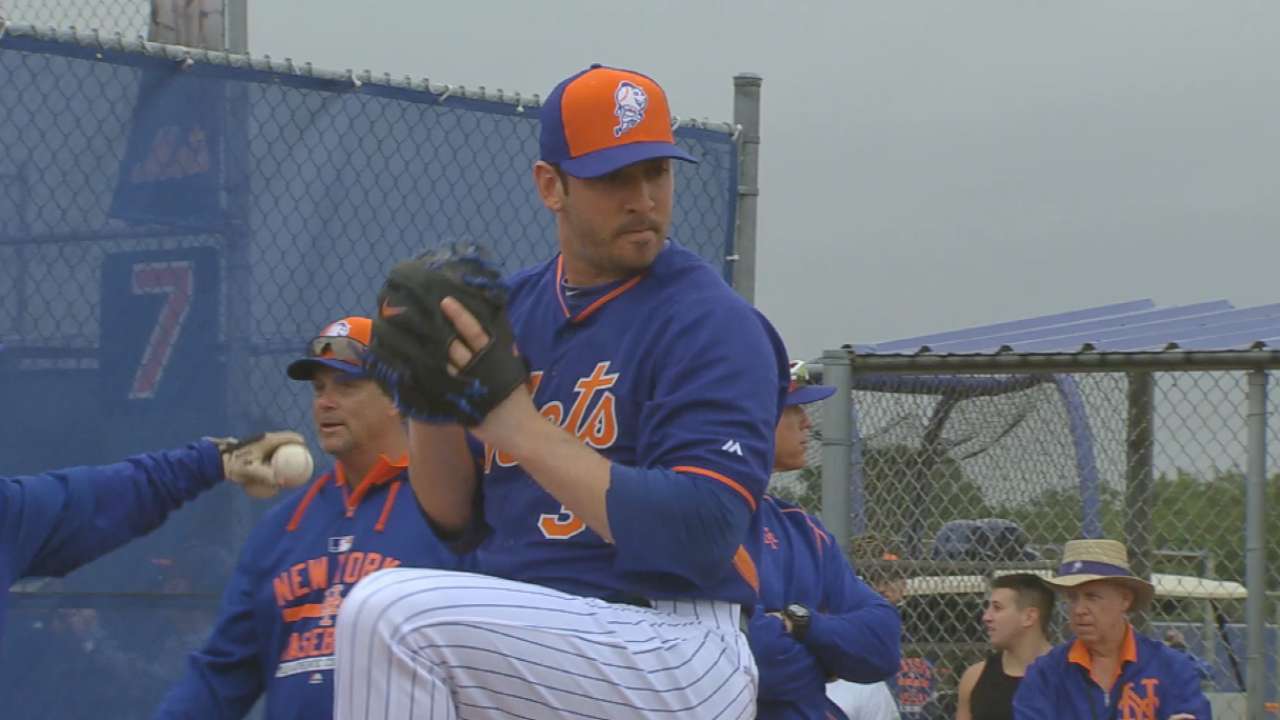 PORT ST. LUCIE, Fla. -- As Terry Collins wrapped up his daily news conference following Friday's workout, the Mets manager was asked if Matt Harvey's first appearance on the mound in 18 months was a milestone.
"I'm going to wait until those guys in different-colored uniforms get in that batter's box," Collins said. "That will be a milestone for him."
With that said, there were smiles all around Mets camp Friday.
Harvey, who missed all of last season following Tommy John surgery, threw 43 pitches during two batting-practice stints on the mound, his first against live hitters since Aug. 24, 2013. And although the batters were not swinging, the assessment -- from Collins, the players and Harvey alike -- was nothing but positive. Even the numerous fans who gathered behind the fences along with a throng of media on Field 7 at the Mets' Spring Training facility showed their approval.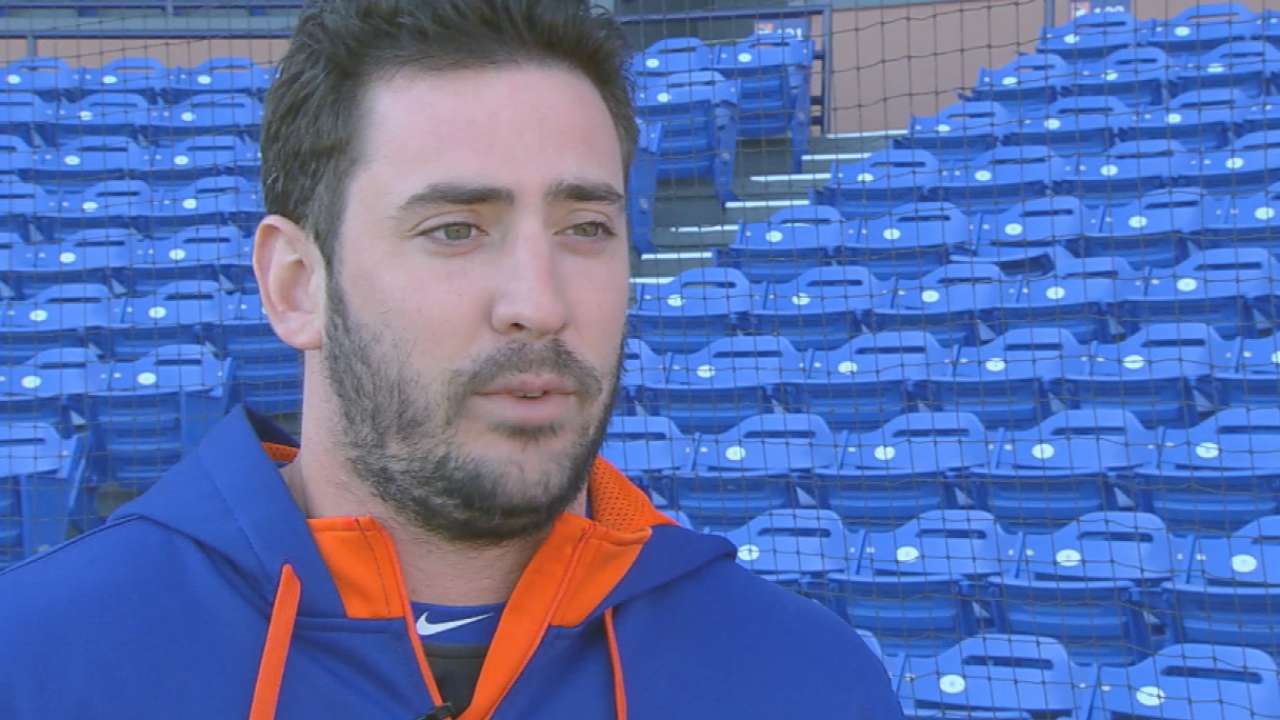 Fans showered Harvey with applause as he walked off the mound following his first stint, which included 22 pitches.
"Once I was done, I kind of realized how many people were around," Harvey said. "It was awesome. It's a good feeling to be back. It was a good day. [The batters] said everything looked great."
Catcher Travis d'Arnaud was behind the plate for Harvey's two stints and also gave the right-hander high marks.
"He threw all his pitches," d'Arnaud said. "It was fun. It was exciting. You could tell he was really happy to be out there. You could tell all the fans were really excited to see him out there. Every time I've caught him, he's always been a perfectionist with all his pitches. Today, if he had a mistake, the next pitch was a perfect pitch. The slider was great, everything."
David Wright, who was in the batter's box for about 10 pitches, said that Harvey's pitches were "coming out free and easy." Collins was particularly impressed with Harvey's velocity at the end of the session.
"The last pitch he threw, he threw a two-seamer, and I bet if you had a gun on it, it was 94-95 [mph]," Collins said. "That's when you say, 'We'll build up to that,' but he's healthy and he had a big smile on his face when he was done, and he came out of it in good shape."
Collins also was impressed with Harvey's overall command and was not surprised that he let go with a couple of fastballs at the end of the session.
"As he got a little looser, he amped it up a bit," Collins said. "That's just him. You try to rein him in a little bit, but he's anxious and excited to be back out. A couple of hitters just said, 'Boy, he made some really good pitches.' There were a lot of positives about his command, because that's going to be the next big challenge, not just the arm strength but the command of his pitches. He showed he's a special guy.
"He's got a very, very good curveball that he didn't use today, but the one pitch I thought was really good, besides the command of his fastball, was his changeup. That became a big pitch for him a couple years ago. It's all moving along the way you'd like it to, so we hopefully don't have any blips coming up."
Collins believes it was a wise decision not to rush Harvey along in his rehab.
"As bad as he wanted to pitch at the end of last summer, I think he now realizes it was the best decision to wait until this spring," Collins said. "We're going to watch him. There's going to be a process here so that he pitches the whole year and doesn't eat up all his innings the first four months. We've got to be smart about it."
Harvey is scheduled to make his first Spring Training start on March 6 against the Tigers in Port St. Lucie.
Steve Dorsey is a contributor to MLB.com. This story was not subject to the approval of Major League Baseball or its clubs.