MLB.com Columnist
Barry M. Bloom
Duquette's focus remains on building the Orioles
Bloom: After nearly leaving for Toronto, O's vice-president is all about helping them win in '15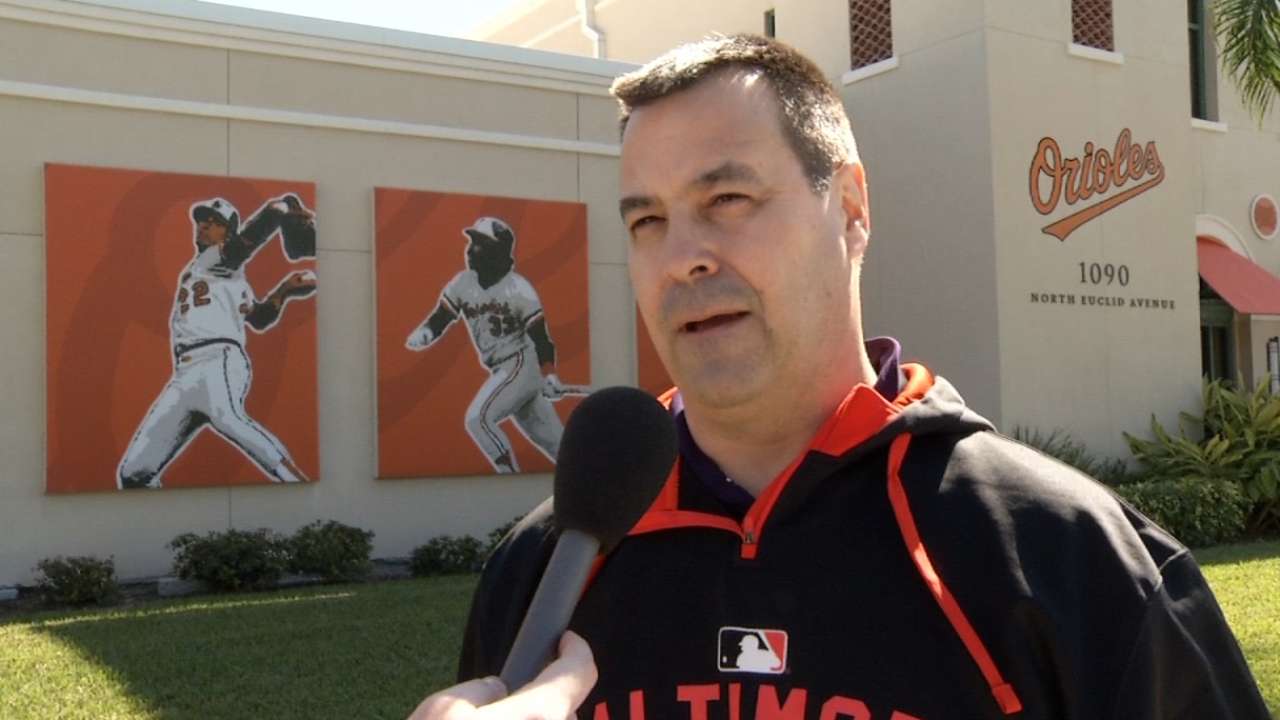 SARASOTA, Fla. -- Dan Duquette has four years remaining on his contract as Orioles' executive vice-president of baseball operations, but his talks to take the position of club president in Toronto this past offseason were no mere flirtation. His relationship with the Blue Jays goes back.
"In 2009, I had expressed interest," Duquette said on Friday as the Orioles worked out on the backfields behind Ed Smith Stadium. "That was before I took the job with the Orioles. They were looking for somebody and I was looking for a job. I had expressed interest and had some conversations with them then."
Spin the videotape forward to the winter after a 2014 season that saw the Orioles top the American League East winning 96 games and a spot in the AL Championship Series where they were swept by the Royals. In 2009, the Jays brought back Paul Beeston as team president in lieu of Duquette, who was hired to run the Orioles' baseball ops two years later. During his three-season tenure the O's have been to the playoffs twice, won 274 games and were back in the ALCS for the first time since 1997. And so, this time, with the 69-year-old Beeston on the verge of retirement, the Jays turned again to Duquette.
"I knew the people from Rogers [Communications] before I took the job at the Orioles," said Duquette, who spent three years as director of player development for the Montreal Expos, and would have been a good fit again north of the border. "You'd have to check in with those guys, but I think they liked the work I did in Baltimore."
It didn't happen. As has been reported, the Blue Jays and Orioles couldn't work out a compensation package for Duquette. The Jays terminated discussions near the end of January. Asked if compensation was the reason why the Orioles wouldn't let him out of his contract, Duquette simply said: "Yes."
Duquette had to work on multiple levels this past offseason. He said he was both serious about taking the Toronto job and improving the Orioles as they head into the 2015 season. The Orioles lost key players Nelson Cruz to Seattle, Andrew Miller to the Yankees and Nick Markakis to Atlanta via free agency. Unlike last spring when Duquette went all in by signing Cruz and Ubaldo Jimenez, there have been no high-profile additions this offseason.
"You could say it was interesting," Duquette said. "I did my work for the Orioles, trying to put a good team together every day. That's what I told the fans: I'm working for the Orioles and helping the Orioles have the best team we can have."
Duquette is quick to point out that aside from Miller -- acquired last season in a July 31 non-waiver Trade Deadline deal with the Red Sox -- the entire pitching staff is back. So are Manny Machado, Matt Wieters and Chris Davis. Davis has one game remaining in a 25-game suspension (amphetamines), and will miss Opening Day on April 6 at Tampa Bay.
Wieters, an All-Star catcher, is returning from Tommy John surgery in his right elbow. Machado, a third baseman, tore ligaments in both knees and had surgeries on each the last two seasons, ripping apart one in his right knee swinging the bat in a game last August against the Yankees. Duquette is upbeat about the return of that trio.
"That's the most powerful thing we have to add to our 2015 team," Duquette said. "For our 2014 team, they weren't available for 70 percent of our games. They should be ready to go. Matt's going to start catching games on March 17 and will start DHing before that. Chris and Manny are healthy. Chris has that one game left on his suspension and Manny should be ready to start the season."
The point is, Duquette is back in the groove, feeling no worse for the wear. With the Blue Jays having announced that Beeston will indeed retire at the end of the season, there's certainly a possibility the entire issue might come up again. Duquette, only 56, endured through a 10-year gap after he was dismissed by the Red Sox in 2002. He likely won't miss that kind of time again between assignments.
With this past winter's Toronto situation behind him, he hasn't experienced any awkward feelings from inside the organization.
"Not that I can tell," Duquette said.
And on Duquette's part?
"No, I'm just doing my job," he said with a laugh. "I'm still here trying to help the Orioles."
Barry M. Bloom is a national reporter for MLB.com and writes an MLBlog, Boomskie on Baseball. Follow @boomskie on Twitter. This story was not subject to the approval of Major League Baseball or its clubs.