Pujols to opponents: Bring on the shift
No right-handed hitter in baseball was played to pull more than Angels' first baseman in 2014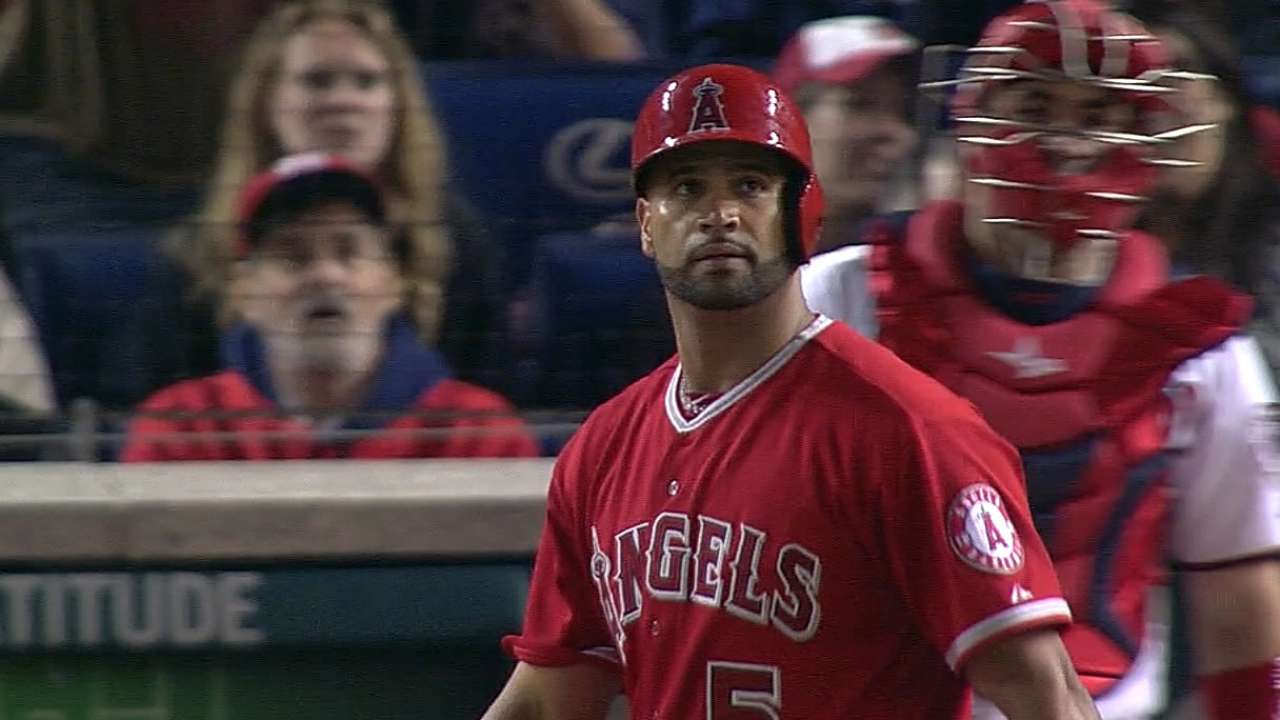 TEMPE, Ariz. -- No right-handed hitter in baseball was shifted on more times than Albert Pujols last year.
Yes, that Albert Pujols.
The same Pujols who established himself as one of the greatest hitters ever with a gap-to-gap, line-drive approach was shifted to pull 224 times in 2014, according to spray charts compiled by the advanced-scouting service Inside Edge.
His response: Bring it.
"I don't care about that," Pujols said. "It's not going to change the way I hit."
A shift consists of any time a team places three infielders on one side of the field, which means that on 224 of the balls Pujols put in play last year -- mostly excluding grounders -- the second baseman was playing on the other side of the bag. Pujols said he likes it when they shift him to pull because it lets him know they'll probably attack him on the inside part of the plate.
"They think they're screwing with your mind, but actually it's worse because they're telling you how they're going to pitch to you," Pujols said. "So actually it's the opposite. It's helping a hitter to know how they're going to pitch to you."
Teams throughout baseball -- the Angels included -- dramatically increased their defensive shifting last year, with right-handed hitters feeling the most change. Jose Bautista of the Blue Jays was shifted more than any right-handed hitter in 2013, but only 69 times. Pujols, who didn't play past July that year, faced 44 shifts and ranked fifth. Last year, Chris Carter of the Astros (182) and Bautista (161) ranked second and third, respectively.
Pujols' ability to go to right field stems largely from the strength of his right quadriceps muscles, which are stronger now than they have been since he underwent arthroscopic surgery on his right knee in November 2012.
The 35-year-old said his right knee finally feels good again.
"Just crossing my fingers," Pujols said. "It's a long season."
Pujols had 34 hits to right field in 2014, his second-highest total since '08. He had 18 in '13, 27 in '12, 35 in '11, 17 in '10, 30 in '09 and 32 in '08, so he hasn't fluctuated much. The nine-time All-Star never wants to force the action.
"It's always been my goal to go to right field, so that's not going to change," Pujols said. "But if they're pitching you in places where you can't go that way, are you going to force your swing to go that way? You can't."
Alden Gonzalez is a reporter for MLB.com. Read his blog, Gonzo and "The Show", and follow him on Twitter @Alden_Gonzalez. This story was not subject to the approval of Major League Baseball or its clubs.