Another year older, another year wiser for Gallardo
Pitching of righty celebrating 29th birthday has evolved over the years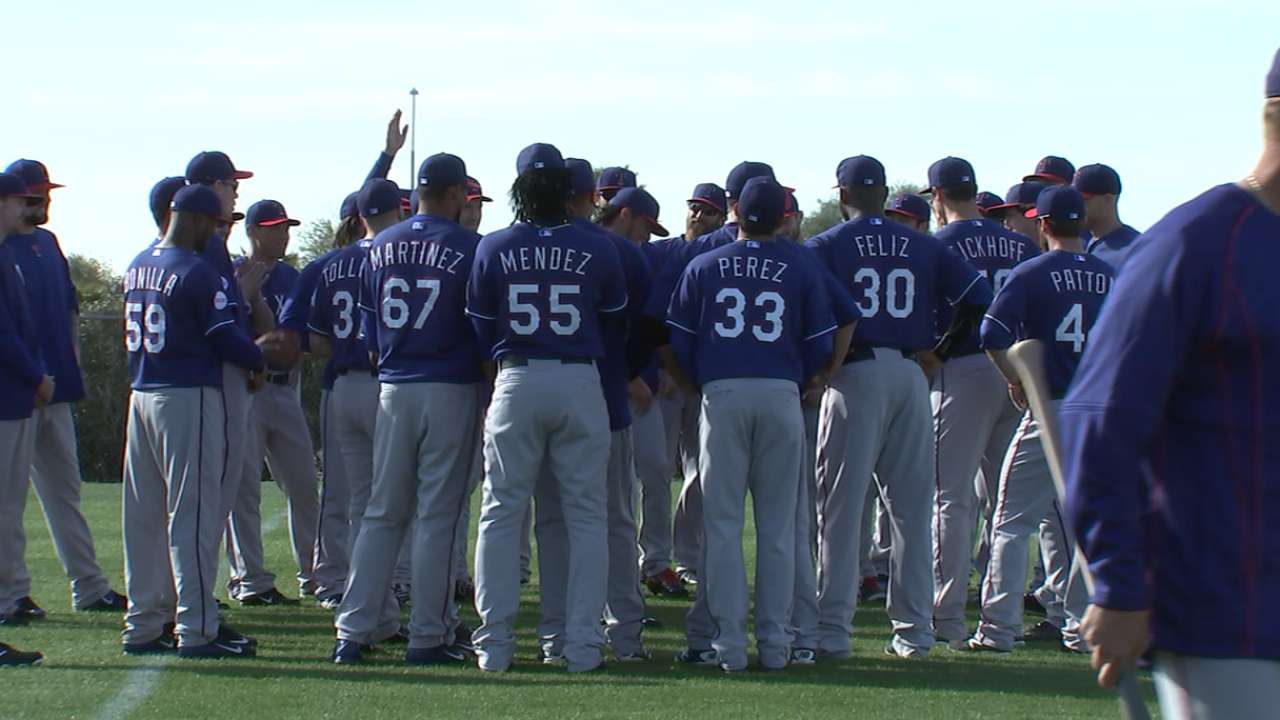 SURPRISE, Ariz. -- Rangers pitcher Yovani Gallardo turned 29 on Friday, and his teammates serenaded him with "Happy Birthday" during pre-workout stretching. With his family still back in snowbound Fort Worth, Texas, until later in spring, that was about the extent of Gallardo's celebration.
"We'll wait until next week to go out to dinner," Gallardo said. "I'm used to being away from my family on my birthday. We celebrate it later in the spring."
At 29, Gallardo should still be in the prime of his career. But he has changed as a pitcher from how he was as a 21-year-old rookie with the Brewers in 2007.
"I feel the same, but there are things you change about your workouts and preparation," Gallardo said. "That comes from learning your body. You learn as you get experience. You learn different ways of getting hitters out instead of trying to strike people out. You learn the earlier you get hitters out in the count, the less stressful. And you've got extra in the tank when you need a strikeout."
Gallardo still throws as hard as he did as a rookie. In '07, his fastball averaged 91.1 mph. Last season it was 91.4 mph. But his arsenal has evolved.
As a rookie, Gallardo threw his curve 21.2 percent of the time, followed by the slider at 7.3 percent and the changeup at 3.8 percent. But the slider has gradually become his second pitch. He threw it 24.6 percent of the time last season, with the curve thrown 19.2 percent of the time. His fastball usage has gone from 67.7 percent as a rookie to 55.6 percent last year. The changeup is used only occasionally.
He also doesn't throw the straight "four-seam" fastball exclusively anymore. Gallardo has learned to sink the fastball, which means fewer strikeouts and more ground balls.
Gallardo's strikeout rate has gone from a career-high 9.89 batters per nine innings in '09 to a low of 6.83 last season, but his walk rate has gone down from a career-high 4.56 per nine innings to a low of 2.53 last year. His ground-ball percentage last season was 52.4 percent, up from 37.9 as a rookie.
"The older you get, the more things you figure out on how to get hitters out," Gallardo said.
T.R. Sullivan is a reporter for MLB.com. Read his blog, Postcards from Elysian Fields, and follow him on Twitter @Sullivan_Ranger. This story was not subject to the approval of Major League Baseball or its clubs.