Lyles believes time off last year can help in '15
Rockies right-hander learned new pitch while injured, refined it in offseason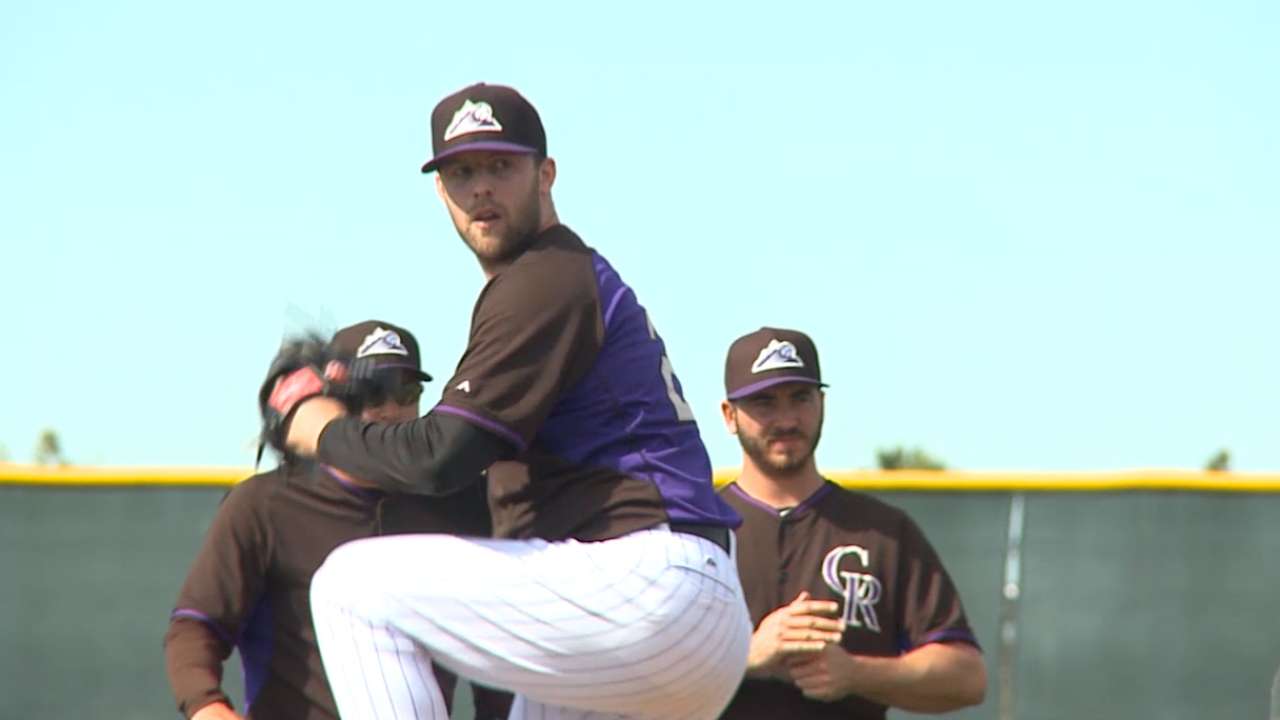 SCOTTSDALE, Ariz. -- Rockies right-hander Jordan Lyles hopes his unlucky break last year propels him forward this year.
Lyles was 5-1 with a 3.52 ERA in 12 starts last year when he suffered a broken left hand while covering the plate after a wild pitch. During the time off, Lyles abandoned his old circle changeup -- a pitch he used maybe once a game -- for a split-finger change that could become more of a weapon this year.
The new pitch and the strategy were not immediate successes after he returned (2-3, 5.31 in 10 starts from Aug. 6 to season's end), but Lyles took the lessons into the winter in hopes of becoming a new and better pitcher.
"We got a full offseason to work and play with that, and it's very beneficial," Lyles said.
"It was a very productive year for him last year," Rockies manager Walt Weiss said. "You don't always say that when a guy misses a couple of months, but he used that time off to get better."
Lyles, acquired from the Astros along with outfielder Brandon Barnes for outfielder Dexter Fowler in November 2013, believes once he has a handle on a strategy with the new pitch, hitters will have to reform their strategy against him. But what won't change is the use of his sinker, slider and changeup to force ground balls, which were a healthy 51.7 percent of his outs last year. Lyles forced 12 double plays in 22 starts. With a full season, he might have rivaled Jorge De La Rosa's team-high 21.
"It was a different setting coming from Houston to Colorado," Lyles said. "There is so much talent in the infield behind me, all I've got to do is get guys to put the ball on the ground. I just have to do my job, not anything more. The infield was part of the reason for the early success."
Thomas Harding is a reporter for MLB.com. Read his blog, Hardball in the Rockies, follow him on Twitter @harding_at_mlb, and like his Facebook page, Thomas Harding and Friends at www.Rockies.com. This story was not subject to the approval of Major League Baseball or its clubs.